I spend a lot of time working in a shared office space, so it's important to be able to shut out unwanted background noise when I want to be able concentrate.  So, when a pair of Bowers & Wilkins PX Headphones landed on my desk for review, I was excited to find a high end pair of phones that would completely remove background noise from my workplace, but also provide with a superior Bluetooth™ Audio experience, enhanced by aptX-HD® technology.
[amazon_link asins='B0756XMGV1′ template='ProductCarousel' store='thgama03-21′ marketplace='UK' link_id='30571a8d-94bb-11e8-97ad-23a6cc051c16′]
[videopress MWdjaaSM]
The B&W PX headphones are predominantly Bluetooth™ driven, although you can connect up manually using a 3.5mm jack cable supplied with them. Thus, they must be paired to each device and this proved fairly straightforward using the supplied instructions. In order to make full use of the noise cancelling an personalised experience, it was also necessary to download the B&W PX app which is available for both iOS and Android. In my case, I downloaded the Android app to run with my Sony Xperia XZ Premium. The app itself was developed in conjunction with Coderus who very kindly worked with me on the app for my Tesla road trip last year, so I was looking forward to both testing the headphones and also reviewing their app at the same time.
After downloading the B&W PX app, I set about trying out the different environmental settings available and I have to say I was immediately impressed. I was able to choose my desired audio profile and also the noise cancellation settings. As noise can sometimes prove an issue here in the office, I got stuck in straight away with testing these features.
Noise Cancellation
The headphones are activated by simply placing them on your head and immediately after the noice cancellation kicks in.
[videopress feWQm6SX]
Initially you are given three customisable options for noise cancellation, allowing you to pick Office, City or Flight, these three option will give you a preprogrammed cancellation profile based on the background noise you are likely to experience in each of these modes. Interestingly, City worked best for my office. The settings automatically pick the most common voice passthrough settings for the headphones, either off (my preferred setting), Natural or Amplified. All three settings worked great and I liked being able to filter out general noise and still be part of a conversation.
Other options include 'Wear Sensor', so when placed on the head, the phones automatically switch on and connect to bluetooth with further adjustment using the 'Sensitivity' options.
Aside from the Environment filters, the app also shows you the current battery and firmware status. Yes, we live in a world where improvements to the operation of the headphones can be rolled out to owners, something I experienced with the Tesla Model S.
If you are lucky enough to own a modern Qualcomm compatible mobile device, you can also take advantage of the aptX-HD which is another name for High Definition Bluetooth® wireless audio. This will improve the sound quality of the headphones giving you 24bit sound quality over Bluetooth.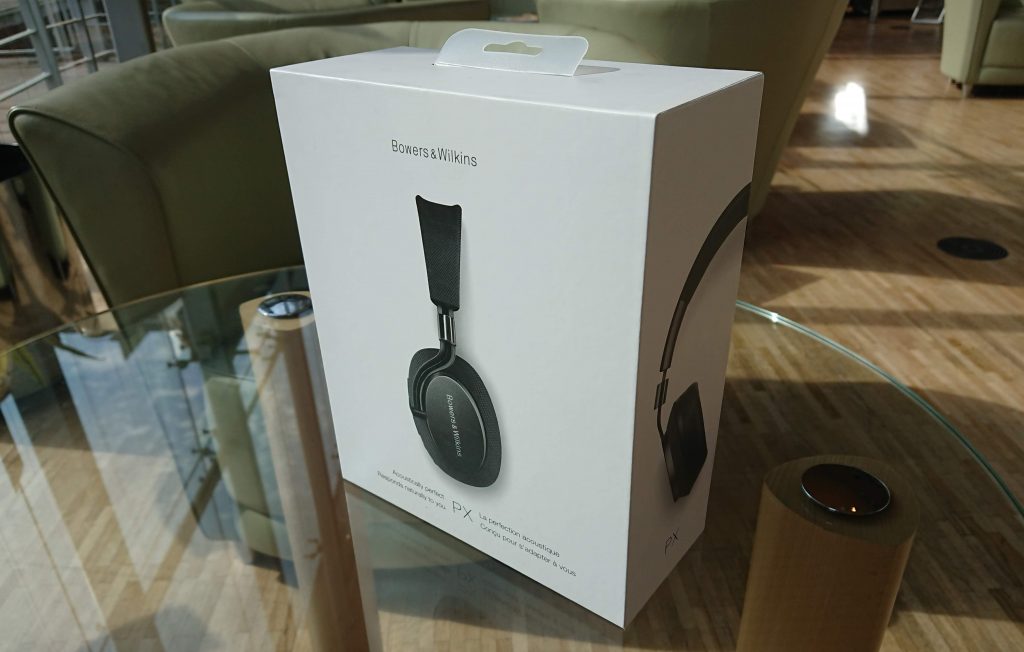 Comfort
Without doubt, these are the most comfortable headphones I have ever worn, these absolutely reek of quality and fit brilliants over my ears. Even switched off, they still muffle ambient noise brilliantly.
Real World Use
As expected of a set of high end headphones, the sound quality was rich and bright with great bass and treble production. When testing out audio equipment I am particularly fond of playing Metallic Spheres by The Orb, featuring Dave Gilmour, an album which cries out to be played on high end audio equipment.
I wasn't disappointed. The B&W PX headphones picked up the layered soundscape of the album majestically and I was happy putting them through their paces more than once during my review.
In Summary
Bowers & Wilkins have produced a superb set of high end Bluetooth Headphones. They have excelled on all fronts, from the excellent build quality, superior sound quality to the intuitive app which makes synchronising the phones a doddle. If your budget stretches to around £329 and you want to listen to music as the artist intended, the B&W PX Bluetooth Headphones are a perfect option available in Space Grey or Soft Gold.
Matt Porter
The Gadget Man