Podcast: Play in new window | Download
Subscribe: Apple Podcasts | Google Podcasts | Email | TuneIn | RSS | More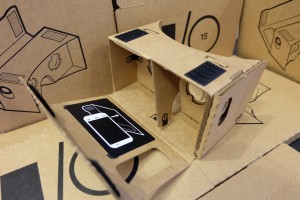 This week I talk about Google Cardboard and Google I/O Extended from Adastral Park. The event was the brainchild of Mark Thomas at Coderus, they are situated on the Innovation Martlesham also.
Google I/O Extended are events which enable people to experience the keynotes of I/O in Silicon Valley in their own countries. BT provided some amazing facilities to web cast the event to a large auditorium and Coderus were on hand to demonstrate some amazing Google products such as Chromecast and the Nexus Player. We also enjoyed Google themed cupcakes and sandwiches which were delicious.
After the keynotes were finished, there was a question and answer session hosted by Jim Milne from Innovation Martlesham and featured guest speakers from the tech area to answer questions and queries about the direction that Google is taking and there were some very interesting discussions about the nurturing role we can all take with young people to help encourage a new generation of UK based IT expertise.
For those of us that waited until the very end of the evening, we were very pleasantly surprised to receive our very own Google Cardboard to take away.
Google Cardboard is a VR system developed by Google engineers David Coz and Damien Henry in their 20% time. It was first released at Google I/O 2014 developers conference.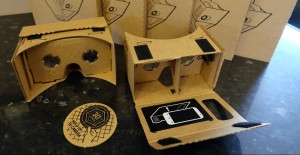 This year, Google have updated 'Cardboard' to support phones of up to 6 inches screen size and now it works with the Apple iPhone (but check your screen size is big enough!). Google Cardboard headsets cost about £12 to construct and the plans and specifications are freely available to buy online for about a tenner.
They are very simple to use, you install the Google Cardboard app on your smartphone, then slide it into the back of the 'device'. There is normally an NFC tag with the headset which automatically identifies itself and tells your phone it is ready to work in '3d'.
The two lenses built into Cardboard focus onto the screen on the phone and produces the impression of stereoscopic 3d.
The apps are the real gem in the whole idea and there are hundreds available and most provide and incredibly immersive experience, it's a fantastic opportunity to try out VR and at a low entry cost it means it's accessible to everyone with compatible smartphone.
Thanks to Mark Thomas and everyone at Coderus for the evening, it was very interesting. You can find out more about the company by visiting their website here or following them on Twitter here