Working from home has become the new normal, which is why Trust is happy to introduce a new range of affordable keyboards and mice. Whether looking for a basic keyboard and mouse set, a wireless keyboard and mouse set with extra silent keys and buttons, or an advanced mouse that will give complete control, Trust delivers. With the Taro, Ymo and Ozaa, working from home just became easier and more affordable.
The Taro has everything expected from a keyboard and mouse set: a full-size layout, a comfortable keystroke and a mouse that can be used by both left and right handed users.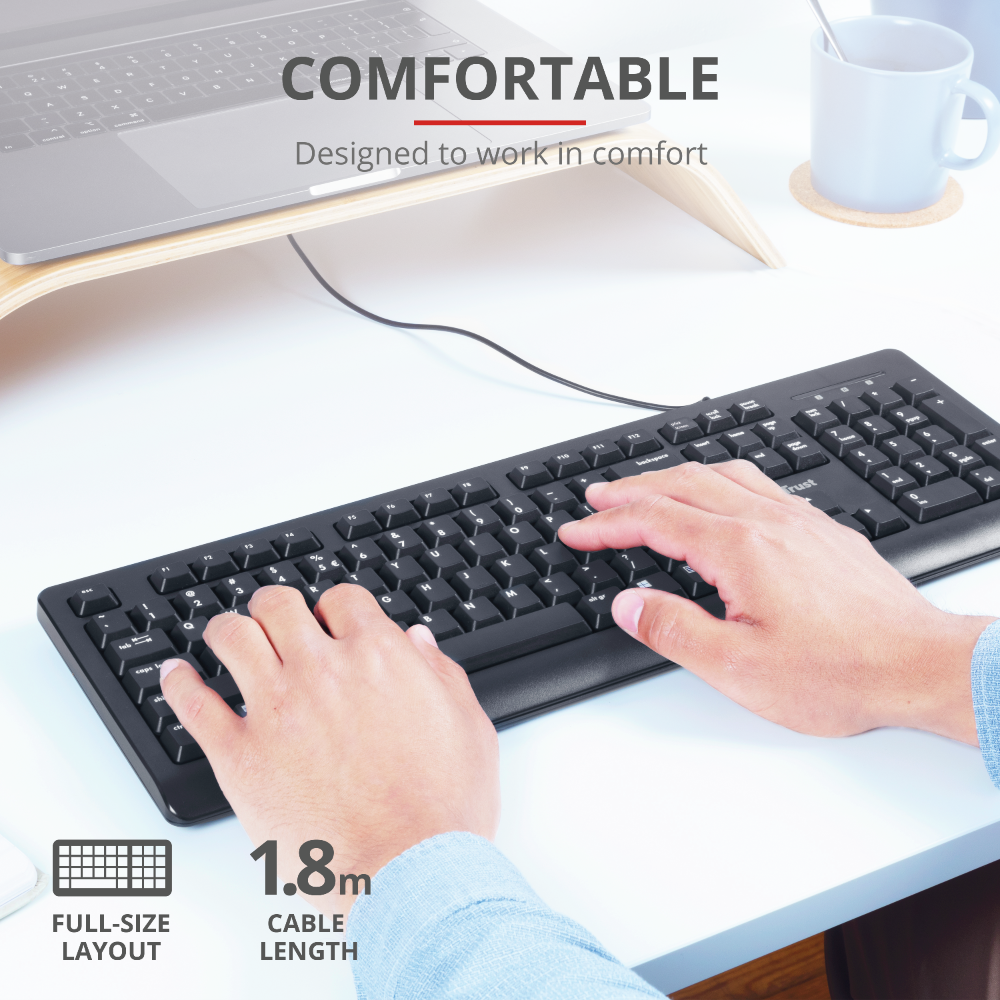 The Taro has a full-size QWERTY layout with all the functionality users have come to expect from a reliable keyboard. Thanks to the soft keystroke, the Taro will allow workers to type quietly and comfortably for hours without disturbing colleagues or family members and the adjustable feet provide that extra level of comfort.
No need to worry about any accidental spills; the Taro handles it with ease so unlimited coffees still an option!
The Trust Taro is available in two variants:
With the ambidextrous mouse – available from Amazon for £16.99
Keyboard only – available from Amazon for £12.99
Ymo: the strong, silent type
For those looking for flexibility, then the wireless Ymo is just what is needed. It is completely wireless and only requires one USB micro receiver for both the keyboard and mouse.  It keeps the desk clean from cables and has some additional functions that will make any workday a bit easier. This includes the silent keys which are 50% quieter than conventional keyboards and the multimedia and office keys that provide shortcuts to music or the calculator. The accompanied mouse uses silent buttons and has a comfortable grip and just like the Primo, the Ymo is spill resistant too so the coffees can keep flowing.
The Trust Ymo is available from Amazon for an RRP of £22.99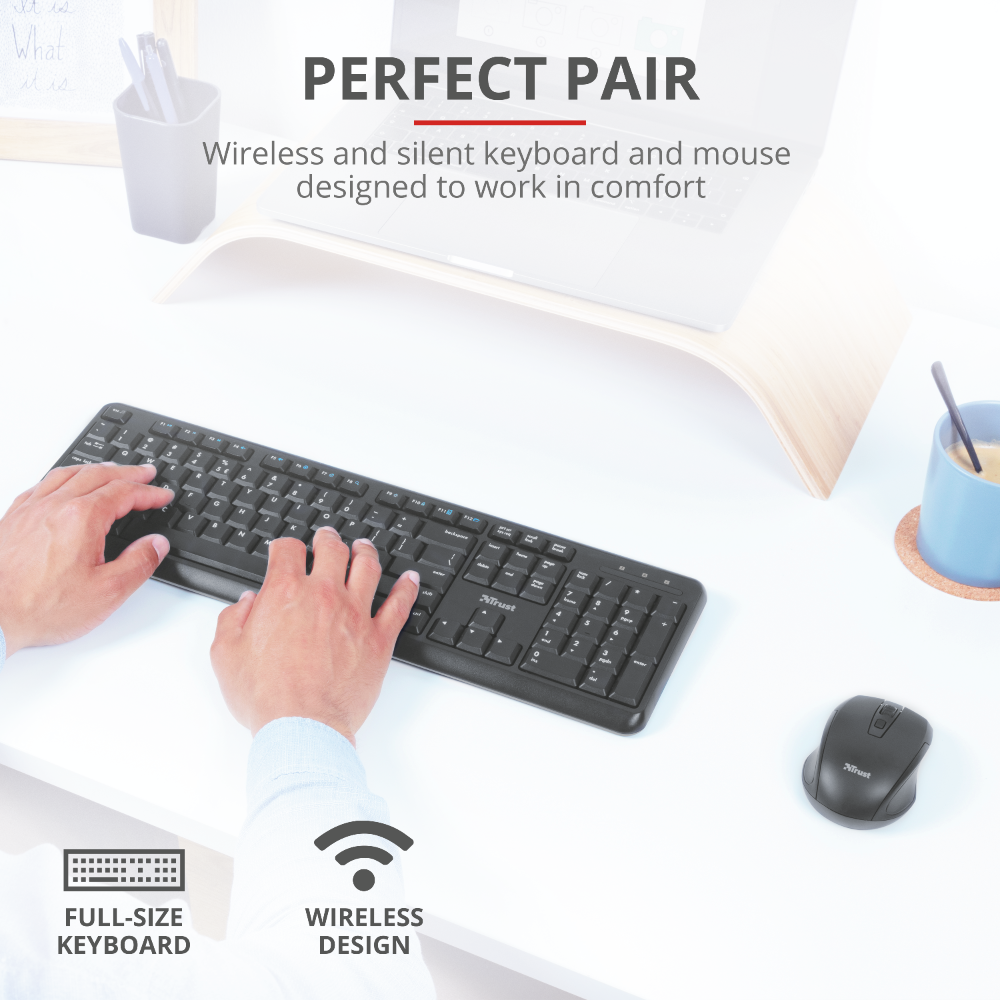 Ozaa: the premium mouse
For even more comfort and functionality, the Trust Ozaa is the ideal wireless mouse for home or office working. It has an ergonomic design, which reduces strain on the wrist, and two silent buttons that will allow for hard work with minimal noise. Thanks to its second scroll wheel, going through complex documents is much easier, and it even has a rechargeable battery so no need to buy any disposable batteries saving money and great for the environment too.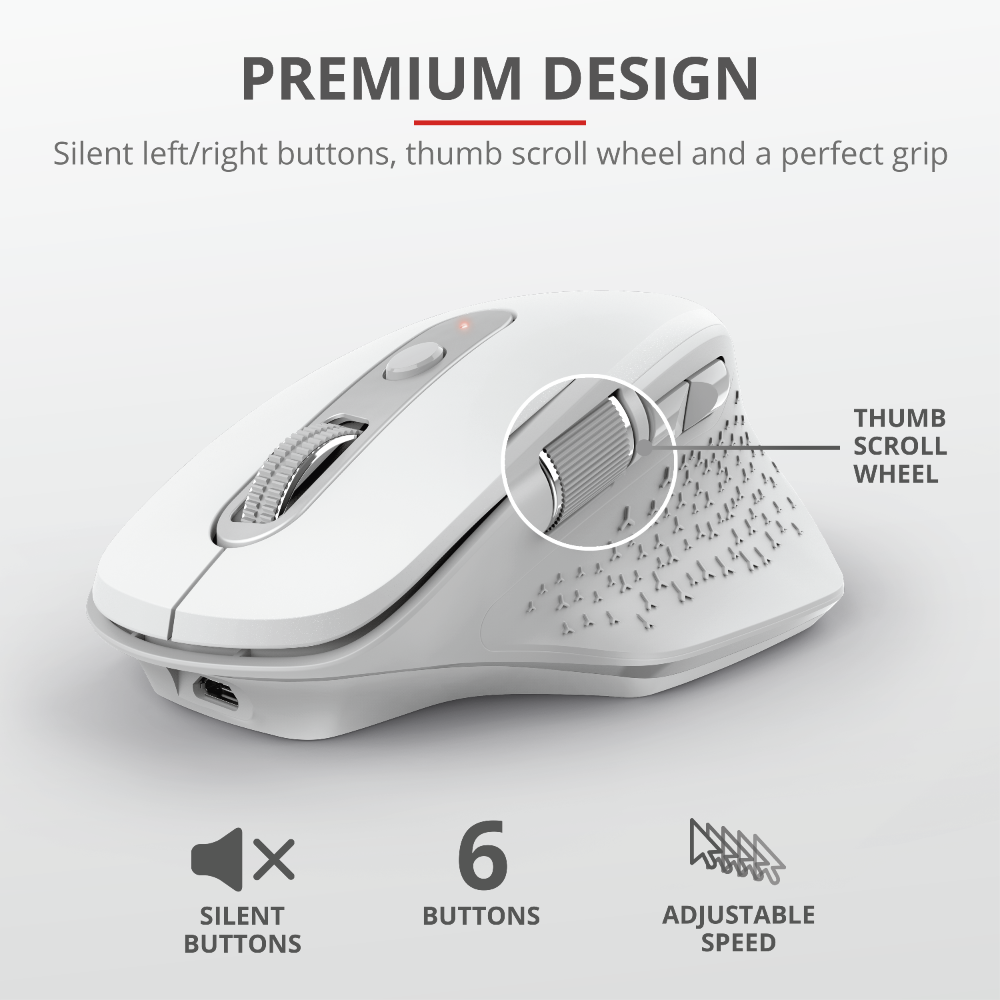 With the Primo, Ody and Ozaa, Trust is again proving to be a reliable partner for companies and consumers. These new products, were created as a smart, affordable solution as many more are increasingly working from home and need a comfortable and clutter free space to work.
The Trust Ozaa is available from Amazon for an RRP of £44.99
(We may earn a commission from the links to Amazon).