Podcast: Play in new window | Download
Subscribe: Apple Podcasts | Google Podcasts | Email | TuneIn | RSS | More
It's been a great year reviewing such a wide range of gadgets from smart watches to high end sports cars. It's been quite a ride, I've really enjoyed the whole experience, so thank you to all involved from BBC Radio Suffolk to the PR agencies and companies that have been so generous allowing me to try out all the wonderful tech!
This morning I spoke to Mark Murphy about my favourite gadgets of the year and the Gadget which won the gadget of the Year.
Smart Watches
We have a lot of fun reviewing some smart wear. We reviewed the Samsung Gear 2, Sony Smartwatch 2 and Sony Smartband. My favourite was the Gear 2, purely for James Bond features. However we have been asking to review other watches, but none have been sent out. Let's hope this improves next year.
Samsung Galaxy Gear 2  – Wearable of the Year 2014
Sony Smartwatch 2
Sony Smartband
Smart Phones and Tablets
We were never short of phones and tablets which is not surprising given the size of the marketplace. HTC, Samsung, LG, Asus, Nokia and Motorola all supplied us with review units.  HTC phones exhibited the best built quality and screen sharpness. LG had the best screen of the two Quad HD displays (the other being the Galaxy Note 4). Motorola was the best value for money with it's Moto G.
Overall, our favourite handset started and remained the Nokia Lumia 1520. A six inch incredibly vibrant screen, superb battery life and exquisite  camera. Although very large, it was by far the nicest of the all the handsets we reviewed
We also reviewed three tables, the Samungs Galaxy Tab Pro 12.2, the Nokia Lumia 2520 and the Asus Transformer. The Tab Pro 12.2 was our favourite with massive 12.2 inch screen with better than HD quality, the Nokia 2520 with Windows 8.1RT on board was close behind.
HTC One M8
HTC One Mini 2
Nokia Lumia 1520 – Smart Device of the Year 2014
Sony Xperia Z2
Moto G
Samsung Galaxy Tab Pro 12.2
Nokia Lumia 2520 Tablet
Nokia Lumia 630
Asus Zenfone 6
Asus Transformer
LG G3
Asus Zenfone 5
Samsung Galaxy S5
Samsung Galaxy Alpha
Samsung Galaxy Note 4
Cameras
We reviewed a number of cameras this year, as expected the GoPro models come ahead of most others for their durability and quality of movies and photos. The Samsung Galaxy Camera 2 was excellent and was a fully functional Android device to boot. The Sony Actioncam was good, but kept fogging up which spoilt most of it's footage. The Autographer was…. weird.
GoPro Hero 3+ Black Edition – Camera of the Year 2014
Samsung Galaxy Camera 2
Sony Actioncam
Autographer
BT Homecam
GoPro Hero
Selfie Stick
Electric Bikes
I loved reviewing the electric bikes this year. I started out with the mindset that electric bikes would be a welcome relief from simply reviewing mobile phones for a year, but I ended up extending my 'E' vehicle reviews to cars. It was thoroughly interesting and liberating to get out in the Suffolk countryside and off the beaten track to test out these bikes. The Sparta is not really designed for off-road, but was capable and fast used for travelling to work. The Smart Ebike was fabulous and I loved every minute of using it, especially off-road.  The Batribike was excellent in every area, I only marked if down for off-road use, but this was a little unfair as it had road tyres.
Sparta Ion/RX+ 
Smart Ebike – Ebike of the Year 2014 – Joint Winner
Batribike Granite Pro – Ebike of the Year 2014 – Joint Winner
Electric Cars
This was an amazing experience from the beginning. The Renault Twizy was small and exciting to drive, but really only designed to replace moped type use. The Renault Zoe was an excellent car, out of all, this was the one car which could truly offer and alternative to fossil fuelled cars both in size and price. The BMW i3 was interesting and very fast. Design wise it hardly resembled an standard BMW but it was high spec and beautiful to drive. The BMW i8 was outstanding to look at and drive. It was like sitting in Red 5 at the end of Star Wars Episode IV, and the most exhilarating drive so far (electric car wise). I didn't get to test the Tesla Model S this year, but in a week or so, I am looking forward to reviewing it.
I also got to experience 3 AMG 'normally' aspirated vehicles. I say normal, there was nothing normal about these vehicles. I experienced the G63 (G Wagon), the S63 and the C63 Edition 507. The C63 was simply mind shattering. When a manufacturer electronically limits to the top speed to 171mph, you know something is afoot.
Renault Twizy
Renault Zoe
BMW i3
BMW i8 – Car of the Year 2014

The Rest
I got to test out other gadgets and gizmos, ranging from domestic gadgets to toys and drones. The drones were fun, but in some cases difficult to control. The Ankidrive was fun and the Samsung Smart TV with Soundbar was very cool indeed. However, by far the best gadget we tried out was the iRobot Roomba 880. This is a fantastic vacuum cleaner and has remained in use at least three times a day since July this year. It does a brilliant job of vacuuming up just about any type of debris on any surface. It was fantastic!!
iRobot Roomba 880 – Winner
Samsung Smart TV and Soundbar
Ankidrive
Parrot AR.Drone 2.0
Parrot Jumping Sumo
Overall Gadget of the Year 2014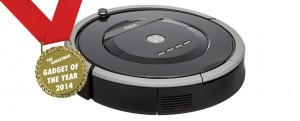 We've certainly tried and tested many gadgets this year. Some were disappointments, some were surprising successes. But at the end of the year, you simply have to hand the Gadget of the Year award to a recipient that deserves it for providing above and beyond expectation. With this in mind, we simply have to award the Gadget of  the Year Award 2014 to iRobot Roomba 880. It's a fantastic piece of equipment which has genuinely helped us around the house.