During the European Hydrogen Week, HYVIA, a venture of Renault Group, showcased its innovative approach to sustainable transportation at the SOLUTRANS motor show. The highlight was the new architecture of the Renault Master Van H2-TECH, a hydrogen-powered vehicle designed to meet the growing demands of professional users and contribute to a greener future.
Innovating for a Greener Future
HYVIA's latest offering includes three new versions of the Renault Master Van H2-TECH: L2H2, L3H2, and L3H3, each tailored to different professional needs. The L3H2 version, already fitted out as a workshop vehicle, and the L3H3+ version for after-sales operations were showcased at the event. These models exemplify HYVIA's commitment to providing versatile, eco-friendly transportation solutions for various commercial uses.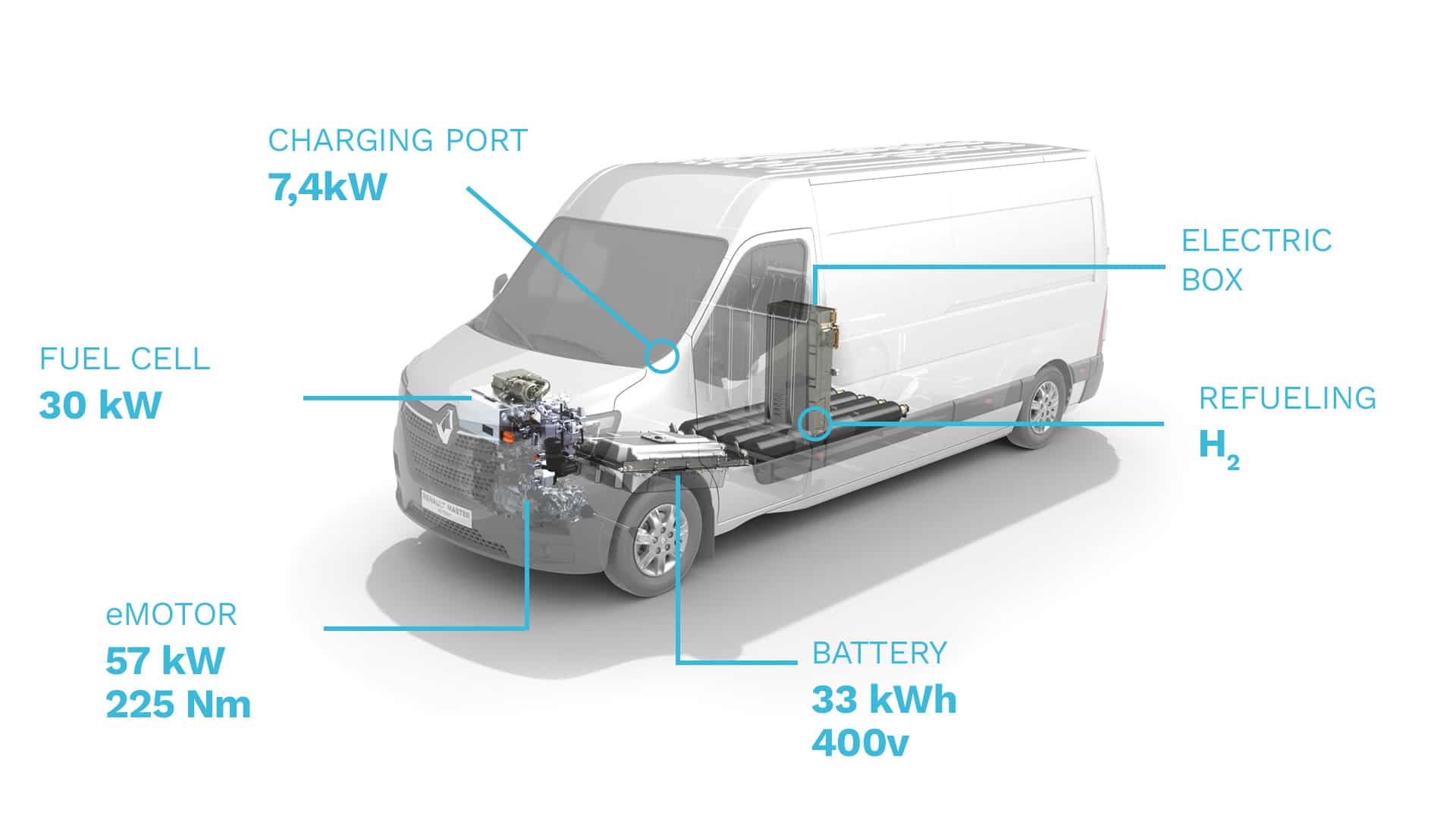 Advanced Features for Enhanced Performance
The new H2-TECH vans boast impressive features like zero emissions, a refuelling time of fewer than five minutes, and a range of up to 320 km in cold weather conditions. They also offer increased payload capacities and various conversion options, such as for emergency urban interventions or refrigerated vehicles. The integration of under-body hydrogen storage and a fuel cell in the engine compartment ensures a seamless design without compromising on load volume or payload capacities​.
A Step Towards Hydrogen-Powered Logistics
The L3H3+ version, which has been on the road since early 2023, is particularly suited for intensive logistics operations. This model provides a zero-emission solution with 405 km of autonomy, a payload of one tonne, and partners like CHRONOPOST and ENGIE among its initial users​.
A Future-Ready Approach
Looking ahead, HYVIA is developing a new generation of hydrogen-powered vans to be launched in 2025. This future line, based on the New Renault Master, will be produced at Renault's Batilly plant in France and incorporate advanced hydrogen technology from the HYVIA site in Flint.
Supporting a Hydrogen Ecosystem
HYVIA isn't just about vehicles; it's about creating a sustainable hydrogen ecosystem. This includes HYWELL™ refuelling stations in partnership with Atawey, financing solutions tailored to customer needs, and strategic after-sales services through the Renault Pro+ network. These initiatives demonstrate HYVIA's holistic approach to fostering hydrogen mobility​.
HYVIA's unveiling of the new Renault Master Van H2-TECH marks a significant step towards sustainable commercial transport. With innovative designs, advanced features, and a comprehensive support system, HYVIA is paving the way for a greener, more efficient future in mobility. This exciting development reaffirms Renault's commitment to decarbonizing road transport and its leadership in the hydrogen mobility sector.