Podcast: Play in new window | Download
Subscribe: Apple Podcasts | Google Podcasts | Email | TuneIn | RSS | More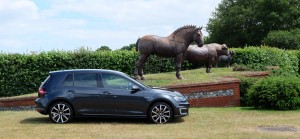 This morning, I chatted to Mark about the new breed of cars currently hitting the markplace around the world, namely PHEV's or Plug-in Hybrid Electric Vehicles. I've already reviewed the e-Golf a few months ago, however the GTE takes the  electric technology from the e-Golf and combines it with the performance on the Golf GTi. It's quite a vehicle to drive.
From a distance you might be fooled by the Volkswagen Golf GTE, it shares its DNA with the legendary Golf GTI, but can also be driven in zero emission mode like the all electric e-Golf. It's design and equipment has been adapted directly from the Golf GTI with the red hints altered to 'eco friendly' blue. The front grill mounted VW badge doubles at the access cover for the charge port.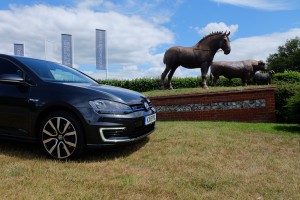 The engine or 'engines' are supplied as a 1.4 litre 150hp turbo charged fuel injected petrol engine and a 102hp electric motor providing a combined power output of 204hp in GTE mode. Essentially you have two independent drive systems that provide almost silent operation and zero emission with speeds up to 86mph in electric mode, morphing to a 146 mpg fuel sipping hatchback in hybrid mode to the insane 0-60 in 7.6 seconds hot hatch with maximum speed limited to 137mph.
When you switch into GTE mode, there is a noticeable change in engine sound which at first caught me off guard and speculating how it was achieved? After a little light reading, I discovered that VW are employing a 'method' similar to the BMW i8 supercar. Electronic engine sounds is played into the cockpit of the car via integrated sound system, fooling the senses that you are driving a big V8. It really does fool you, as coupled with the sudden full boost unleashed via the turbo charger, you are catapulted from a completely silent standstill to a roaring power house in an instant.
This is one of the new range of 'Plug-in Hybrids' which are current coming to market. There is a very good reason for plug-in hybrids though. Originally hybrids were designed to be charged by the main internal combustion engine and regenerative braking systems and was only really used to bring the car up speeds above town use. With the advent of Plug-in Hybrids, the on board battery is now larger and able to power the car for reasonable distances before requiring recharge. In the Golf GTE's case, the battery will allow for about 30 miles before recharge. You might think this isn't much, but the average car journey to place of work in the UK is 9.9 miles, so on average you could drive to work and home without using the petrol engine at all. I tried this and the car was reporting 300 miles per gallon! It certainly gives you a good idea of how much cheaper an electric car is to run. In 'optimal' driving conditions, VW reckon you should get 146 miles per gallon! Charging the car takes 2 and half hours via a normal 220v electrical supply.
If you are considering a hybrid, you couldn't go far wrong with the Golf GTE. It combines 'hot hatch' performance with zero emission short distance driving. The price is in line with the Golf GTI, so you would be looking at paying around £33,000.