In the never-ending battle of the tech giants, 2018 has most certainly been the year of the bevel or indeed lack of bevel. TV's have become almost bevel-less, transforming from boring black rectangles that have been slowly consuming our living rooms to ambient wall furniture which can now disguise itself as the wall-covering it once blighted like some kind of digital chameleon.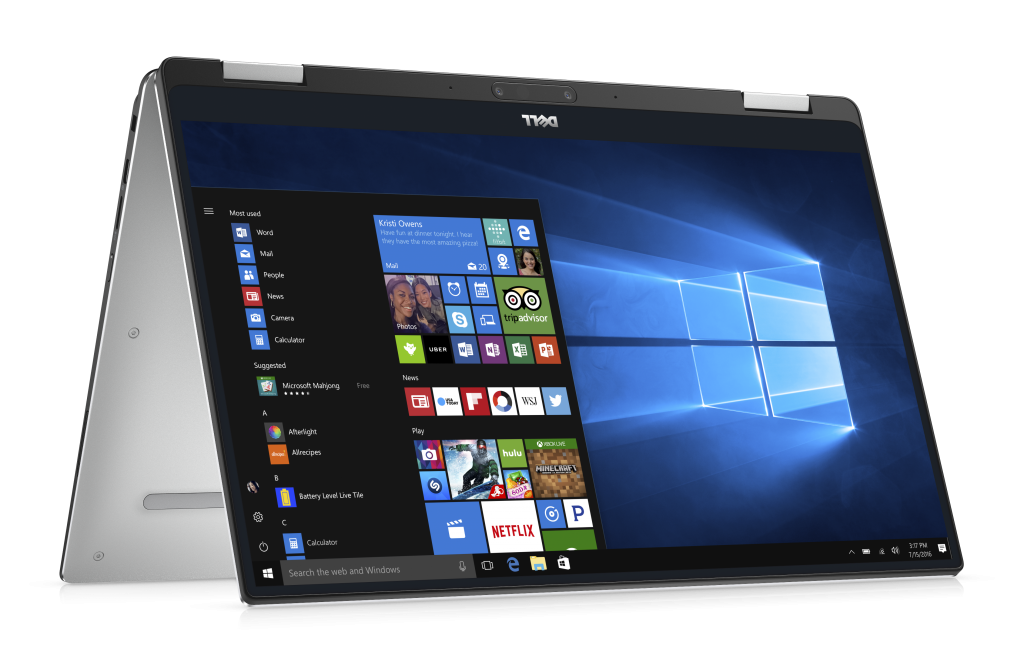 In our hands, the swift removal of bevels from around our curved smart phone screens has introduced us to the 'notch' as manufacturers desperately seek new ways to hide fingerprint readers and front facing cameras. Along with these gadgets, we now see the same happening with computer screens, laptops and of course the 2-in-1 or convertible touchscreen notebook / tablet devices.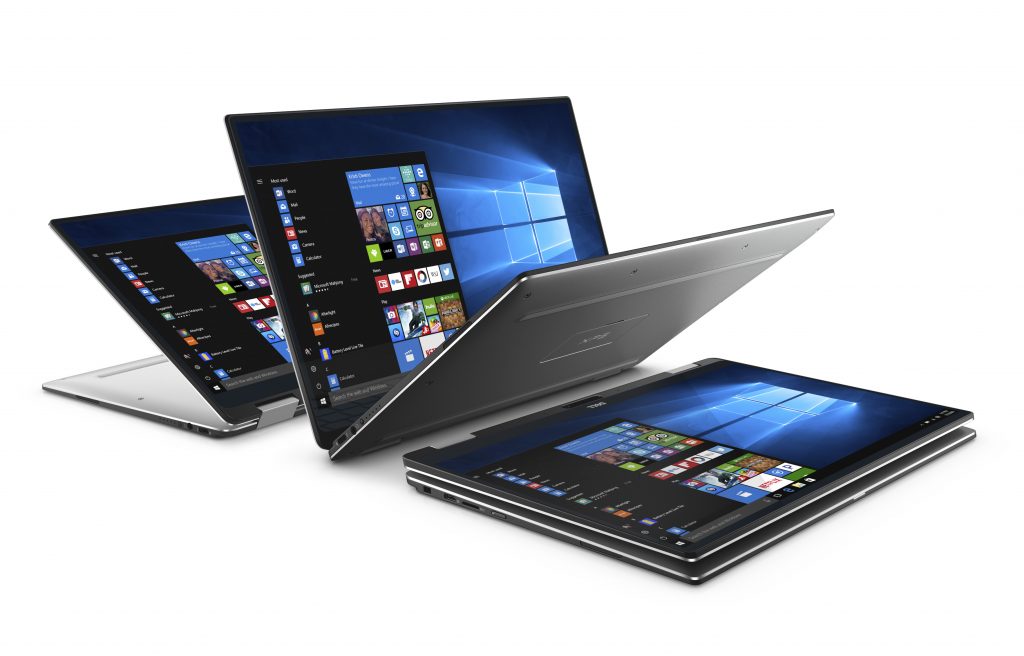 The Dell XPS 13 2-in-1 is just one of those devices, a beautifully sleek device with the almost bevel-less screen in the form of Dell's own 'InfinityEdge' display and a power packed Intel Core i7 processer and SSD drive.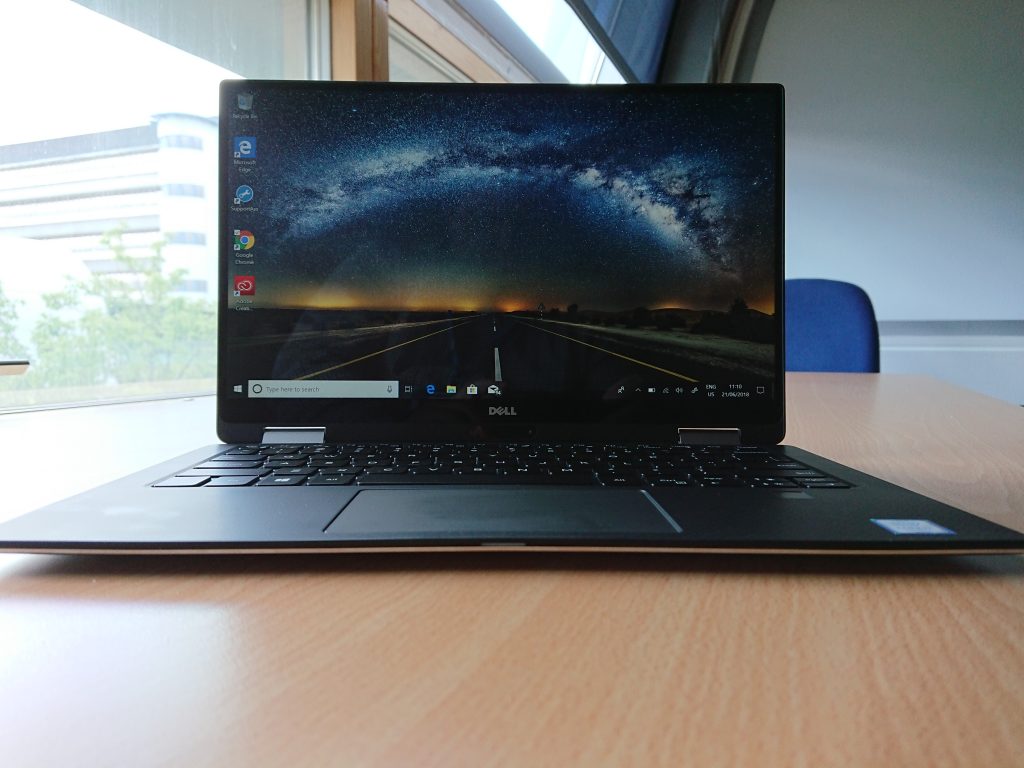 The XPS 13 2-in-1 is a convertible laptop which with the help of Windows 10 converts into a 13" tablet by simply folding away the keyboard and transforming into a lovely device to please artists or note-takers alike.
The 2-in-1 comes in a nicely branded black soft-touch box. Inside you find the laptop with its lid and base polished aluminium with embossed Dell logo in the centre. Opening the lid to expose the keyboard and screen isn't quite as graceful as other laptops due to the lack of weight, but this is a small issue as once revealed, it provides a very pleasant view for owners.
The keyboard is nicely recessed, typing is very tactile and feels high quality with a good sized touch pad below. Surrounding the keyboard and touchpad is what looks a feels like carbon fibre, this this looks really nice and gives good grip when 'manipulating' the device, but is also a bit of a fingerprint magnet. There is also a fingerprint reader for use with Microsoft Hello.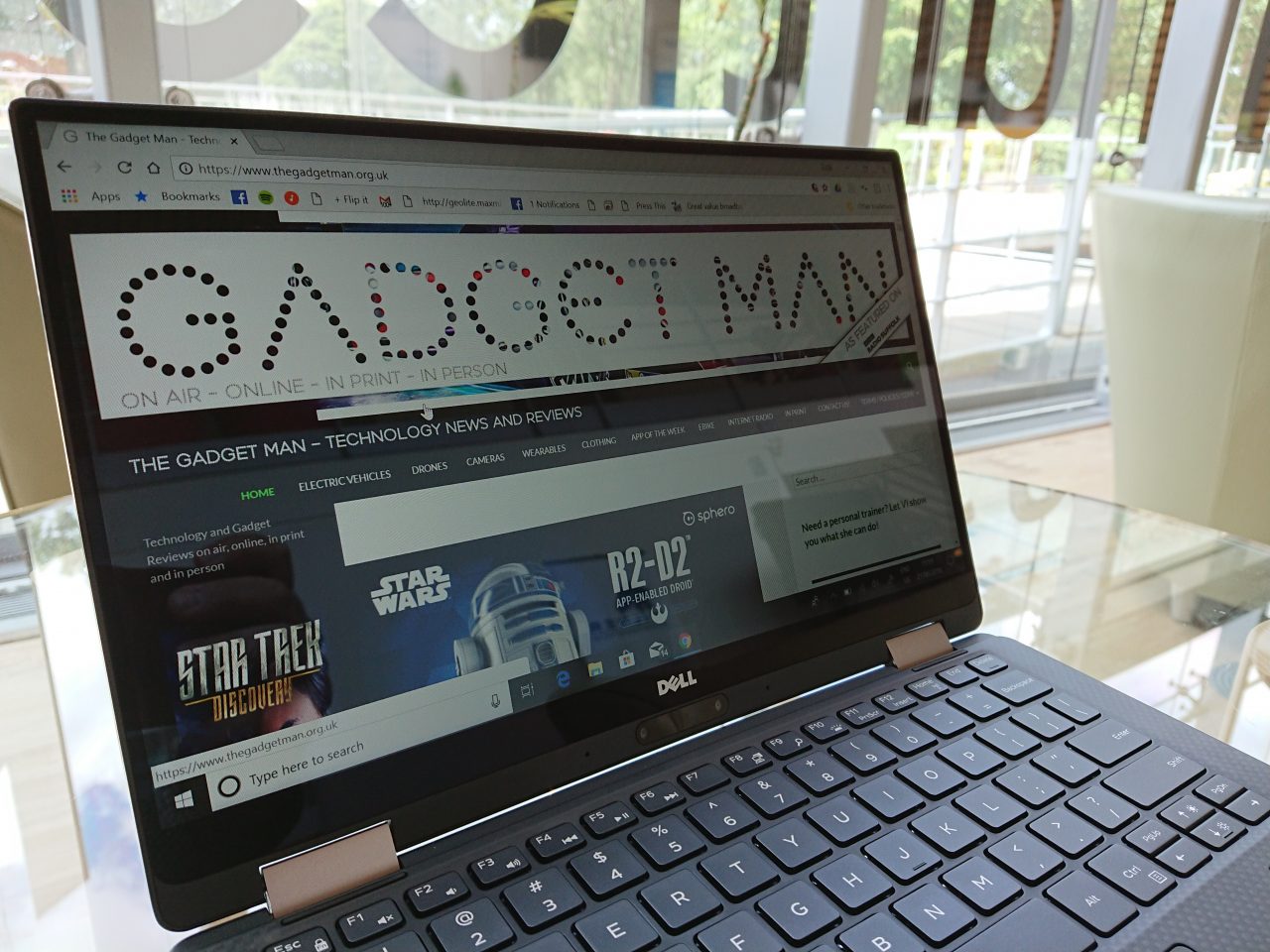 Now down to the display itself, which I have to admit is absolutely stunning! Dell have gone for a gloss glass screen which makes colours rich and vibrant, blacks are… well black as they should be with no obvious backlight ruining your viewing experience. My unit was a 1920 x 1080 FHD screen, but there is also a 3200 x 1800 model giving even greater clarity. The screen is also multi-touch (10 touch points) capable and for artists the Dell Active Pen can also be used which is sold separately.
Powering the device is the 7th generation Intel Core i7 running at 1.60Ghz along with 8Gb of memory and a 240Gb Solid State Drive (SSD), as expected the machine runs very quickly indeed with almost instantaneous boot up and excellent performance. Running Adobe Photoshop was a breeze and I can imagine with the Dell Active Pen would provide an excellent environment for artists.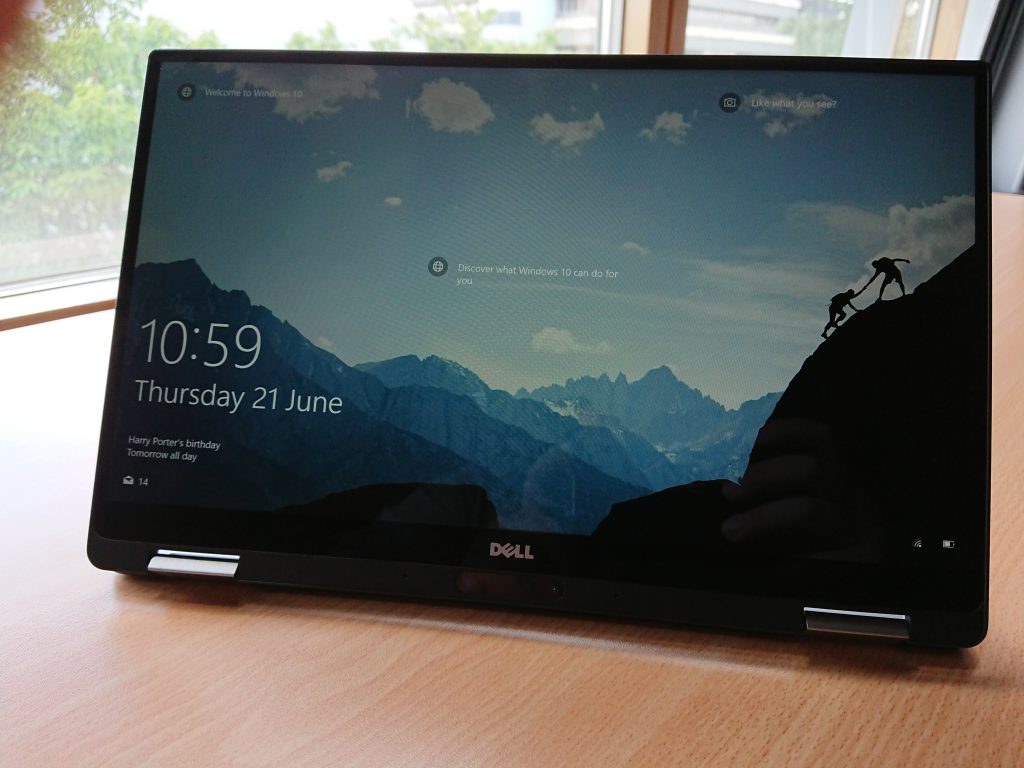 As the machine runs on Windows 10 Home Edition, the majority of owners will be familiar with finding their way around the system and with a device designed to work directly with this software, the journey is relatively painless.
If you are looking to plug in your peripherals, you will find that the XPS 13 2-in-1 has now joined the USB Type C charging club and thus has no traditional USB ports other than using an adapter. Thus, you have 2 USB-C ports for connectivity or charging the device, a Micro SD port for transferring data, a display port connector, a Thunderbolt™ 3.0 connector and headset jack port. The frustration of losing the standard ports we have all grown used to can be easily remedied by after-market adapters.
Dell have yet again produced a high quality machine which sits right up there with other manufacturers hardware. It would be very useful for business people who need to work from remote locations or whilst commuting and I'm pretty sure that a few lucky students would also benefit from using it.
Starting at around £1150, the Dell XPS 13 2-in-1 is by no way an entry level device, but if you are look for a very nicely designed notebook or tablet, then buying a 2-in-1 may well be your solution.
Matt Porter
The Gadget Man
[amazon_link asins='B0774SSKTD' template='ProductCarousel' store='uk=1′ marketplace='UK' link_id='9ac06988-77bf-11e8-8f79-0f2f5d90e2ba']