For the last few weeks, I have been testing the ASUS Transformer Mini, a device which can be a laptop and tablet depending on your mood.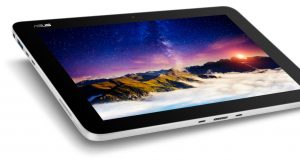 The idea of a tablets with keyboards is not a new one, these were generally add-on keyboards for iPads or Android tablets which worked well, but seemed out of place on a device that was designed to be operated without one. There have also been laptops with detachable keyboards which in turn felt out of place running software which was designed for one.
The key change is the introduction of Windows 10 which can seamlessly transform itself from a keyboard and mouse centric operating system into a touch and swipe based tablet and back again, simply by detaching and reattaching a keyboard,

ASUS have been in the 'transforming' tablet market for some time and the Transformer Mini T102H brings a very useful addition to the table with a 10.1″ LED backlit HD screen which uses ASUS's 'Splendid' and 'Wideview' Technology to give great viewing angles.

Powered by the Intel® Atom™ x5 Processor and 4 GB of RAM. The hard disk is in fact Solid State memory and gives your 64GB of silent running. Everything on board is low power and there didn't appear to be any internal fans to cool the device.
The graphics are fast and snappy helped by the integrated Intel HD Graphics processor and there's also an inbuilt 2 megapixel webcam for Skype or other video chat applications.
The great thing about Windows tablets is the number of connectors, the Transformer has a 3.5 mm combo audio jack, USB 3.0 and Micro USB ports, a micro HDMI socket, Fingerprint reader for login, volume controls and micro SD card slot.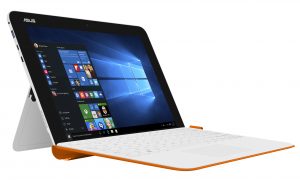 The detachable keyboard was really easy to use and attaches using a powerful magnet and always seemed to line up properly and was responsive to use with the inbuilt trackpad. My Transformer also came with a stylus which is battery powered and looks and feels like a real pen, it was great for drawing and painting using the bundled apps and can also be used to write on-screen sticky note.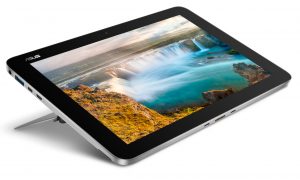 I really enjoyed using the Transformer and it makes a great device for people who are comfortable with tablets, but also need a real keyboard for their work, possibly an idea for students? At £449 it is reasonably price too.