Podcast: Play in new window | Download
Subscribe: Apple Podcasts | Google Podcasts | Email | TuneIn | RSS | More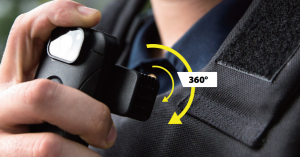 This week I talk about a new wave of devices aimed at both Police and private security firms. Body Cams allow for the collection of video evidence which is aimed at reducing the time wasted by conflicting opinions from police and witnesses to crimes.
I have been reviewing the Transcend DrivePro Body 10, a really excellent example of such a device, which is easy to set up, extremely simple to wear and operate and produces excellent 1080p video in both daylight and nighttime. The device has an excellent F2.8 160 degree wide angle lens and comes with a 32GB micro SD card included.
Video is split in to manageable sized files which means that en entire video file does not need to be viewed or copied to other media for use in court. It is also time and date stamped with the option of adding additional text to the file which is displayed on the resulting video.
The device is weatherproof and also includes a 'snap shot' button for taking 3.3mp image files. Operation of the video is simple and only requires the power button to be depressed to start recording and pressed again to stop.
Don't forget to listen in to the stream to find out more about the Transcend DrivePro Body 10.
Many thanks to Transcend for providing me with a demo unit.