JOBY, the go-to brand for content creator gear, announces its collaboration with the multimillion-subscriber YouTube personality and vlogging godfather, Casey Neistat, to shine a light on the JOBY Wavo PRO shotgun microphone. The new go-to, on-camera mic built for storytellers, filmmakers and expert content creators combines broadcast-level audio performance with superior voice intelligibility.
JOBY, being a brand that stands for creators, teamed up with world-renowned content creator Casey Neistat to launch the contest of a lifetime. The competition gives the next generation of storytellers around the globe the chance to achieve their dream of becoming the next top creator, thanks to the top prize being not only the chance to co-create a video with the one and only Neistat but to have it featured on his YouTube channel.
During the contest, running from September 15th to October 17th across the United States, the United Kingdom, Germany and India, JOBY and Casey will invite the community to share their most creative and original video ever realized. The mechanics to participate are designed to reflect JOBY's iconic simplicity: just a few simple steps to great creator possibility!
Step 1: Creators simply fill out a form on the contest landing page or JOBY social media channels
Step 2: Submit a link to their most creative and original video ever created
Step 3: Follow @JOBYinc on Instagram to stay up to date.
Step 4: Win endless prizes and the chance to co-create with Neistat
The top 5 winners will celebrate with an all-inclusive trip to a secret location in the United States for the ultimate creator experience: working alongside Casey to create a video with Wavo PRO and all its features. The video will be featured on Neistat's YouTube page on November 23rd, reaching his current 12.4 million subscribers. To further connect creators with JOBY products, the next best 95 creators will win $100K worth of products and discounts to help them upgrade their content creation.
However, the prizes don't stop there: together with the 100 winners that will be announced on October 28th, JOBY will extract an additional four bonus winners for five consecutive Wednesdays, starting September 19th, for weekly prizes in order to help creators to level up their content right away.
As a brand, JOBY has always supported creators in uplifting their creativity thanks to the development of quality products that simplify workflow, make delivering content easy and ensure fun along the way. JOBY's 'born by listening to creators' mantra, developed in the 2020 Song of Us Campaign, was equally leveraged in the newest JOBY Wavo mic lineup, enabling JOBY to further connect with its global community.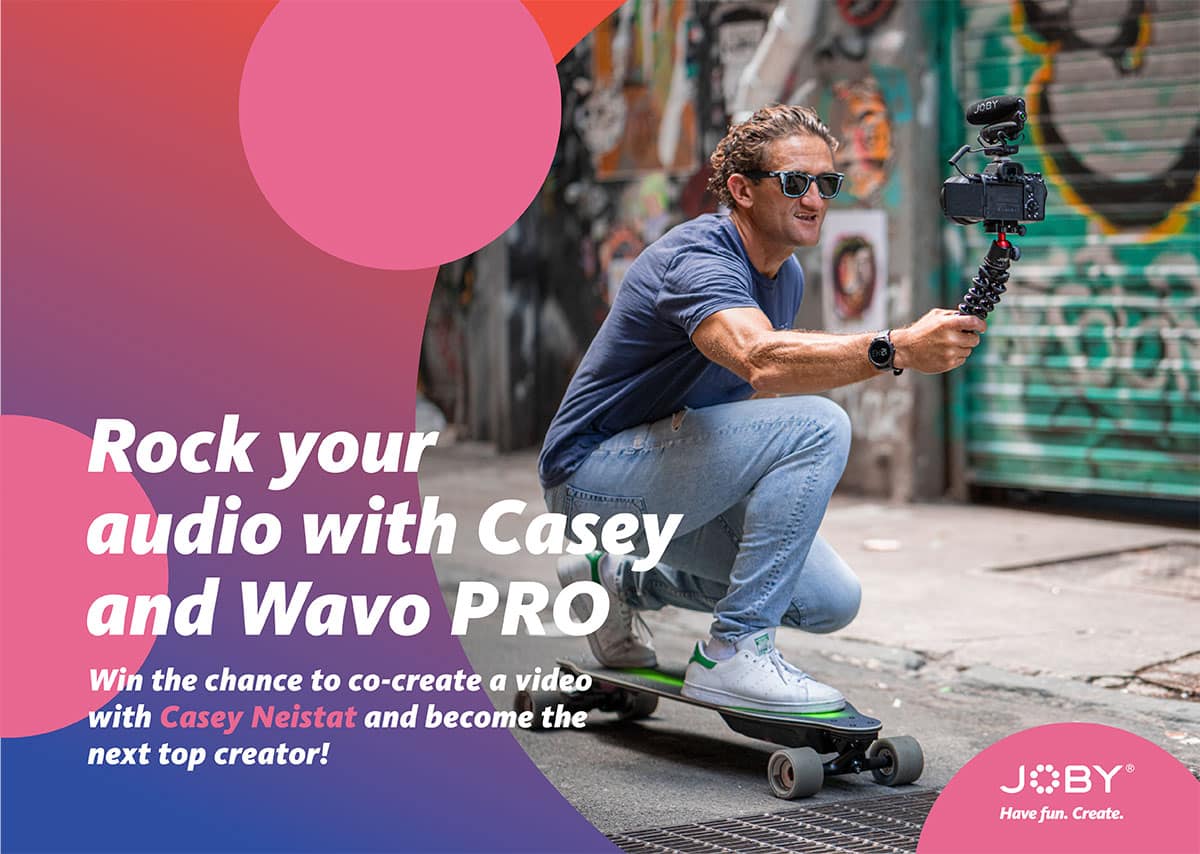 The flagship product of the JOBY Wavo lineup, released in January 2022, Wavo PRO, is the ultimate professional on-camera microphone for creators and filmmakers. The new audio range provides creators like Neistat with crisper and clearer sound for pro-level content.
The Wavo PRO is packed with features like Active Noise Reduction for clearer sound, built-in LEDs that monitor battery and audio levels in real-time, a second built-in mi input and more. The Wavo PRO is designed to equip creators like Neistat with top-notch quality gear for amazing content. Through the contest, JOBY aims to reach a wider creator audience, helping to uplift their content creator potential.
Beyond the flagship Wavo PRO, JOBY has microphones that can be used in a variety of scenarios by all creators – whether just starting out or already established.
The Wavo PRO DS is the perfect companion for those just starting out.  This shotgun microphone shares most of the pro-grade components of the flagship Wavo PRO, but is designed to deliver high-quality audio with a more streamlined user experience.
The Wavo AIR is an 'instant-pairing' wireless microphone kit designed for creators who need freedom in front of the camera. From food vloggers to virtual fitness instructors, Wavo AIR is perfect for delivering tight, broadcast-quality sound – even at a distance.
Wavo POD is JOBY's large-diaphragm, USB condenser microphone for audio streamers. The mic is designed for the everyday podcaster or game streamer, featuring the versatility of both cardioid and omnidirectional pickup patterns with 24bit/48kHz high-res sampling rates.
The Wavo Lav PRO is a pro-grade lavalier mic designed for big sound with a small footprint. The Wavo Lav PRO introduces a high-quality lavalier microphone with discreet capsule dimensions and sound fit for the Wavo PRO.
More microphones are set to come this year, so stay tuned!
To learn more about the competition and JOBY check out the campaign, now live.