Podcast: Play in new window | Download
Subscribe: Apple Podcasts | Google Podcasts | Email | TuneIn | RSS | More
I'm a real fan of tablet computers. I love being able to comfortably read eBooks, magazines and news websites. I love watching streaming movies and catching up on TV either on the move on in the comfort of my home.
Make no mistake, modern smartphones are great for most of these things too, but the tablet gives you the extra space to comfortably read digital versions of magazine in (almost) their intended footprint. This is possibly what has driven the gradual increase in screen sizes on both phones and tablets, becoming a replacement for our televisions and with it changing the way we watch video.
Having dominated the tablet market for so long, the iPad in all it's various sizes is a hard act to match let alone beat! I've tried contenders in the past from Nokia and Samsung, both promised great things, but stumbled where it mattered most, performance.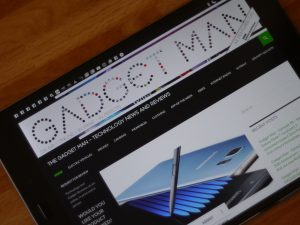 The Asus ZenPad 3s 10 definitely ticks every box with it's performance packing a Hexa-core CPU (basically 6 CPUS packed on one chip), 4Gb of RAM, 32 or 64Gb of data storage, SUPER bright 9.7 inch IPS LCD Screen with a resolution of 1536 x 2048 pixels. Around the screen is in incredibly thin bezel, so although it shares the same size screen with the iPad, it is in fact slightly smaller to hold. Inbuilt stereos speakers with DTS Surround Sound gives a really nice (and loud) audio experience too. The case is made from aluminum with front (5 MP) and rear cameras (8 MP), the rear camera features Geo-tagging, touch focus, face detection, HDR, and panorama with both cameras able to record 1080p video. Charging the ZenPad is possible with the supplied USB-C Cable and Fast Charger, able to restore the battery from zero to 83% in 30 minutes. Security is provided by the integrated fingerprint reader which is seamlessly embedded in the front central button.
Also supplied is a small stand which allows you to prop the tablet whilst watching it, I tried this twice and felt the cardboard material used to make it wasn't really strong enough for extended us.
Asus have bundled masses of software along with the Google suite of apps such as GMail, Google Documents, Maps etc. They have modified the stock Android experience and allowed lots of customisation to suite everyone's taste.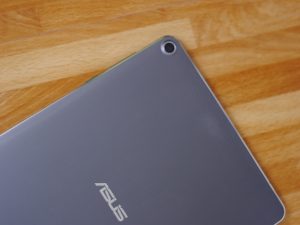 Using the Zenpad was really impressive, they have gone with a 4×3 screen ratio which has been popular with the iPad since launch. In my experience 16×9 is better for viewing movies in widescreen, so you do get the extra bars at the top and bottom of the screen which watching video, but it's when you use the tablet for surfing, Facebook, Twitter and especially reading that you see the benefit of the extra screen width.
ASUS have gone to a lot of trouble to make a luxury product that weighs 430g and is 5.8mm thick with diamond cut bevels and nicely etched logo on the back. It really feels and looks expensive, colours are really bright, but not over saturated and the hexacore processor makes just about any task completed in a instant. It's a great device, possibly one of the best I've used so far across the board.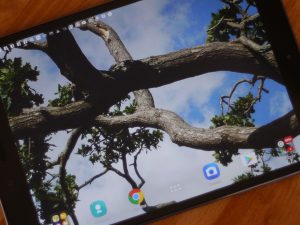 At roughly £299, the Zenpad comes in at roughly £100 cheaper that the iPad Air and in fairness to both it performs admirably and in some cases improves on the Apple device. It is a fabulous device at a great price.
It really is a great alternative to the obvious and I would encourage people to check out these devices if they are looking for iPad alternative at a slightly more affordable price.