In the lead up to the East West Road Trip in October I was looking for a smartphone to enable me to document the trip both with photographs and video and was particularly keen to live stream the video where possible. 
Initially I was looking to live-stream the trip using a 360° camera, unfortunately this didn't come off and I was faced with a last-minute race to find an alternative literally 2 days before we were departing! 
Fortunately, I was offered the Sony Xperia XZ1 phone with 30gb of data from EE. This solved by data anxiety problems immediately and having used Sony Xperia devices in the past, I was confident they would step up to the plate with image and video quality. 
Sony are an extremely well-established tech companies, in fact for many years they were 'the' tech company of choice and it's no secret the mobile phone market is dominated by two other big tech brands, so I was interested to see how the XZ1 would differentiate itself in an ultra-competitive industry. 
Out of the box, the Sony XZ1 is a sleek, smooth, black device, with Gorilla Glass 5 front facing glass and deep black aluminium at the back, a departure from the super-sized XZ Premium from earlier in the year which was covered from and rear in glass.  With dimensions of 5.83″ x 2.87″ with a thickness of 7.4mm, this is not the most gigantic handset and its smooth edges make it comfortable to hold, although it is very smooth, so hold on tight! Aside from black, the device is also available in Moonlit Blue, Warm Silver and Venus Pink, so plenty of choice. 
The phone is preloaded with the Google Android™ O (or Oreo) operating system and Sony have been very sensitive by not trashing the ideals of the OS by avoiding in the addition of their own 'enhancements' in the most part. 
The phone packs a very bright 5.2″ TRILUMINOS™ display driven by BRAVIA® TV technology given HDR compatible playback X-Reality™ producing 138% of standard display colour spectrum, the companies experience in the display market really comes through. The display is noticeably brighter and colour more natural that other phone displays and playing HDR video from YouTube, Netflix or Amazon Prime is incredible. X-Reality™ intelligently removes noise and from videos produces exquisite results, it really is impressive. Some people would criticise the use of a Full HD screen HDR screen instead of the perceived standard of UHD and above, but I would beg to differ, having tried both UHD and 4K mobile devices, I see no real benefits, even when using VR Goggles. 
The beating heart inside of the device is provided by a Qualcomm® Snapdragon™ 835 Processor, positioning the phone in the same bracket at the competition. In addition, storage comes as 4GB of RAM and 64 GB of super-fast UFS internal memory with support for an addition of a up to 256GB micro SDXC. It's pleasing that support for additional memory has been included with the phone, although it's quite fiddly adding and removing both Sim card and SD cards with the phone, but on the plus side it's very accessible. It should be noted that around 9.5GB is used up by preinstalled firmware and applications. 
The phone is powered by a 2700 mAh battery, featuring Smart Stamina 3.0 and Qnovo Adaptive Charging which prolongs the life of the battery by ensuring it is charged quickly and safely with the addition of  Qualcomm® Quick Charge™ 3.0.  I've come across battery charge management in the past with electric cars and particularly the Tesla Model S, this too allows for quick charging, but upon reaching around 80% full, charging speed is tapered off to ensure the lifetime of the battery. Sony does a similar job with the Xperia XZ1 by intelligently noting owners charge habits and adjusting the charge rate of the phone if for instance you are sleeping and don't begin using your phone until 7.15am. It is also possible to use the phone to charge other devices using an Android OTG adapter, but in fairness mobile phone battery is at such a premium that use of it for anything other than for the phone itself is rare. 
With normal use the phone easily provides a days use with something left over at the end and this will be using all of the phones features, even some of the cooler ones which I will talk about later. Charging is provided by a Qualcomm® Quick Charge™ 3.0 charger and USB Type C socket.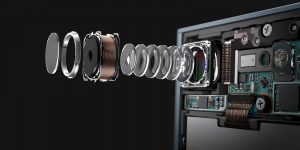 Moving on the the front and rear cameras, Sony has yet again infused the phone with their high quality optics and sensors. The rear facing 9MP Motion Eye™ camera with 1/ 2.3" Exmor RS™ with 1.22μm pixel pitch. The lens is a 25 mm wide G Lens F2.0. Sony again use their own BIONZ™ for mobile image-processing engine to give superb results. There's a ton of features such as Predictive Capture (motion / smile), Autofocus burst, x8 Digital Zoom, HDR Photo, 0.6 sec Quick Launch & Capture, Predictive Hybrid Autofocus, Anti-distortion shutter, Triple image sensing technology, SteadyShot™ with Intelligent Active Mode (5-axis stablisation) and 4K recording at 30fps. 
However, the 'pièce de résistance' is the inclusion of a 960 fps Super slow motion video capture. This is achieved by the inclusion of addition hardware installed directly into the camera sensor in the form of hyper fast dynamic memory which allows for raw footage to be saved directly into the sensor and then drip feed and standard speed back to the standard hardware. Due to the colossal amount of power required to pulling 960 frames per second, the sensor only actually captures .18 of a second at 720hd, stretching it to around 6 seconds of footage.
This is called Motion Eye technology and personally I'm looking forward to seeing how this develops for the future, because it's really impressive. As expected, you need bags of light to capture at this speed, so it works best outside in daylight, I also noticed light flicker in my office due to the refresh  rate of our lights. Normal lighting does not cause his problem though. 
The front facing camera is a saner 13MP 1/ 3.06"  Exmor RS™ for mobile image sensor with 22mm wide angle lens at F2.0, again Sony includes it's proprietary SteadyShot™ 5-axis stablization technology.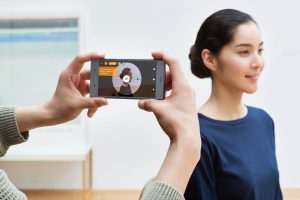 There is one simply AMAZING feature included with the XZ1 which is the 3D Capture mode. This uses software developed by Sony, utilising both processor and camera to allow you to 3D scan objects, share them and even have them 3D printed. It takes a little practice and Sony actively limit the modes available to give you time to get used to simple scans until you are ready to scan 'freehand'. My initial results were ok, but I soon became adept in scanning some great objects, from peoples' faces, heads, food and any other object I could think of. This is a tipping point in this industry, no longer do you need super expensive scanners and solutions, you can now use your Sony Xperia XZ1 (and now XZ Premium) to scan 3d objects. It truly is incredible.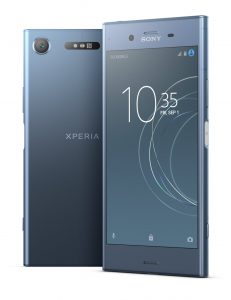 Sony has chosen to stick with traditional Xperia design, this means that the trend of big screens and no bezels isn't a feature of this phone, instead the phone packs stereo speakers at top and bottom of the phone which in landscape mode gives supreme stereo sound, making use of the Qualcomm® aptX™ HD audio features, the phone can 'upscale' lower quality audio to a near uncompressed sound when streaming across Bluetooth. There are a host of other features such as High-Resolution Audio, DSEE HX™, LDAC, Digital Noise Cancelling, Clear Audio+,  S-Force Front Surround, Stereo Recording and Sony's Virtual Phones technology. The speaker volume has also been increased by 50% over previous models. 
Gaming wise, the phone is going to be able to handle pretty much everything thrown at it at the moment due to it's highest end spec, but also included is PS4 integration using Remote Play. this allows you to connect to your own PS4 remotely and play your installed games, you can even pair a PS4 gamepad if that appeals. 
The phone retails at £599 off contract, but at the time of writing there are some pretty appealing deals including some nice add-ons, but in the UK you are still looking above £50 per month for two years and more if you want better data allowance.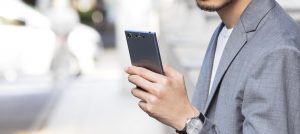 Although the XZ1 doesn't pack the 4K display of the XZ Premium, the screen is quite possibly richer, especially in HDR mode, the sound it great and performance very very quick. In a world where it is perceived we only have two choices, Sony have yet again produced a solid handset capable of sitting amongst the best. 
I did end up streaming a fair amount using the Sony Xperia XZ1 during and after the trip and found it to be a very capable device and coupled with an effectively limitless amount of data, it worked well.
On a side note, EE's 4G network is very impressive and we were able to live stream both through Glencoe and arriving at Ardnamurchan, they pretty much had us covered.
Matt Porter 
The Gadget Man