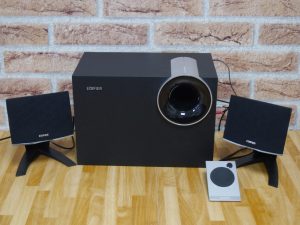 For the past few weeks I have been testing the Edifier M1380 2.1 Speakers with Subwoofer and Satellites.  As a music fan, I've always been a fan of external speakers both PC's and MP3 players, so when a set of Edifier M1380 speakers arrived at my office, I was eager to give them a try.
The M1380 speakers come with a high quality 5 inch subwoofer bass unit, two satellite tweeters and a wired controller for both muting  and controlling the volume. Bass is adjusted by a control knob on the side of the subwoofer with a 3.5mm audio line-in cable and speaker out connectors for the tweeters.
The subwoofer feels weighty, which gives you confidence that the bass reproduction is going to be good in addition, the build materials feel sturdy. The subwoofer outputs 12W, it's not up to 'block party' standards, but it's perfectly loud enough to please someone as a second set and is complimented by the the tweeter speakers outputting at 8W each.
The satellite speakers are elevated to a height of 6 inches. This gives the sound the freedom to travel rather than be adsorbed by surrounding furniture and is crisp and pleasant to listen to.
The speakers have been balanced with each other, meaning they work together to produce a rich, pleasant sound and don't interfere with each other by over-saturating different frequencies.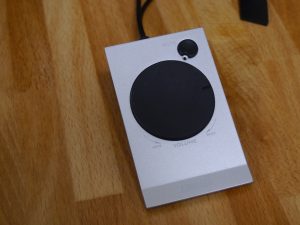 The speaker volume is controlled via a small table mounted dial and mute switch. I like this kind of set up as it allows to to easily adjust the speaker volume by sitting the controller next to your keyboard if you are using them as PC speakers. It also offers a headphone socket, allowing you to plugin your favourite pair without having to reach around behind the speaks and fumble around.
Edifier are very good at producing attractive audio equipment and the M1380 continues this with a modern, matte black setup which would fit in most surroundings and not look out of place.
The price point for the speaker system is around the £49 mark, this feels like great value for such a quality product. If you are looking for a cost effective set of speakers which would suit students heading off for university, these are a great choice.
Matt Porter
The Gadget Man