Podcast: Play in new window | Download
Subscribe: Apple Podcasts | Google Podcasts | Email | TuneIn | RSS | More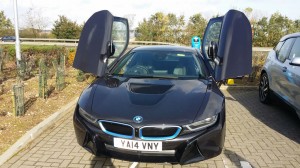 Completing our reviews of BMW electric vehicles (or EV's), this week we talk about the BMW i8 Super car.
The i8 was one the most exciting vehicle I have been able to drive, and again; a BIG shout out to Matt Dawson at Cooper BMW Ipswich and Emily Adcock at Cooper BMW Norwich for providing the car for review. What an amazing opportunity, Matt went to a great deal of effort and Emily was amazing with her describing the car and demonstrating it's features.
Full reviews of both the BMW i3 and BMW i8 are in the pipeline. For now, listen to myself and Mark Murphy chatting about the i8 on BBC Radio Suffolk this morning.