Edifier produce a wide range of high quality audio equipment, from the tiny Bluetooth MP211 portable speaker with built in microphone to the earth shaking S760D 5.1 surround sound system.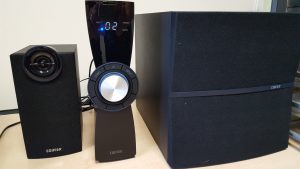 This last couple of weeks I have been testing and enjoying the Edifier C2V 2.1 Speaker System aimed primarily at gamers and utilising their Intelligent Distortion Control.
In the box you find a main control unit with remote, two satellite speakers with 3-inch midrange and ¾ inch tweeter and a lovely 6.5-inch subwoofer which produces amazing bass! The speakers and equipment are enclosed in wooden MFD boxes, so no chance of buzzing from nasty plastic parts here.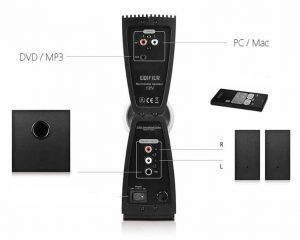 The speakers produce a total of 36 watts output, connecting to your PC/Mac or other sound source using either RCA or AUX connectors along with a headphones connector for keeping the neighbours happy.
You can adjust the Volume, Bass and Treble using either the amplifier or remote control giving a wide range of sound options to suit your gaming or music needs.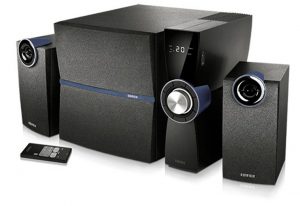 I really enjoyed playing some of my favourite music through the C2V, I was particularly fond of Orbital Live at Glastonbury, their is nothing like Dr Who rocking out late on a Friday afternoon
I also watched a number of movie trailers, I was particularly taken by Suicide Squad especially using my 4K iMac Retina display!
The C2V speaker system is aimed at gaming and therefore Bluetooth and other related technology is not included which is not great loss when you are sitting speakers either side of your gaming machine.
All in all, the C2V is a great set of speakers and at around £89, it's very good value for money. After a quick look around online, they are available at most high street stores.
Thanks again to Edifier for the loan of the speakers for review and Katherine at KL Associates for bringing it all together.