Podcast: Play in new window | Download
Subscribe: Apple Podcasts | Google Podcasts | Email | TuneIn | RSS | More
Following reports of an increase in car-related crime, I spoke to Mark Murphy on BBC Radio Suffolk about what can be done to reduce the chances of falling foul to Keyless Car Crime.
Keyless Keyfobs are devices that have come to replace the 'traditional' car entry methods which required us to actively press a lock/unlock button on our fobs. Instead the car constantly 'polls' the keyfob and when you within a short distance of the vehicle, automatically opens its to allow for entry. It also enables the driver to start and stop the car using on dash buttons.
As is usual, technology strives to make our lives easier, but also it seems gives criminals new opportunities to steal our vehicles. Readily available gadgets can be purchases specifically to scan for these 'handshake' signals between car and fob and upon interception, thieves can drive the cars with an instantly cloned device.
It is important to note that many cars will allow the car to be driven even if the key is no longer present. Check with your manufacturer if this is the case with your vehicle.
Rather than concentrate on the specific technology to achieving this wireless theft, drivers should concentrate in the short term on how they can ensure their cars are secure.
Leading car security organisation, Thatcham Research have published a list of steps we as drivers should follow to ensure this security. This very list has been adopted by Police forces across the UK.
Contact your dealer and talk about the digital features in your car. Have there been any software updates you can take advantage of?
Check if your keyless entry fob can be turned off. If it can, and your dealer can also confirm this, then do so overnight.
Store your keys away from household entry points. Keeping your keyless entry fob out of sight is not enough – thieves only need to gain proximity to the key before amplifying the signal.
Be vigilant. Keep an eye out for suspicious activity in your neighbourhood – and report anything unusual to the Police.
Review your car security. Check for aftermarket security devices such as Thatcham-approved mechanical locks and trackers, which are proven to deter thieves. A list can be found on the Thatcham Research website, here.
You can also download the Suffolk Constabulary 'Tips for Drivers' factsheet below. I have also included links to key pouches that block scanners. These can be purchased from Amazon using the links below.
Don't forget to 'Like', 'Subscribe' and of course 'Comment' and stay tuned for our reviews and comment.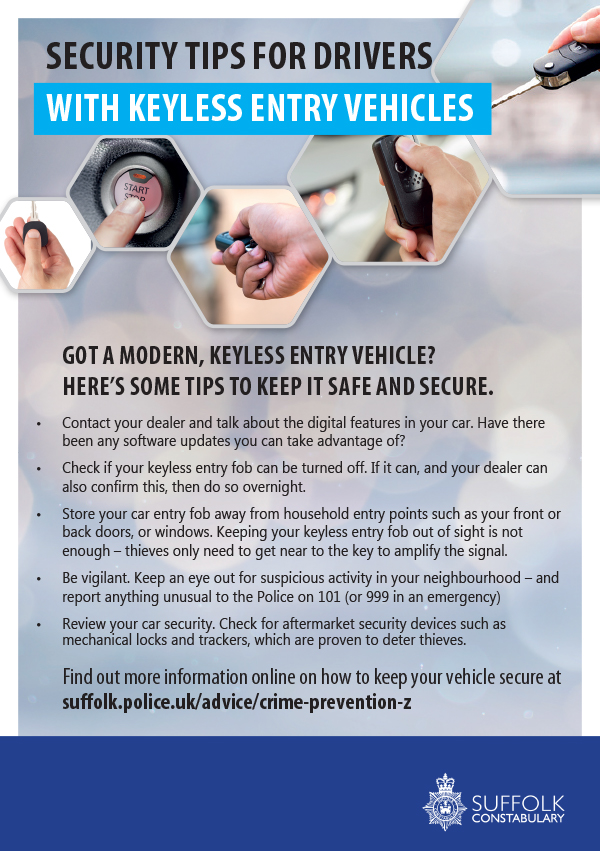 [amazon_link asins='B078ZJH32B' template='ProductCarousel' store='thgama03-21′ marketplace='UK' link_id='cb0ef7a8-a44e-11e8-8bb6-2f9d0e0bd72f']