Smartphone use behind the wheel is a BIG problem, with 31% of drivers admitting to handling their phones whilst driving in 2016 according to the RAC (Up from 8% in 2014).
It seems no amount of fixed penalty fines or danger of accidents can stop people from tinkering with their devices when they should be concentrating on driving.
I have myself been a guest on a fair number of radio phone-ins where this was discussed all including the question,"Surely, there is a way of blocking phone use behind the wheel?"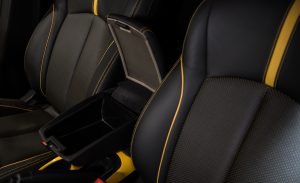 It seems the answer to this problem lies with a technology that was invented almost 200 years ago by Michael Faraday and later developed by Benjamin Franklin. Yes, the 'Faraday Cage', otherwise used to protect engineers working on power-lines, is now being adopted by Nissan GB to try and help reduce smartphone distraction at the wheel.
The 'Nissan Signal Shield' is a compartment which sits in the arm rest of the Nissan Juke and when a phone is placed within this compartment, it blocks ALL the phones incoming and outgoing cellular, Bluetooth and WiFi connections.
It's all based on the principle of the Faraday cage, with conductive material, such as wire mesh,  blocking the  electromagnetic fields around the phone.
When an electronic device, like a smartphone, is placed inside, any incoming electromagnetic signals – such as cellular or Bluetooth data – are distributed across the cage's external conducting material and so prevented from reaching the device.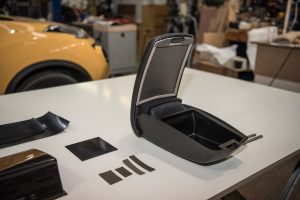 This all allows the driver to make a choice about whether they want to completely eliminate the distractions of text messages and multiple notifications arriving on their smartphones whilst they drive and allow them to concentrate on driving safe.
Smartphone use has become habitual and having the temptation of checking phones every few minutes removed seems like a great idea and brings to mind the old saying 'out of site, out of mind'.
The Nissan Signal Shield concept provides optional connectivity, giving drivers the choice between being able to contact and be contacted from the road, or creating a 'phone-free' space and time. It means a digital detox and a drive that's free of incoming distractions.
If drivers want to listen to music or podcasts stored on their smartphone, they can still connect to the car's entertainment system via the USB or auxiliary ports. The device will maintain wired connectivity even when in the Nissan Signal Shield compartment.
To restore your phone's communication, you simply open the arm rest and all is back working again.
Alex Smith, Managing Director, Nissan Motor GB Ltd. said; "Nissan produces some of the safest cars on the road today, but we are always looking at new ways to improve the wellbeing of our customers. Mobile phone use at the wheel is a growing concern across the automotive industry, and indeed society, particularly with the high number of 'pushed' communications, such as texts, social media notifications and app alerts that tempt drivers to reach for their devices."
"The Nissan Signal Shield concept presents one possible solution for giving drivers the choice to remove all smartphone distractions while driving. This is about delivering more control at the wheel, not less. Some drivers are immune to the activity of their smartphone, but for those who struggle to ignore the beeps and pings, this concept provides a simple solution in this very 'connected' world we live in."
RAC road safety spokesman Pete Williams said: "Our research shows that handheld phone use by drivers has reached epidemic proportions. As mobile phone technology has advanced significantly many people have become addicted to them. However, the use of a handheld phone when driving represents both a physical and mental distraction and it has been illegal since 2003."
"The Nissan Signal Shield is a good example of a technology that can help drivers be phone smart. For those who can't avoid the temptation, this simple but pretty clever tech gives them a valuable mobile-free zone. We are asking all drivers to make a personal commitment not to use a handheld phone at the wheel by visiting www.bephonesmart.uk and sharing their promise with their friends and family."