Thanks for visiting this page, which is one of the most popular on my blog. If you would like to help support the us, please consider visiting my Amazon Store. Thanks again for visiting, Matt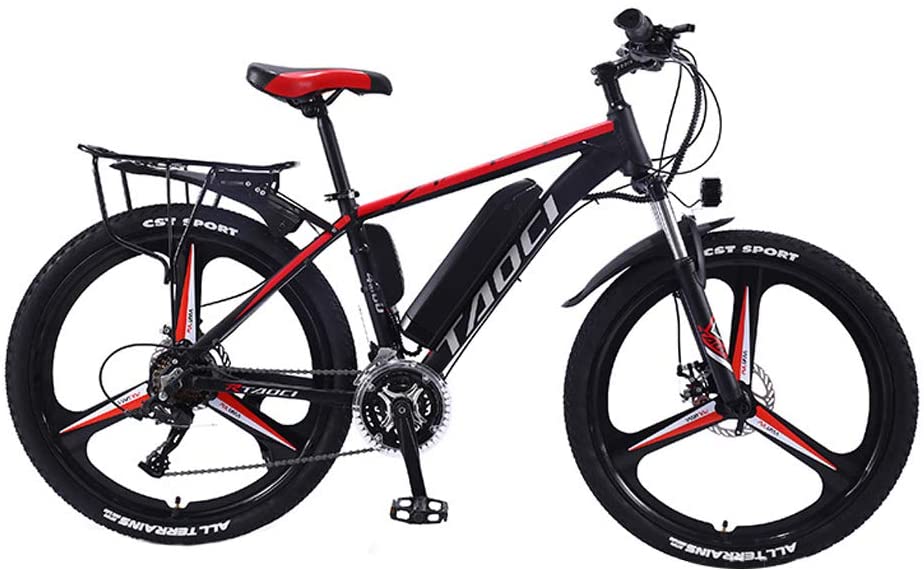 ---
Smart eBike Support in the UK – 1 July 2020
I get quite a large number of messages in the UK requesting assistance with the Smart eBike. Whilst I am also an eBike owner, I also fall into the category of everyone else with regard to problem-solving and troubleshooting issues with our bikes. I have actually reached out to Mercedes Benz and highlighted the issue of ongoing support from them on these bikes, which of course cost all of us a fairly hefty sum of money at the time of purchase. 
Personally, I have struggled to get support with my bike and had to bend several peoples eardrums to get a result after feeling left high-and-dry in the event of needing assistance. I personally was successful getting the repair work done on my Smart eBike whilst also having a Firmware update to boot. The technician at Smart was very helpful and in fact, was excited to be involved in the maintenance of a vehicle that was no longer manufactured. This involved the installation of software on his PC and connection directly to the bike. It might well be a good time for Smart to release this software into the public domain to allow for their customers to continue to maintain their bikes for years to come.
This does continue to feel unfair as I have (like many others) approached bike repair shops for assistance and have got absolutely nowhere! So indeed the only port of call continues to be Mercedes Benz themselves.
So, the official line is that in event of any issues with your Smart eBike, you should contact Mercedes-Benz Customer Care on the following email address [email protected].  I am reliably informed that you will be assisted with your query.
You can also view the Smart eBike Owners manual online using this link. Now read on!!
Matt Porter – 1 July 2020
---
Last Saturday I visited Lancaster Mercedes in Ipswich, an hour later I left with a beautifully designed and engineered German machine. But this wasn't an AMG SLK, this was the 'smart e-bike'.
Having recently tested the Sparta ION/RX electric bike, I was eager to review a completely different take on the e-bike. I wasn't going to be disappointed.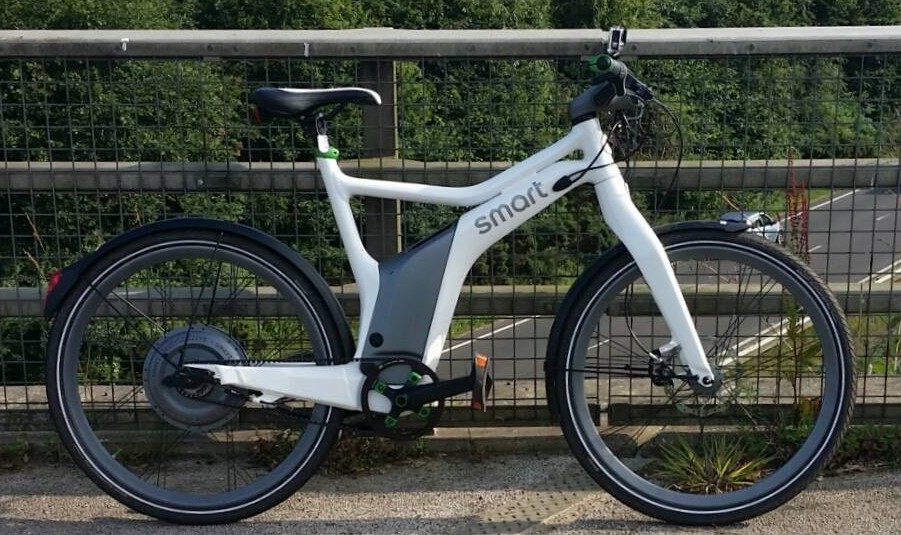 From the first moment you set your eyes on the smart e-bike, you immediately understand that this a purpose-built bike.
Rather than 'tacking' a battery onto the carrier, the smart has the battery integrated into the frame itself, and sensibly directly above the pedals which put the heaviest part of the bike smack-bang in the centre of gravity.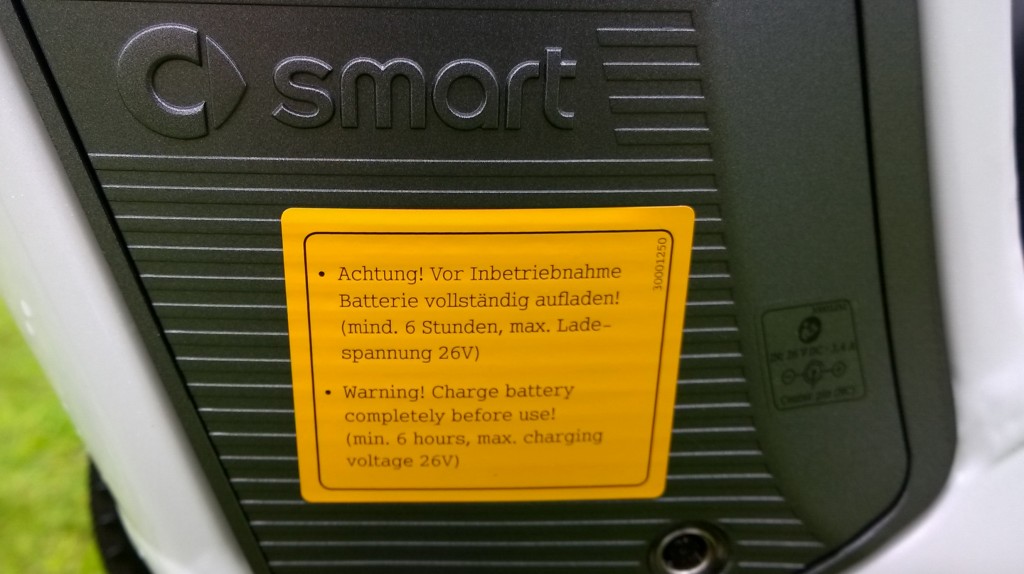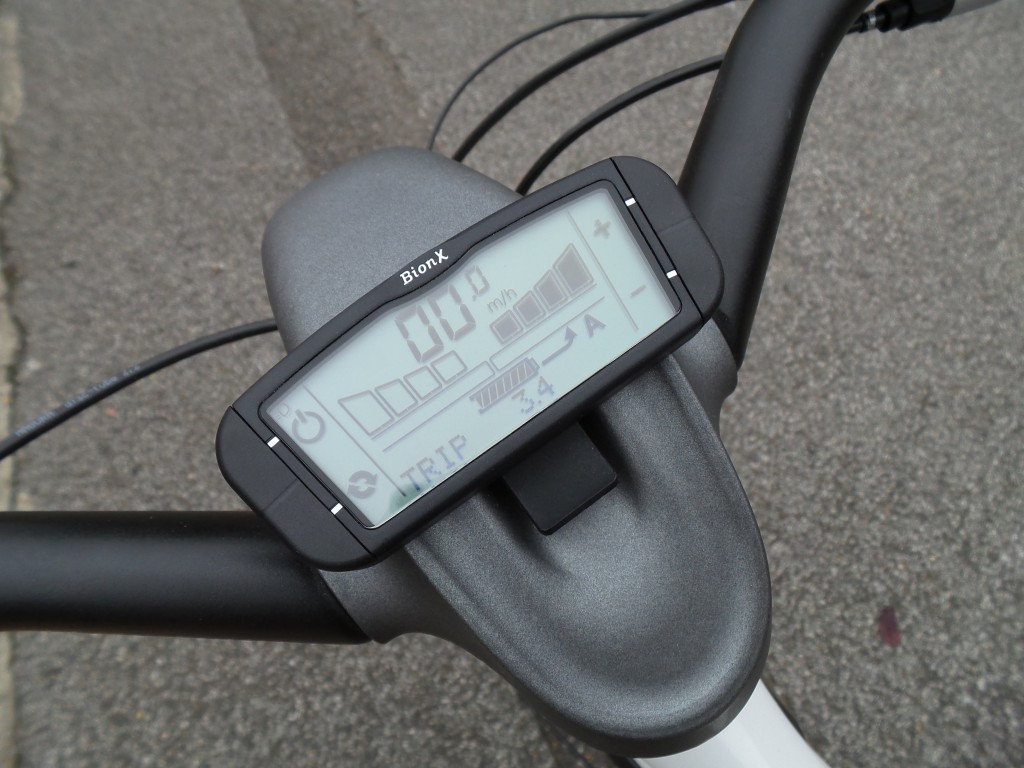 The additional weight of the rear hub-mounted electric motor is negated by the omission of the rear seat stays instead providing additional support via meatier chainstays. The crossbar is intelligently designed by amalgamating the traditional 'male' and 'female' crossbars, which gives the bike kerbside appeal.  The seat is less comfortable than the wide, soft and shock absorbed Sparta, instead of providing a narrow functional seat, pleasingly designed with the same care as the rest of the bike. The handlebars are mounted using a non-standard fixture with integrated gear changer. The wheels use a very interesting spoke arrangement with multi-function tyres which are comfortable both on and off road. The pedals have very nice anti-slip inserts which work surprising well by doing away with either metal or dimpled plastic which you will have felt crashing into your shins on other bikes. The bike has integrated led lights and front and back which are switched on whenever the bike is in use (which I think is a really good idea). However, you can switch them off to conserve energy by long pressing the power button after powering up the bike.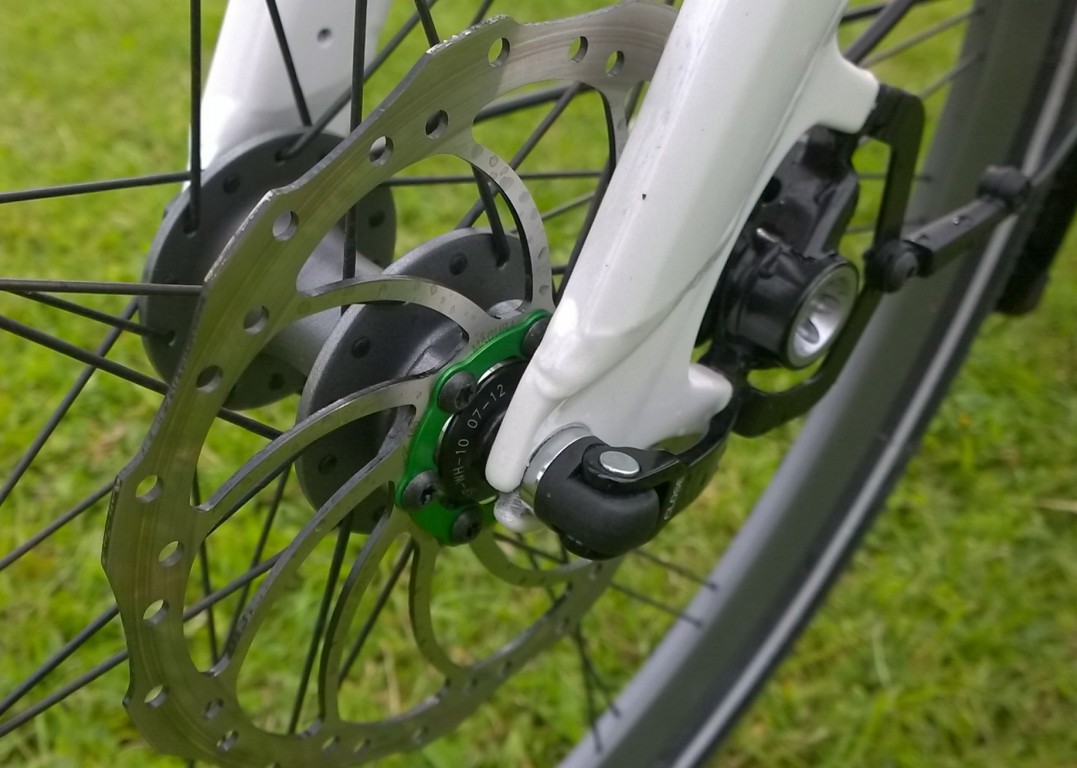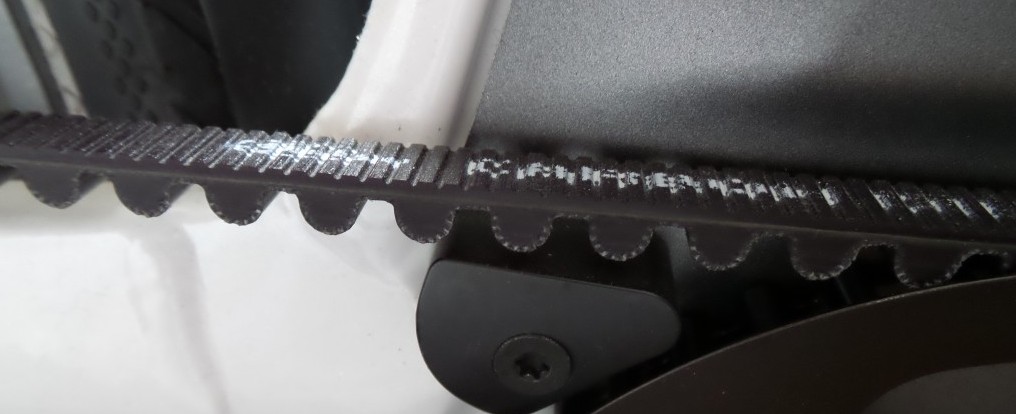 The bike is a pedelec style machine, meaning it is assisted rather than 100% powered by the onboard 250w motor. Like Sparta, the smart e-bike requires you to pedal in order to provide assistance. The bike has a nylon drive belt rather than an oily chain and braking is provided by hydraulic assisted discs. These are insanely good breaks, I know from experience as they were SO good, I was nearly catapulted over the handlebars when pulling up too quickly. The bike is charged using what looks very much like a laptop charger! But it does a great job and doesn't run as hot as Sparta.
As before, the real brains behind the bike are the onboard computer that controls when and how much power is provided to assist the rider, this is a great way of provided power as it really only supplies power when you properly pedal. The only disappointment is the obvious cessation of power as soon as the bike reaches 16.5 mph (which is the current UK legal maximum). When the power stops there is a noticeable increase in effort required to get the bike to go any faster on a level road. There also seemed to be a bit of a problem with gear ratios, the bike comes with 3 gears and the top is not really 'high' enough. So all too often you find yourself pedalling quite quickly and maintaining 15mph, but I just wanted another gear to allow me to cruise along on the flat, it feels like you are working out in the gym in easy mode, but you are still working out rather than cruising.
I also found that the bike didn't seem to engage power quickly enough, this is especially apparent when pulling away at busy junctions. There seemed to be a moment of panic as you struggled to pull away and suddenly (a little too late) power is applied from the electric motor. This was the most obvious difference from the Sparta which applied power immediately on touching the pedals. The bike had that morning been given a firmware update and I wonder if this had caused this issue? Given that the bike is very heavy compared to a 'normal' bike, you really need the power to be provided immediately. I do realise that battery conservation is necessary in order to give the 60+ mile range of the bike (under optimal conditions), but I would really like this fixed improved.
The bike power is controlled (in this models case) by a digital unit mounted in the centre of the handlebars, this provides information on current speed, average speed, odometer and trip distance. It also provides an on/off button and power increase/decrease buttons.
The power increase/decrease is the most interested as it allows for 4 levels of power (I permanently had this set to 4 for most power) and another 4 of negative values which in effect turns the electric motor into a massive dynamo for charging the battery. In reality, the dynamo settings are just plain ridiculous and make pedalling the bike practically impossible. Unless you are considering coasting down mountain paths, then I should not bother with this function. The back brake also utilises braking to recharge the battery, which I believe extends the life of the brake pads and discs and the braking is shared.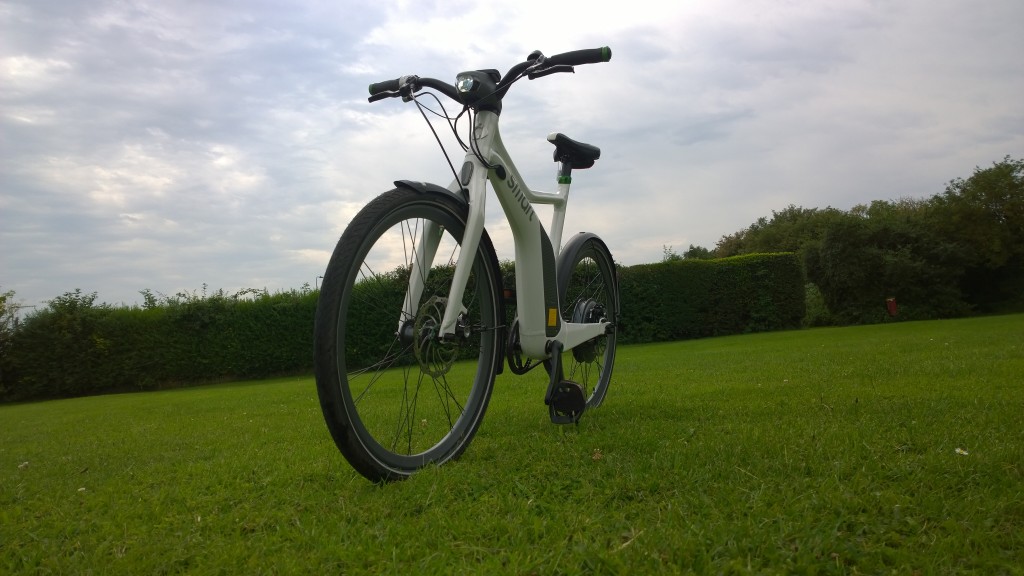 Mercedes have tried very hard to make the e-bike a unique electric biking experience in a variety of ways. I found I actually wanted to ride the bike and it replaced my car for commuting to work for 4 out of 5 days. I also found I was actively looking for alternative routes to work, sometimes using cycle lanes and in many cases using off-road bridleways. The bike is very adapt to various road surfaces, the only surfaces to avoid are loose surfaces such as sand or gravel. The bike is far too heavy for these surfaces and you will find the bike sliding from underneath you, something I found with Sparta. However, bridleways are a breeze to navigate. You find yourself cruising along at 15mph regardless of the surface only when you ascend a steep incline will you find your speed dropping to around 10mph and the need to drop down to the 2nd gear.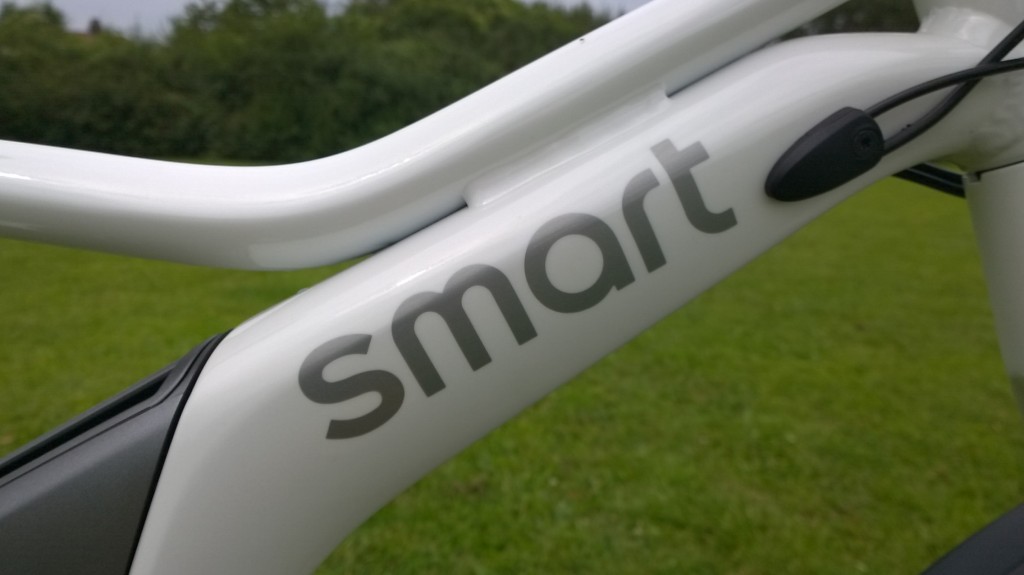 Gears are a major issue, Sparta had 8 gears which meant you could actively manage to ascend a hill by gradually dropping down the gears. It also had the benefit of a 'Boost' button to give you a little push. The Smart Ebike only has 3 gears and sadly, no boost button. Adding to the fact that 3rd gear is simply not high enough, so you will find yourself pedalling quite quickly to keep your speed stable at 16mph, more irritating is that around this speed the motor is constantly cutting out to keep the bike within the law, but more worrying was that it felt like it was actually applying the brakes! This is probably not the case, it is more likely that the weight of the bike makes this kind of unassisted speed impossible, so it is just slowing down naturally.
Riding the Smart Ebike is always interesting. It's is without a doubt a head turner, you hear peoples reactions to it when you cycle by, you also hear other cyclists grumbling when you pass them on a hill.
In the seven days, I had the bike for review I managed nearly 80 miles! I didn't use it for work on Friday because it was either going to be very hot or very wet! But it got plenty of use during the time I had it, and to be fair I was almost looking for an excuse to ride it.
If you are thinking of buying an electric bike, you can't go far wrong with the Smart Ebike, but only if you are happy to trade off the comfort of a more traditional bike. The seat and ride style is definitely aimed at the 'younger' generation and you might find the gearing irritating to manage. Aside from this, it was an excellent bike to ride.
Luckily I had a couple of 'action cam's' to review at the same time, so with luck, I should also be posting some footage below, just as soon as I get the chance to edit it!!!
Finally, I would like to thank Carl Beer from Mercedes Benz Ipswich for being so very helpful in providing me with the smart e-bike and for calling me in the week to find out how things were going! It was much appreciated.
[amazon_link asins='B01DFKBL68,B06Y5ZW72J,B01J2BK6CO,B01KGEWACK,B072C4KCQH' template='ProductCarousel' store='uk=1′ marketplace='UK' link_id='6f443e3a-38fb-11e8-b40a-9b823bec8144′]
Smart Ebike (2012)
Ease of Use

Practicality

Styling

Price

Value for Money
Summary
A really exceptional piece of German engineering. Smart have stepped outside the box with a unique design from the ground up. Great fun to ride. Quite heavy to carry.