Podcast: Play in new window | Download
Subscribe: Apple Podcasts | Google Podcasts | Email | TuneIn | RSS | More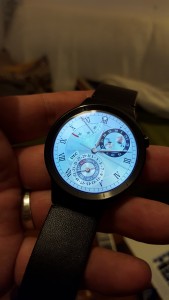 When I started out as 'The Gadget Man', I always thought that Watches were the obvious gadget, something you would recognise as a gadget, be it Dick Tracy, Star Trek or Thunderbirds. Being able to communicate with your nearest and dearest by talking to your wrist seemed to be the a really futuristic thing to be doing, so it was my first port of call. Having now tested 8 smart watches and wearables, I was really looking forward to getting my hands on the Huawei Watch.
If you haven't heard of Huawei, you should have. They are one of the leading communications and technology companies in the world and have been manufacturing Smartphones for some time now, but it is the Huawei Watch that I wanted to see.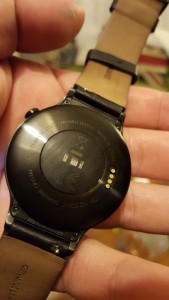 The Huawei Watch is a premium Android Wear device, noticeably weightier than other models and with a much brighter, high res screen that stays on the whole time. Like the Moto 360, the Huawei Watch sports a round screen, but unlike the Motorola device it uses the entire screen and the 'flat tyre' is absent. This means that their are no external sensors on the screen, so auto-brightness is not an option, but saying that; I prefer this trade off because using the whole screen makes the watch look all the more realistic.
This is one of the first Android Wear devices to officially support iOS so iPhone users are not simply tied to the Apple Watch. When I say officially, I can confirm that I have paired a Moto 360 with an iPhone as well, but it isn't officially supported.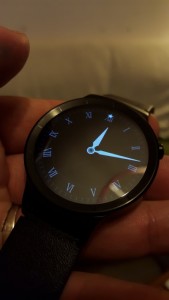 As with all Android Wear devices, it makes use of Google Now with the 'OK Google' trigger to do lots of difference tasks. There is no speaker in the watch, just a microphone, so don't expect to use the watch as a speakerphone (just yet). Personally, I'm surprised that this functionality hasn't been added to Android Wear, it was present in the Samsung Galaxy Gear 2 more than 18 months ago and worked really nicely. I'm certain the trade off against battery use was one of the reasons not to include it, but it's a shame though.
Aside from the pre-installed apps supported by Wear, other apps are reliant on what is installed on your handset. I'm a keen (electric assisted) cyclist and I've personally tried a number of cycling related apps, as soon as these are installed, the watch automatically installs a Wear capable add-on, whether this is a information window or live map, it's always intriguing to see what the developer has deemed worthy of the watch-face. Some good and some not so.
The Huawei Watch uses sapphire crystal as it's watch face which is much harder and scratch resistant that other toughened glass and seems less prone to fingerprints. The display is a 1.4 inch AMOLED display which gives excellent blacks, this is because AMOLED screens use self illuminating pixels and don't require a generic back light, so blacks are not lit at all. This sounds great, but in bright sunlight the display suffers which is a common problem with the technology. The watch has built in Wifi, which allows for updates without the need for a phone in the vicinity, but as will almost all wearables, you really need a phone nearby to get the full potential.
The watch itself is manufactured from cold forged stainless steel and the watch strap is a very high end leader fastener. All in all the watch feels expensive and very high quality. The rear of the watch has a magnetic four pin coupling for charging and in the centre is a heart rate sensor which works with Huawei's fitness software and Google's 'Fit' system.
Battery life is really pretty good for a watch that is effectively switched on the whole time, but in standby mode a different clock face is used which uses lots of black and therefore lots of pixels are being lit. Very clever decision by Huawei.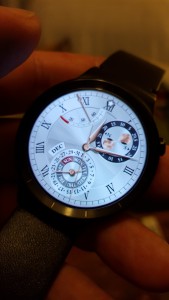 I was particularly looking forward to reviewing this watch as it looked like a real contender to the Apple Watch. I love the circular face smartwatches that make you feel that these wrist worn wearables are something more that a boring square display. I was fond of the Moto 360 which is slightly larger and the Huawei device certainly didn't disappoint.
The smart watch is still finding it's feet and I would suggest it will find them by the next generation of wearables. Whether is can be established as a replacement for smartphones is a question we will have answered eventually, but until then the Huawei Watch does a superb job of using the available technology to it's maximum.
Thanks to Huawei for the loan of the watch, I'm very grateful for your efforts.