Podcast: Play in new window | Download
Subscribe: Apple Podcasts | Google Podcasts | Email | TuneIn | RSS | More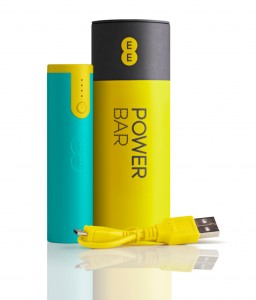 This morning I chat to Mark about the EE Power Bar. The Power Bar is a rechargeable battery pack which can supply power to your phone on demand. Like other battery packs, the Power Bar is recharged via USB cable. You can use the included usb cable to charge your phone, or you can plug other USB cables to charge your iPhone.
It also has a torch and flashing light function, which is useful if you are scrabbling around in the dark.
If you are an EE customer, you can pick up a free Power Bar, you have to send a text message to get a redeem code from EE first and this text costs 35p.
The really great thing about the Power Bar is that if you are out and about and you have used up all your charge, you can simply nip into an EE shop and they will swap your flat Power Bar with a fully charged unit, great if you are a heavy phone user.
It's a nice little gadget and the fact it is almost free is even better.