Podcast: Play in new window | Download
Subscribe: Apple Podcasts | Google Podcasts | Email | TuneIn | RSS | More
This week we talk about the Transcend Storejet 25M3 detachable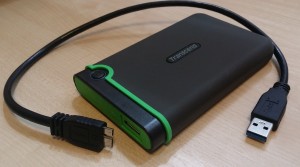 USB 3.0 hard disk drive. These are ruggedised, which mean that they are a bit more durable than your average portable hard disks and whats more, thet support USB3.0 transfer speeds!
The are whisper quiet to use and work very nicely as a backup device with the addition of a quick backup button and also can encrypt your data, so if you do unfortunately lose the device prying eyes won't be able to get their hands on your data.
We also tested this device as a Set-top box disk drive, this added the functionalities of pausing and rewinding TV and also recording episodes of programmes. Again it worked flawlessly and more importantly quietly.
To find out more, listen to the stream and find out what I thought of the device.
Thanks to Mickaela at Transcend for her assistance again!!
You can find out more information about Transcend and its other products by liking their Facebook page or following them on Twitter.
http://www.facebook.com/TranscendUK
http://twitter.com/Transcend_UK