Podcast: Play in new window | Download
Subscribe: Apple Podcasts | Google Podcasts | Email | TuneIn | RSS | More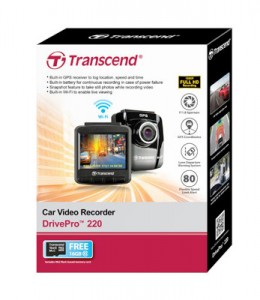 This morning I talked about a very useful dash-cam, namely the Transcend DrivePro 220 in-car camera. The camera boasts an incredible F1.8 low aperture super wide lens with a hefty 16GB memory card on-board.
The camera is however much more than simply a way of recording your journey (and any unfortunate events), it also features 'lane departure warning' and 'collision warning' and speed warning systems. I found it very able and the picture quality was outstanding.
If you would like to find out more, listen in to the link above and find out what I thought!
You can find out more information about Transcend and its other products by liking their Facebook page or following them on Twitter.
http://www.facebook.com/TranscendUK
http://twitter.com/Transcend_UK
Thanks to Mickaela Noone at Transcend Information Europe B.V for the loan of the product.