Podcast: Play in new window | Download
Subscribe: Apple Podcasts | Google Podcasts | Email | TuneIn | RSS | More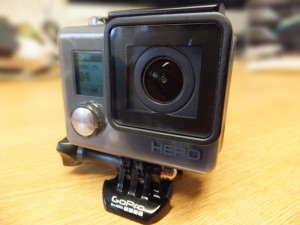 In the last gadget slot before Christmas, I talk with Mark Murphy about the GoPro Hero, GoPro's entry level action camera.
We discuss the merits of such cameras over using a mobile phone and likely uses.
The GoPro Hero is lower end in performance and functionality compared to the GoPro Hero 4, but coming in at a quarter of the cost, it's certainly worth looking at, it's waterproof to 40 meters and has excellent optics as you would expect from GoPro.
Don't expect bluetooth or Wifi though, but it has amazing functionality and build quality for the price.

If you are looking to buy one for yourself or a loved one, they are currently stocked by Currys and Argos or from Amazon
in the UK for approx £99.99 (click on the company link to be passed to their website).