Podcast: Play in new window | Download
Subscribe: Apple Podcasts | Google Podcasts | Email | TuneIn | RSS | More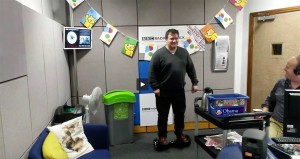 This week we chatted about the Self balancing two wheeled board's that are currently very popular. You might know them as Hoverboards, Segways, Balance Boards, Monorovers etc. This is because the device is being manufactured by 'copycat' companies in the Far East and is being marketed under a whole host of different names in the UK alone.
It takes a bit of time to get used to riding the board, but once you get it, you are away. It's great for smooth surfaces, not so good on bumpy ones.
Listen in to the audio stream to find out all about it. Lots of video shortly.
Thanks you a million times to Charles Claughton for the loan of the board, he is indeed a star!