It's nearly six months since we embarked on our EPIC Gadget Road Trip from Ness Point to Ardnamurchan and Back!! During our trip we called on all kinds of tech to assist us with the Gigabytes of data we were generating, mostly in the form of video and photos.
Most notable and indeed most important was removable backup storage and in this area we were able to call upon our friends at Transcend. Not only were they able to provide us with previously reviewed dash-cam hardware, but also with the amazing ESD220C Portable SSD drive.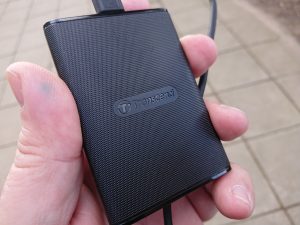 The ESD220C is indeed portable in every way. It is both small and light, in fact small enough to fit into a wallet. This size and weight is due to the Solid State storage, which means that rather than storing your data onto a physical, spinning hard-disk, you are in fact using memory chips (TLC NAND flash) to store the information and thus weight and size stop being an issue. It will easily fit in your pocket and the case had a scratch resistant coating to keep it looking pristine.
[videopress mnRAf2Wy permalink="false" loop="true" autoplay="true"]
The drive uses SuperSpeed USB 3.1 Gen 1 interface and built-in SLC caching technology to give read/write speeds of up to 410MB/s and 400MB/s respectively. It also supports UASP (USB Attached SCSI Protocol to further boost file transfers on supported computers.  The drive's lifespan is also extended by the addition of RAID and LDPC and your data is safe with ECC encryption.
Also included is a USB3.1 Type A (for your computer) to USB Type C connector (for the drive). By Transcend using a Type C connector, it enables the drive to be connected to a mobile device (using an additional adapter) and allows for direct file transfers from Android OTG (On the Go) enabled phones and tablets. As you can imagine, this was a real winner in the depths of Scotland as we were able to pull photos and videos straight off our mobile devices in transit as the drive is powered from the same cable.
[videopress FGGyf4QM]
Using the ESD220C, I was able to transfer files from Paul's Samsung Galaxy S7, my Samsung Galaxy S6 Edge, a Sony Xperia XZ1, my nVideo Shield K1 tablet and the Dell Rugged Laptop we also took with us. Of course I also transferred video from the DJI Mavic Pro's MicroSD card.
So, you can see that the tiny little device was indeed the seamless hub for secure storage for the entire journey. We also transferred the data from the Transcend drive at night to a second 1TB drive which enabled us to free up space for use during the day.
I should finally mention that the device also has a 'one touch backup' button for use with Windows PC's running Transcend's included software.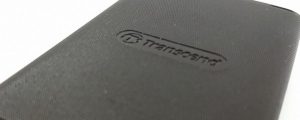 Of the many gadgets that I review and then have to send back, this will be one of the those that I will miss the most for it's speed and sheer usefulness.
The drives are available in 120Gb, 240Gb and 480Gb storage options with prices around £66, £95 and £165 respectively. I tested the 240Gb model, which I think is excellent value for an portable SSD device.
Matt Porter
The Gadget Man
[amazon_link asins='B01N4DWPYX' template='ProductCarousel' store='uk=1′ marketplace='UK' link_id='d2b57ed0-2c47-11e8-88d7-05715428d184′]