The Apple iPhone is a very popular device indeed and has played an integral part in the explosion of the Smart Phone and Tablet market over the last 9 years since its launch.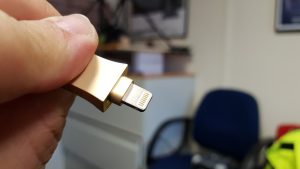 Apple have however played it safe with regard to storage though, happy to keep the iPhone, iPad and iPod firmly enclosed in milled aluminium with internal access to only the SIM card. Hard wiring (or soldering) components into a device means the manufacturer doesn't need to includ memory and battery adapters which take up space and more importantly depth in the phone. Consequently Apple devices are therefore nice and thin.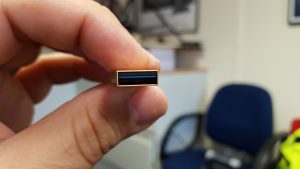 Disallowing additional memory means users have to closely monitor their phone storage. It doesn't take long for those high bitrate 4K videos to start eating into an iPhone internal storage, meaning you need to start archiving videos and photos to another device such as a Mac or PC (or cloud storage if you have the time and data bandwidth) to stop the memory being used up. Worse still, If you are out and about and run out of phone storage, you are going to be looking at dumping what might be precious footage stored on your phone to make space for new photos and videos.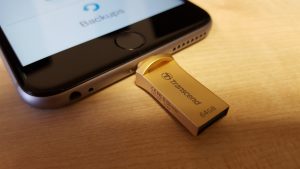 This is where Transcend step in with their JetDrive Go 500G Lightning / USB 3.1 Flash Drive, a very nifty device (or dongle) that plugs directly into your iPhone or iPad's 'Lightning' port and allows you to copy or move your photos and videos straight off your device onto a flash drive and thus free's up your phone for more film making and photography. You can even take photos directly onto the flash drive if you wish using the Transcend Go App which is automatically downloaded when you first plug the device into your phone or tablet.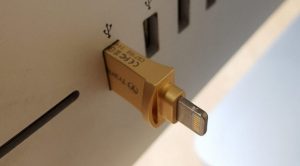 The jetDrive Go 500G is different from standard flash drives in as much as it both Lightning and USB on the same device which a connector mounted at end. The lightning 'end' plugs directly into your iPhone or iPad and allows you to copy data at speed of up to 20MB/s onto the drive. At the other end of the flash drive is a USB 3.1 connector (recognisable by its blue colour) which connects directly into a PC or Mac and copies data up to an amazing 130MB/s, so again no delays in copying your video and photos over to your desktop or laptop.
The drive comes in two sizes, 32Gb and 64Gb and in either Silver or Gold zinc alloy. These two storage options are going to be a dream come true for those of us with smaller internal storage options and may even delay that dreaded phone upgrade.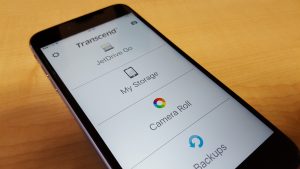 Package wise, the flash drive comes in a simple package along with clear instructions, a wrist strap and two plastic caps for either end of the device to protect the connectors. From opening the package, plugging in the device to downloading and running the small "Go" App, I was up and running in literally two minutes.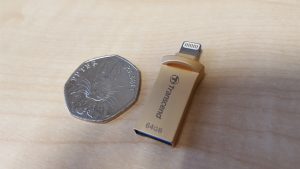 The device worked flawlessly for me and it wasn't long before I was zooming around the house, backing up the kids iPads and my wife's iPhone, it really was very easy to use.
I was certainly surprised how something that could be considered fairly insignificant to look at could actually be a bit of a godsend for the iPhone community. This is an excellent Apple MFi certified product and comes highly recommended from us.

Priced at £50 for the 32gb model and £67 for the 64gb, you can purchase directly from Amazon using the link alongside this text. Other options are available from other manufacturers and outlets, take care to ensure plugin peripherals are certified before using them.