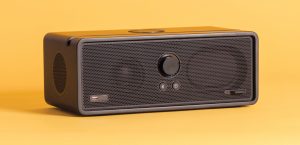 Today at CES 2018, Orbitsound have announced the launch of their latest Airsound™ product in the form of The Dock E30.
The Dock E30 brings their unique Airsound™ technology and true stereo audio to a new device good looking enough to be the the audio centrepiece of your home.
Featuring wireless Qi charging, USB Type C connectivity, Bluetooth aptX audio and of course WiFi connectivity via Orbitsounds own app which gives uncompressed audio quality, coupled with audio connectivity via 3.5mm AUX and Optical connectivity, The Dock E30 sets new standards for home audio utilising their unique Airsound technology which gives a true stereo experience whilst eliminating the need for a audio sweet-spot. Mobile devices can sit securely on the device in a unique  multi-device 'groove'.
The Dock is designed with detachable magnetic front grille in a variety of colour schemes. As we other Orbitsound products, its design is restrained and neutral to allow it to sit comfortable in any setting. Listeners should be able to both enjoy the look and the superb sound provided by the device.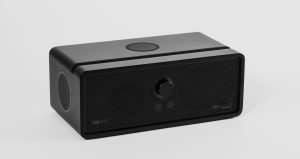 Orbitsound Managing Director – Dan Fletcher said "Over the years, we have been refining and improving all aspects of our loudspeaker designs, constantly working to create even more realistic sound from practical sized loudspeakers. The Dock E30 leverages our latest work in acoustics; achieving unbelievable bass from a small box and superb clean spatial sound from our patented Airsound technology. Together with new high performance wireless technologies for Bluetooth and WiFi, our 'Dock' is a device that I am extremely proud to have created, and am looking forwards to using every day." 
Airsound was developed by Orbitsound founder Ted Fletcher who has worked in the music production industry for many years and is particularly famous for his work with Dusty Springfield and The Who. The technology is present in all Orbitsound products and sets it apart from the competition.
The Dock E30 Speaker can be extended further by the additional of a 54 wireless subwoofer where higher volumes and bigger audio is required.
I'm a big fan of Orbitsound and I'm looking forward to seeing device soon.