Welcome to the 100th Episode of The Gadget Man, this time I set myself a very big task of LIVE STREAMING a technology review of the brand new Cross Peerless Trackr Pen. I hope you enjoy it below. The review itself starts at about 2 minutes in!
A few weeks back I was invited to London to attend the launch of the new Cross Peerless Trackr, the worlds first trackable pen.
Cross have been making writing instruments since 1846, so it was a pleasant surprise to see an established traditional brand embracing technology without losing what makes the company appealing.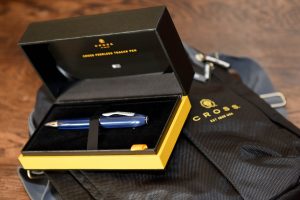 The pen has Bluetooth technology carefully embedded inside it which works alongside what's called 'Crowd GPS'. This means that if you are unfortunate enough to misplace you pen or worse have it stolen, a league of other Trackr users immediately start helping your reunite your prized pen.  When a person running the Trackr app comes within up to 30 metres of your pen, they detect it and immediately an anonymous message is sent to you informing your of it's current position.
Upon receiving the notification, you can then go to that location and using the app on your own phone, you cause the pen to light up and sound an alarm to give you an indication of it's exact position, after a little bit of searching or discussion with it's new temporary owner, the pen can be returned to you.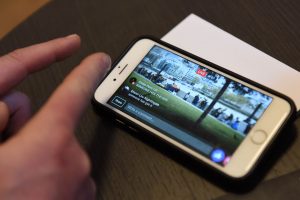 Conversely, the pen itself can be used to locate your phone, so if you are hunting around the house in the morning for your mobile, simply hold down the button on the side of the pen and your phone will start ringing!
The pen itself comes in a very nice presentation box along with instructions for pairing and using the pen, spare batteries, a nice suede case sleeve for the pen and your guarantee from Cross.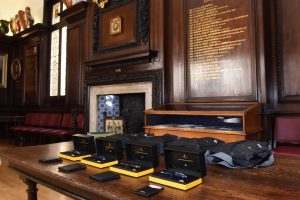 Once taken out of the box, the pen feels just weighty enough to feel comfortable and writes smoothly. As a pen on it's own, it was nice and of course the 'techie' addition of the tracking appealed to me too. You should bear in mind that the crowd GPS functionality requires a 'crowd', so losing it in the middle of a deserted field isn't going to help. Saying that, most towns have a large number of Trackr users and Central London was packed with them. You can even see how many people use Trackr by visiting their website.
If you are looking for a high end pen for meetings or a nice birthday or anniversary gift for someone, look no further than the Cross Peerless Trackr 125 Pen, available from all good pen shops for around £212.00.
Thanks to Rachel and Dan at Small Man Media and of course Cross for their kind invitation.