It's been a while since Paul and I ventured to Scotland and back in the Tesla Model S on our East West Road Trip. During the trip we had the opportunity to test lots of technology.
It was particularly comforting to have the Drive Pro 230 in car camera along for the trip, providing us with the added comfort that should anything unpleasant happen during our 1200 mile trip, we would have full audio-video documentation to refer to.
Dash-cam's have become an essential gadget for drivers over the last few years, providing evidence in road traffic accidents and thus being referred as an IEW or Independent Eye Witness by the Police, but also by providing additional features to make the drivers experience safer and legal.
The Transcend DrivePro 230 is as feature packed as any Dash-cam currently available currently. Aside from packing at Sony Exmor™ image sensor to capture 1920×1080 video at 30FPS which offers excellent lowlight video capture with the able assistance of the F/2.0 wide angle lens.
Attaching the camera to your windscreen using either suction or adhesive mounts. The camera also packs a GPS receiver and synchronises your geographical position to the video using Transcends PC, Mac and Phone Apps.
On the rear of the camera is a 2.4″ colour LCD screen and remote display is also possible via Wi-Fi to phone app. Obviously, this is targeted for use by passengers of the car.
The package comes with a very long MicroUSB to 12v car power adapter which charges the camera whilst driving and with the on-board battery, it can be configured to continue to monitor the car in 'Parking Mode'. silently monitoring it's field of view for movement and then recording this movement for later review.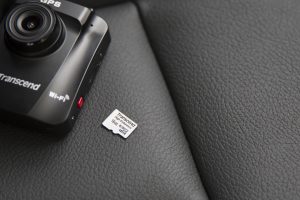 Aside from the 'quick record' button, the camera also packs an emergency recording feature which also prevents overwriting of recorded video when the included 16GB MicroSD card fills up. In normal mode the camera records in chunks of video and gradually overwrites the oldest video files enabling continuous recording for as long as your journey takes.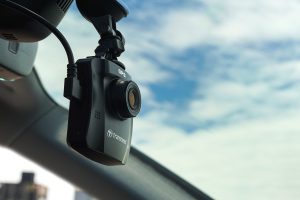 Other safety features included are Lane Departure Warning System (LDWS), Forward Collision Warning System (FCWS), driver fatigue alert and headlight warning system (when light conditions begin fail.
The camera also comes with speed warning settings which will audibly warn you when you exceed the set speed limits set within the camera.
This type of device demands simplicity of use, and the DrivePro 230 excels in this area. It simply is a 'plug-in and go' solution which aside from the obvious safety and legal comforts provides a vast amount of other features which make driving that little bit less stressful.
At around £136, the Transcend DrivePro 230 is excellent value for money, with a high quality device providing excellent video quality with an enormous amount of added features.
For more tech news, reviews and comment visit www.thegadgetman.org.uk
Matt Porter
The Gadget Man
[amazon_link asins='B071K9QYC7′ template='ProductCarousel' store='uk=1′ marketplace='UK' link_id='ccc4f34e-fdd5-11e7-9841-f5aa3478aa9e']