I've setup and installed a few different IP cameras in the past and one of irritations of such devices are that although they are now generally WiFi enabled,  there is always some kind of wiring required to power them. This means that they have to be situated near a power outlet and moving them to another location can be troublesome.
So when the Moobox camera arrived here for review, I was intrigued to see how using an IP camera without wires would actually stack up.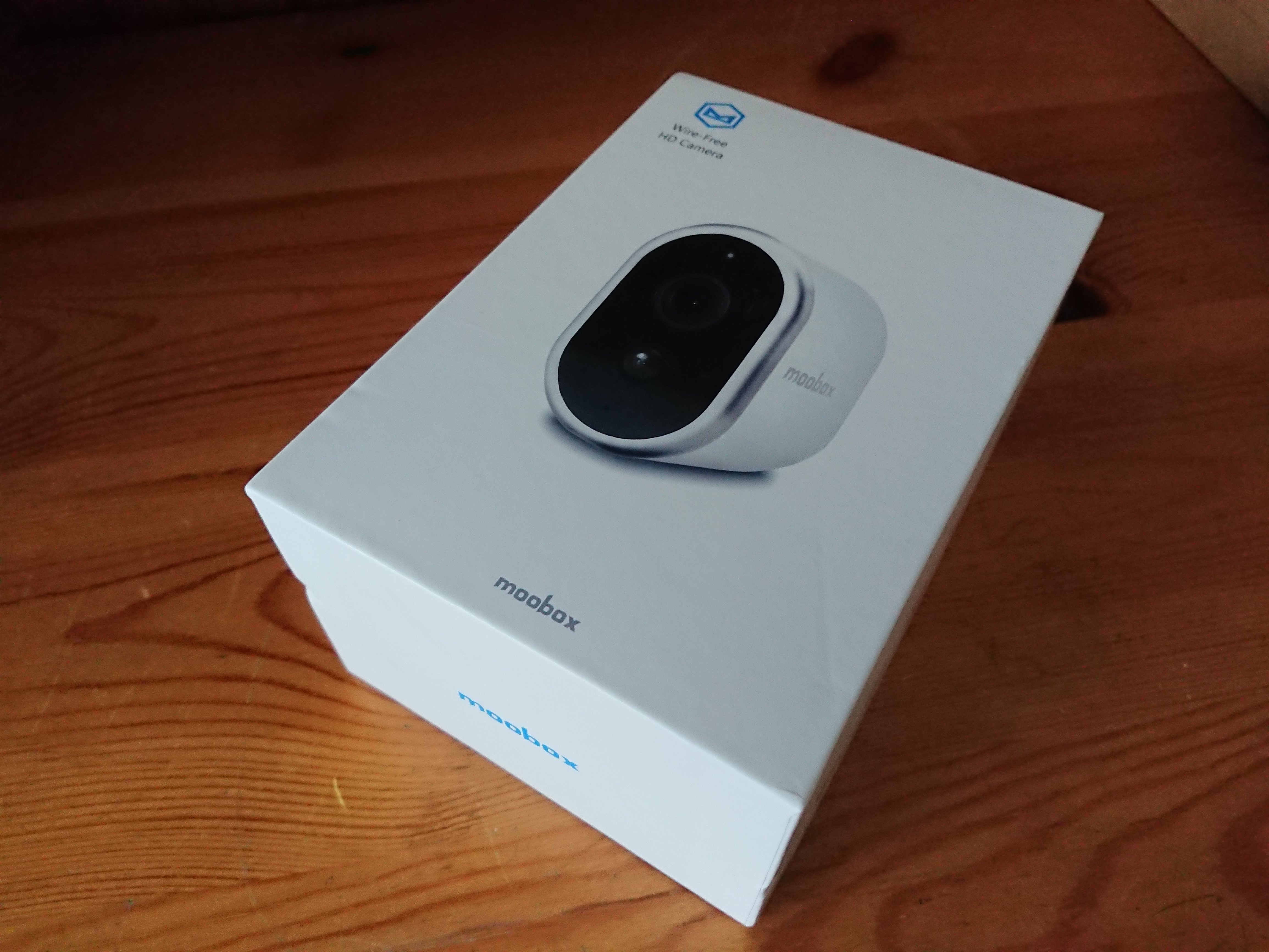 The Moobox camera comes packaged in a very nice white box very much in the style of a Cupertino based tech company with a photo of the camera on the front. The box lid is reassuringly snug, which allows the lid to slide slowly off to reveal the product within.
Inside is the Moobox camera, hub, power supply, Micro USB cable and magnetic mount which can be either screwed or stuck to a wall  (using the supplied adhesive pad).
The hub can be connected to your wired network using Ethernet or over WiFi and is compatible with 802.11b/g/n protocols. Setting up was a breeze, I found a convenient spot to place the hub and plugged it in to my wired network. I chose a wired connection purely for convenience, however I did also try wireless and found no problem at all with performance. The hub itself is white and very similar in style to an Apple TV, Roku or NowTV box, it small and unassuming. The hub also contains 16Gb of storage and a 7 day cloud storage backup. Whilst setting up the hub, the camera itself was plugged in using the supplied Micros USB cable to ensure it was fully charged and ready to go.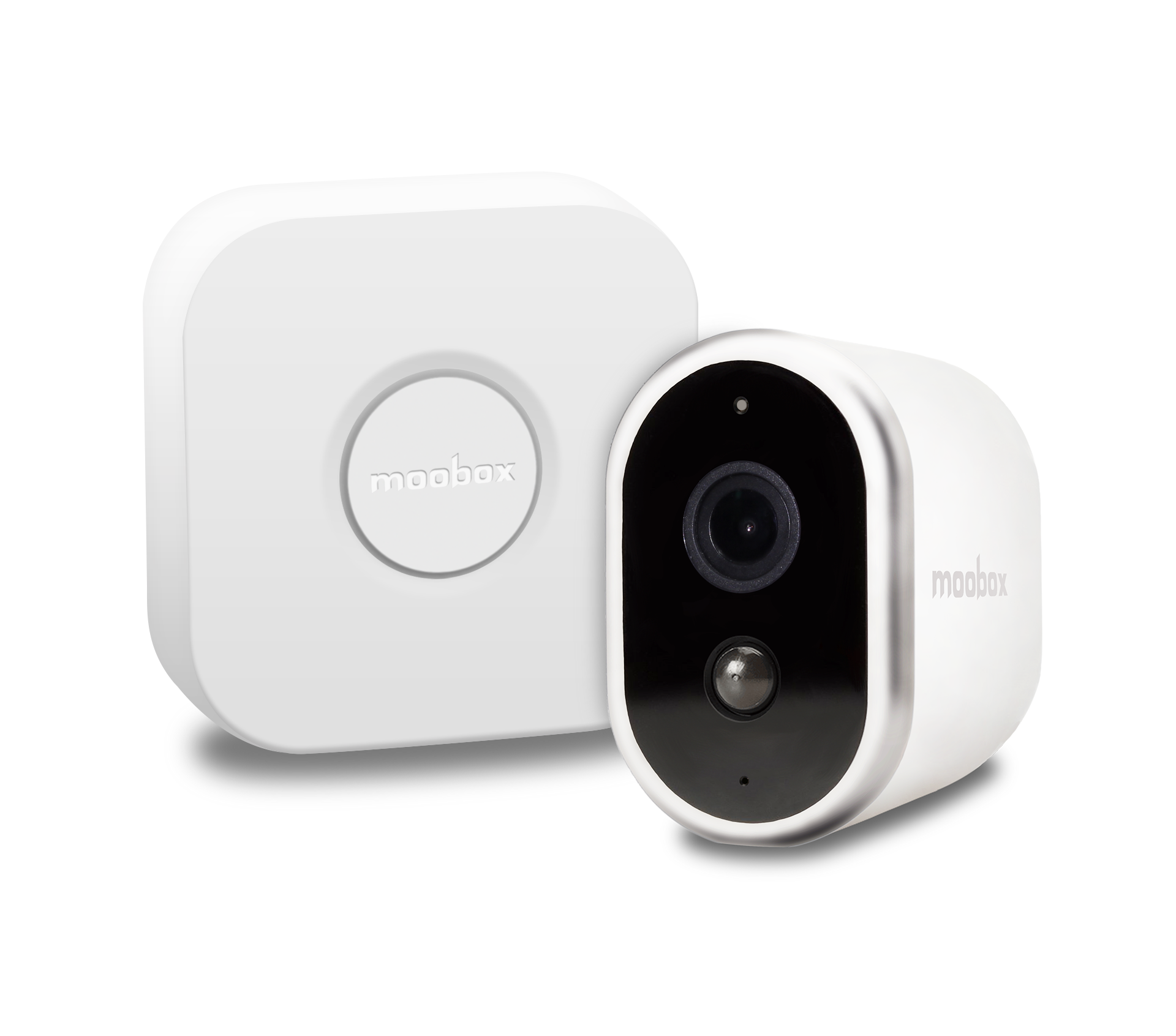 The Moobox camera takes approximately 3-4 hours to fully charge and the manufacturers expect a run time of several weeks, I have been extensively using the camera for a month and the battery has coped admirably with a couple of cheeky charges to keep it topped up.
With the camera fully charged, it simply needs pairing with the hub which is a simply job of pressing buttons on each device and letting them connect together. The hub itself can support up to 4 cameras which is very useful if you want to be able to monitor different rooms in your home.
After finding a suitable place to mount the camera and with it nicely paired with the hub, it was now time to install the Moobox app which is available for both iOS and Android. I use a Sony Xperia XZ Premium. The installation requires user registration, but once everything was confirmed, I was able to access the Moobox hub and add the camera.
The camera is elegantly designed with smooth edges and familiar white with silver accents. It's small, but weighty enough to feel high quality. It can be either positioned on flat surface or magnetically attached to the supplied mount. I have tried both, but the magnetic option works best and allows you to easily reposition the camera to point as a specific targets or high up to give full room coverage. The device packs a 120º field of view lens with PIR motion detection and night-vision of up to 16 feet using the inbuilt 850nm IR LEDs.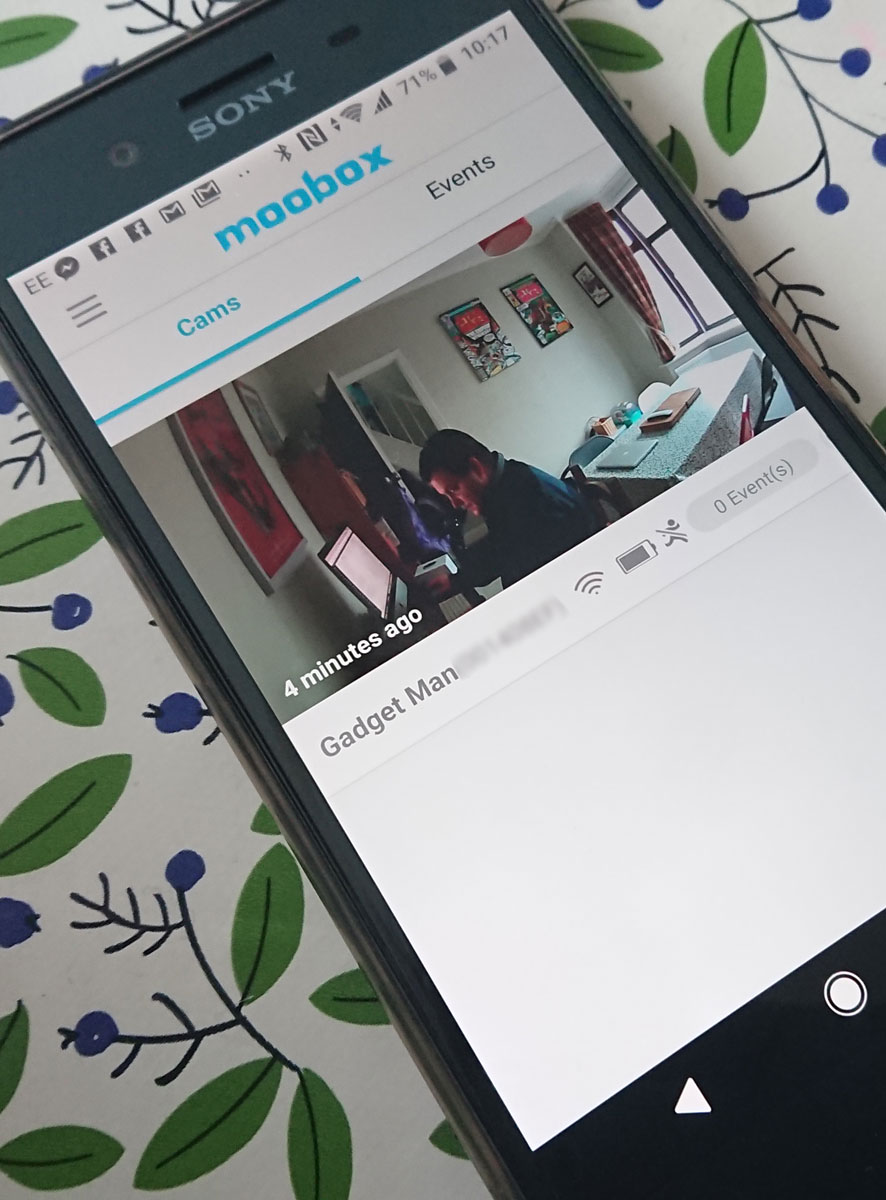 Configuration is achieved via the app and it's here where you can set up the motion detection with a simple flick of a on screen switch. Once enabled the app uses 'push' technology to let you know when motion has been detected and a short video of that motion is stored on the hub, you can then choose to download this file onto your device. Video is captured in up to 1280×720 resolution and encoded using the industry standard H.264 format. Depending on the speed of your internet connection on the mobile device, you can adjust the image quality to enable smooth viewing.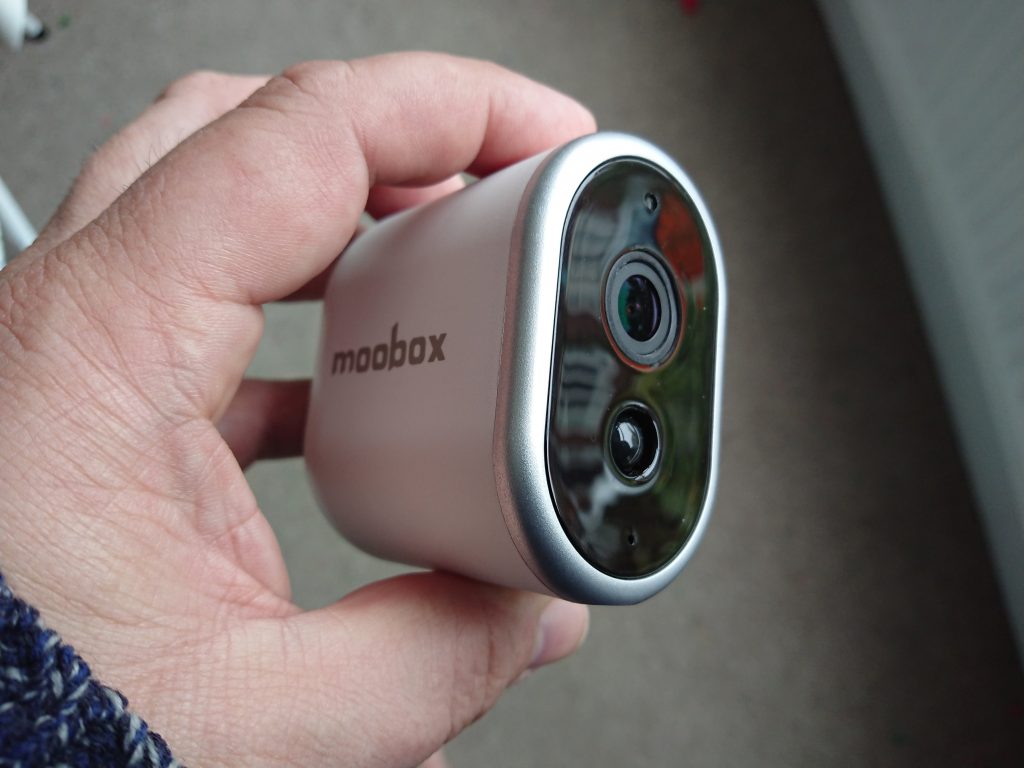 The camera also packs both a microphone and speaker! This allows you to communicate from your mobile device to people near to the camera using 'push to talk' walkie-talkie functionality, they can speak back to you using the inbuilt camera microphone. It works quite well, but don't expect to have long winded conversations using this method as it seems likely it was designed to communicate short messages to either family members or intruders!
The app gives easy access to motion capture footage as well as the ability to take a live snap shots whilst viewing. Footage can be downloaded to your mobile device and shared accordingly or saved.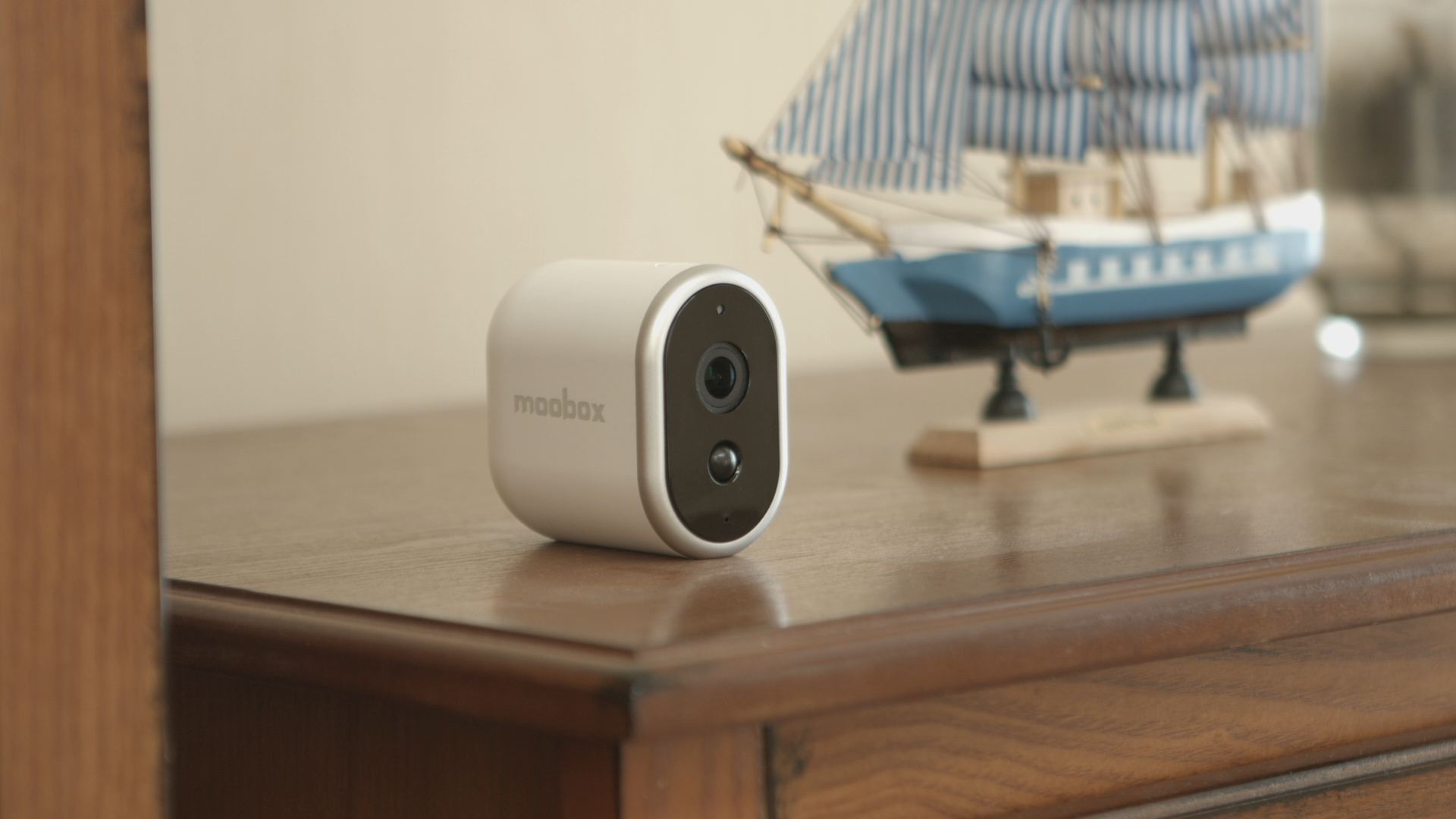 The great thing about having an internet connected app based security camera is that software improvements can be delivered directly to the user in the form of app improvements together with firmware  updates on both the camera and hub. I was able to see this in action during my testing period and it's comforting to see updates being rolled out as it shows manufacturers are proactive by delivering improvements directly to consumers.
the Moobox is a great idea done well, it is targeted at consumers looking for a easy to reposition camera that packs both motion detection and night vision in a very nicely design that won't look out of place in any home.
Pricing is very competitive at around £117 for the Camera and Hub or £76 for additional cameras.
[amazon_link asins='B07B82153R,B07B8S16TL,B07BQB6686′ template='ProductCarousel' store='uk=1′ marketplace='UK' link_id='8681990f-3e31-11e8-af87-edad050986ab']
Moobox - The Easy to Setup, Wirefree Security Camera
Design

Construction

Software / App

Video / Quality

Functionality

Value for Money
High Quality Product and Great Value for Money
The Moobox is a great product, which is obviously the result of thorough market research and delivers excellent quality video. The App has some small niggles, but nothing that restricts the ease of use of the camera and would expect these to be ironed out in the near future. The team at UCam247 were really friendly and helpful and more importantly, interested in my feedback. The price is excellent value at around £117 for the Camera and Hub or around £75 for additional cameras.