When thinking about electric cars, most people conjure up images of 60 sci-fi movies with passengers sitting in a bubble of glass on empty elevated roads. This is very far from the reality of 21st century electric vehicles, which are very similar in look to their petrol drinking cousins and literally bursting at the seams with technology.
Over the past months, I have been given the amazing opportunity to test five of these vehicles, from the quirky two seater Renault Twizy to the awesome BMW i8. However nothing was going to prepare me for the most recent vehicle, designed and built by a Silcon Valley based company headed up by Elon Musk who spends the other half of his day heading up SpaceX, the private space rocket business.
I'm of course talking about the Tesla Model S P85+, a beautiful luxury sports sedan powered purely by electricity.
Tesla are busy opening 'stores' all over the world at the moment, the UK is no exception, whilst busying themselves doing this, they are also dealing with unprecedented demand for their vehicles. If you have been to Westfield shopping centre, you may well have seen a Tesla, they are always popular with people and theres always a crowd around this.
I picked up my Tesla from their West Drayton store, after being picked up from the station by the wonderful Laura. She arrived in a amazing bright red Tesla Model S, immediately I felt a pang of jealousy as this was the vehicle I wanted to test, but felt sure I would be handed something more conservative.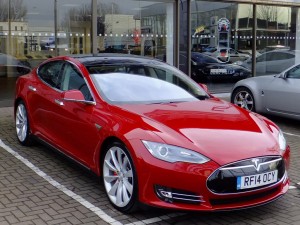 After filling out the relevant forms, I was led outside to be shown my vehicle, imagine my surprise to be shown the exact car that had picked me up! The Model S comes in different iterations, such as the 65, 85, P85, P85D etc etc, this relates to the battery size (65 or 85kw), the P denotes performance pack and the D denotes four wheel drive. There was also a + after my model, which indicates it has the 'plus pack' on board.
The car is stunning to look at, even more so when presented in red. It is similar in design to other luxury sports sedans on the market, but maybe imposing by width of the vehicle and sleek design. The door handles are completely flush to the vehicle and only 'present' themselves to you (ie. slide out of the body of the car), when you extend your hand towards them.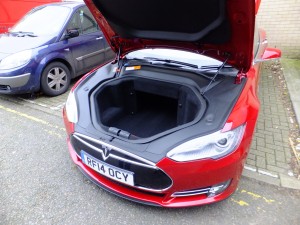 The car's key fob is a miniature Model S, to open the boot (or trunk), you double click on the boot of the fob, to open the bonnet (or frunk [front trunk]) you double click on the bonnet on the fob. To lock the car or force the door handles to 'present' themselves, you click on the roof of the fob. My model had a full electric trunk, which raised completely or lowered and shut controlled by either the fob or the boot release and closure button. The bonnet (frunk) is released by the fob, however you still need to lit it manually which reveals a very large luggage area. You have to take care closing the frunk as due to it's aluminium construction is prone to bending, so pressure to the edges when closing is necessary.
The trunk can also have another 2 optional rear facing seats fitted bringing the passenger number up to 7 people, the most for any car in it's class. There is also a panel which can be removed to allow for rear facing passengers to have a foot well.
Laura then spent 20 minutes sitting in the car explaining it's operation. As I am a seasoned driver of cars with auto gearboxes, she said that I would be very at home with it's operation.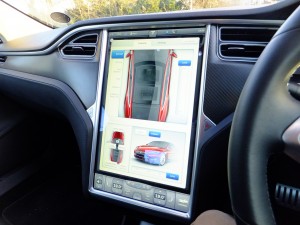 Everything on a Model S is controlled setup via an enormous vertically mounted 17 inch centre console.  Other than the vast number of configuration options, the console also doubles as a method of controlling the sound system, full screen Google powered sat nav system,  calendar browser (which is able to warn you of impending meetinfgs etc), full screen web browser, phone navigation via bluetooth and high definition rear reversing camera.
At the bottom of the screen is the climate controls along with a 'settings' button. This allows you to control every part of the car, from sliding your finger down the screen to open the sun roof, to raising and lowering the suspension should you need to navigate uneven roads. The car also drops the suspension even lower when travelling at over 100mph, however I didn't test this due to speed limit restrictions in the UK. You can control the all five heated rear seats front the centre console via a graphical representation overhead view of the car. Tesla really did think of everything!!
At the top of the screen, you are shown the battery charge state, much as you would on a mobile phone!. You are also shown other icons indicating your bluetooth status and 3g connection strength (you are permanently connected to the internet!)
The stereo system was Dolby Surround Sound, which allowed for AM/FM, DAB Digital, Internet Radio connection via RDIO and TuneIn, USB and Bluetooth. Not surprisingly this was the best sounding car stereo I have ever listened to, you could even drag the a cross over your seat to centre the sound onto the driver or passengers.
A very interesting option available with the driver settings was the ability to switch on or off 'creep'. For those of you used to driving an automatic car, you will be aware that when in drive should you release the break, the car will 'creep' forwards slowly, this also allows you to hold the car on an incline, thus avoiding holding the car on the brakes etc. On other electric cars I have tested, creep wasn't an option, so even when in 'drive' you still sat there absolutely still until applying the accelerator. Originally this was the case with the Model S, however because the car is able to be 'upgraded' over the air, the creep option was added at a later time.
Finally, I was handed 2 cards which would allow me to charge up the car at pretty much any charge point in the UK.
Laura officially handed over the car to me, it was now mine until the following Wednesday, an amazingly generous amount of time to be allowed to test drive a car, Tesla really wanted me to experience the vehicle. it was time to take the controls myself.
After taking a couple of photos of the car, setting up my route via the inbuilt Google powered sat nav, adjusting the seat and steering wheel (and saving my driver profile), connecting my phone by bluetooth and plugging it into one of the two USB ports to charge, I was ready to rock and roll.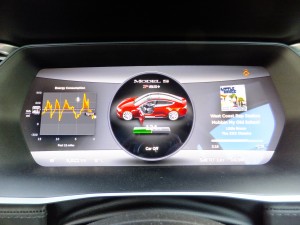 I gingerly pulled out of the store and proceeded to begin following the directions from the sat nav, the car reported it had 230 miles battery range available, this information along with my route and music choice was also displayed on the instrument panel which is in fact another LCD display which changes based on what you are doing in the car. If you are charging the car, then it shows the the state of the battery etc. Again everything has been thought of it would seem.
Once on normal roads, you are immediately aware of the power available to you in this car. There are no gears other than Drive, Neutral and Reverse. When in drive you have just one gear which in theory can take you from zero to 155mph. This is when you really feel the acceleration of this car, because there is no pause to change gear, and because it is 420bhp this car really flies!! It's two tons, so it isn't actually likely to take off, but you get the idea. The car has a very useful traction control system which you can switch off (I didn't) and a stabilty control system which you can't switch off (thankfully). These two systems make  the handling of the car much easier. The car reacts to loss of traction very quickly and stops anything nasty happening, this happened to me as I joined the M4 as I tried to avoid the 'bun fight' of getting on the motorway and later in the week when the roads were very wet.
The first thing you notice driving a Tesla is that people keep looking at you (or the car) or people double-take. I found this more prominent driving the car and having BMW or Mercedes drivers looking longingly at the car. When I was charging the vehicle at service stations, everyone wants to talk to you about the car. Dad's were asking to have photos of their children in the car and  I was even stopped in the middle of a high street in Harpenden at rush hour and asked what the car was like to drive!
Motorway driving is a pleasure to behold. The car is totally silent and road noise was at a minimum, the only sound you hear is the whine of the electric motor if you depress the accelerate harshly and this is still not that noticeable possibly because you have your mouth wide open at the enormous amounts of torque generated by the car. I found the car very comfortable to drive on the motorway, you can settle down to cruise at the high 60's and don't feel like you are in some way letting the car down. Under the speedometer you are given an indication of likely range remaining in the car's batteries and at first this is something you always have an eye on to start with and it feels unnerving, however you soon realise that there are no shortage of charging points on our road network. The car also using regenerative braking to help recharge the battery, at first this feels strange as when you take your foot off the accelerator you notice the car slowing down more quickly that you might be used to in a standard car.  However you soon get used to it and it becomes a help rather than a hindrance.
After travelling on the M4, M25 and M1, I arrived in Harpenden in rush hour. This was when I started experiencing strangers stopping me and asking questions. People would stop me and start asking questions about the car, this continued throughout the loan of the car. I had arrange to meet a friend at his parents house, but the mobile signal was poor and I couldn't remember where they lived. It looked like I wouldn't be able to meet up with them after all, but as a last resort, I pulled over and decided to try out the full screen web browser.
The Tesla has an enormous 17 inch monitor, so web browsing is simple and the inbuilt 3g network gives you pretty snappy browsing. After pulling up, I did a quick internet search on Gavin, this brought up his business mobile number, but was no good as he phone was out of range. I remembered that his mum was listed a counsellor locally, so I searched her name, amazingly her details came up in the results, not giving an exact address, but the road and postcode, which was enough for me to put it into the satnav and find my way there. Everyone was very impressed with the car, even the decorator working next door, who spent 15 minutes asking me about the car.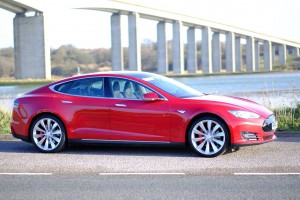 I then proceeded to Hitchin to visit my parents  for the night. I was originally going to park the car in their garage, but it turned out the car was much too wide to fit in, so it remained on the drive for the night. I was initially concerned about it's charge, but I found the Baldock service station nearby had a rapid charger bay, so I was happy to worry about charger the car then next day. Bearing in mind the car was showing 120 miles left in range, I had planned to go to a meeting on the Saturday and do a photo shoot in Cambridgeshire that day as well, before driving the 80 or so miles back to Ipswich, so a charge was definitely needed.
After my meeting in Hitchin, I drove to Baldock Services on the A1(M),  with just under 100 miles on the cars range remaining. Baldock have a rapid charger, and after much messing about parking by the correct charger, I hooked everything up and the car proceeding to start charging. This is when I started to get greeted by all kinds of different people. The delivery driver wanted to know all about the car. The Nissan Leaf driver wanted a photo of his son sitting in the car. Three Top Gear enthusiasts wanted to look over the car, and I took great job in showing off the swipe controlled sun roof and 'Frunk'. They too wanted pictures, after this I ducked in to the service station for something to eat, as I left I could hear passers by saying 'It's a Tesla'. Funny!
I hung around for an hour of so, I had a full belly, and had replenished some 80 miles on the cars range giving me about 160 miles range, plenty I thought for the photo shoot and home to Ipswich. So off I went to Gamlingay to get our photo shoot done.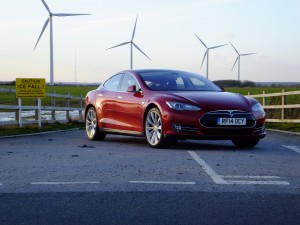 After picking up Paul Eaton, we made a decision about where to do the shoot, Paul suggested a traditional power station nearby, so off we went. When we got there we parked up the car and spent 40 minutes clicking away, and resulted in some very nice photos indeed! We then decided on another trip to a nearby wind farm, this was a very nice location and we were able to get lots of excellent photos here too, along with some film footage. It was a great afternoons work.
I dropped Paul off at Gamilngay, had a cup of tea and proceeded on my journey home. By this time, I had downloaded a couple of apps on my phone which gave me the locations of charge points. There was a fast charger on the A14 near Cambridge, so off I set and arrived there 20 minutes later. There was a slight mishap as I pulled of the A14 one junction too early and ended up in a petrol station!! Silly boy!.
After charging the car up with another 70miles of electricity, I set off for home. The journey was wonderful, the car makes you feel very safe, comfortable and at ease, it didn't seem that long before I arrived back home in Ipswich. I plugged the car into our home mains using a standard 3 pin plug and the car was put to bed for the night. Before leaving it I did notice the charge rate was 6 miles per hour. Not really an option for long time use, but at least it was going to add 80 or 90 miles to the range.
On the Sunday, I drove over to Waitrose in Ipswich to see if I could charge the car up more quickly. It has 4 bays free and all were empty, so I reversed up and connected up everything. Immediately I was approached by several people who wanted to know all about the car, after 15 minutes of chatting, I went in John Lewis for a bit of window shopping and breakfast in their cafe. As I sat eating my breakfast I could see the car park slowly filling up, before long the 3 free charging bays were taken up by other cars! I quickly finished off my tea and hurried down to see what electric cars people had chosen to charge up. Imagine my complete disappointment to find that all of the other bays were taken up with fossil burning non electric cars! Now, I wouldn't want complain, but really! The bays are clearly marked as electric charging bays, at least the ones in the service stations had official 'electric cars only' signs. I'm not surprised, as I'd seen the same thing at Newbury Park underground, but all the same….
After my experience at John Lewis, I drove to and filmed some footage on my GoPro and took a whole host of photos by Orwell Bridge and by the Shipwreck Pub in Shotley Gate. The owners of the pub were really helpful and allowed me to photograph the car in front of the pub which enabled me to take some nice shots of the car.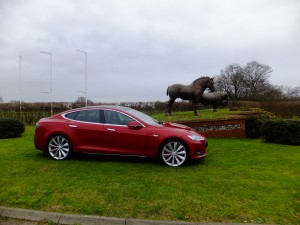 About the Car
The Tesla Model S is like nothing you have ever driven. It's smooth, incredibly powerful and very quiet. It is completely ahead of it's time and has some very cool additions.
As I have mentioned, the centre console is a 17″ flat screen mounted vertically, this works amazingly well and dims automatically when darkness falls. Although not as snappy as an iPad, it is still functional which pinch and zoom in both Google Maps and Web Browser.
There is no gear stick, so the space where you would find this is curiously empty and can be used to hold you phone, keys etc, but these tend to slide around quite a bit. There is also a 12v cigarette lighter style socket here and two USB ports which can both be used to both charge your device or connect to it as a music hub.
Gear changing is controlled via a stalk on the steering wheel, giving Drive, Neutral, Park and Reverse as options. Reversing the car is simplistic with several driver aids to help you avoid obstacles both audibly and visually.
The car can if required seat 7 people, 2 of these in rear facing seats, although these would probably only suit children. If this option is required a stronger rear bumper is fitted to add protection.
The roof was completely glass in my vehicle with the incredible 'slide to open' functionality on the screen. The front and rear boots are very big indeed and rear seating is equally spacious and includes individual controllable heated seats.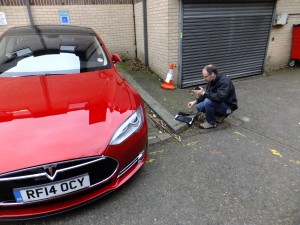 Entry to the car is quite good fun with the handles 'presenting' themselves to you, although I did end up confused whether the car was locked as the handles automatically slide in, I found that on a couple of occasions I accidentally disabled the charging of the car by trying to lock it. I'm sure if I sat down and looked at the online manual this would have been explained to me. Also I was paranoid about leaving the key fob in the car. Because it is keyless entry, always keep this in your pocket, don't be led to take it out and leave in inside the car as if those door handles slide in you might be in trouble! However there is also a phone app for iPhone and Android to control the car and monitor it, it is probable that this gives the ability to open the car should you leave the keys in it.
The car is permanently attached to the internet via 3g, although you can connect to your own WiFi network if you wish, this allows for software updates to be uploaded to the car to improve functionality.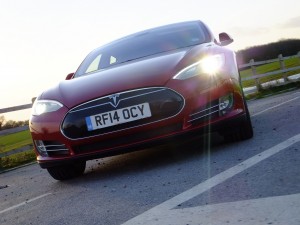 The car I was driving was a P85+ which I am led to understand is 420bhp 0-60 in 4.2 second and top speed of a little over 140mph. There is an even more powerful Tesla Model S about to be launched called the P85D which is a four wheel drive twin electric motor powered car. The P85D is 691bhp and does 0-60 in 3.2 seconds, it even has a enhanced sport mode called 'Insane Mode' enabled via the touch screen.
Tesla are constantly evolving their vehicles, the latest models have Autopilot enabled on them for collision avoidance and intelligent lane changing. In the future I am told they will be able to park themselves at your home and meet you outside in the morning. There is also talk about the charge leads (or snakes) being able to automatically connect themselves to the car once parked. This might be a way off though.
It's really difficult to sum of a car which goes do much further than anything I have driven. After I drove the BMW i8, I was sure that was my dream car, but now having driven the Tesla Model S P85+, I am completely sure that should I be in the position to spend upwards of £75,000 on a car, I would choose the this car, or maybe a little bit more for the P85D.
If you get a chance to drive the Model S, snap to the chance, you will love it!!!
Thank you to Laura Hardy at Tesla for all her help and thanks again to Paul Eaton for spending time photographing the car. Stay tuned for a image gallery at a later date.
Tesla Model S P85+
Quality

Price

Performance

Family Friendly

Wow Factor

Practicality
Summary
The Tesla is an amazing car through and through. I loved every minute driving it and so did my son James, who arrived at school chilled out completely. It does indeed have insane performance, but you do feel completely safe when driving. I was really sad to see it go back and look forward revisiting the Tesla range to test the P85D and the up and coming Model X.