Having recently adopted the Wavo Boom Arm into my streaming and podcasting setup, it's hard to envision a time without it. This piece of equipment truly stands as a testament to Joby's commitment to professional-grade products for the modern content creator.
Right off the bat, the arm is seamlessly tailored for the Wavo Pod Microphone. It boasts a steady, high-quality construction, ensuring that your microphone is held securely and remains in prime position throughout your recording or streaming sessions. With its impressive payload of up to 1kg, you have the flexibility to integrate various microphones, accommodating even the weightier ones with ease.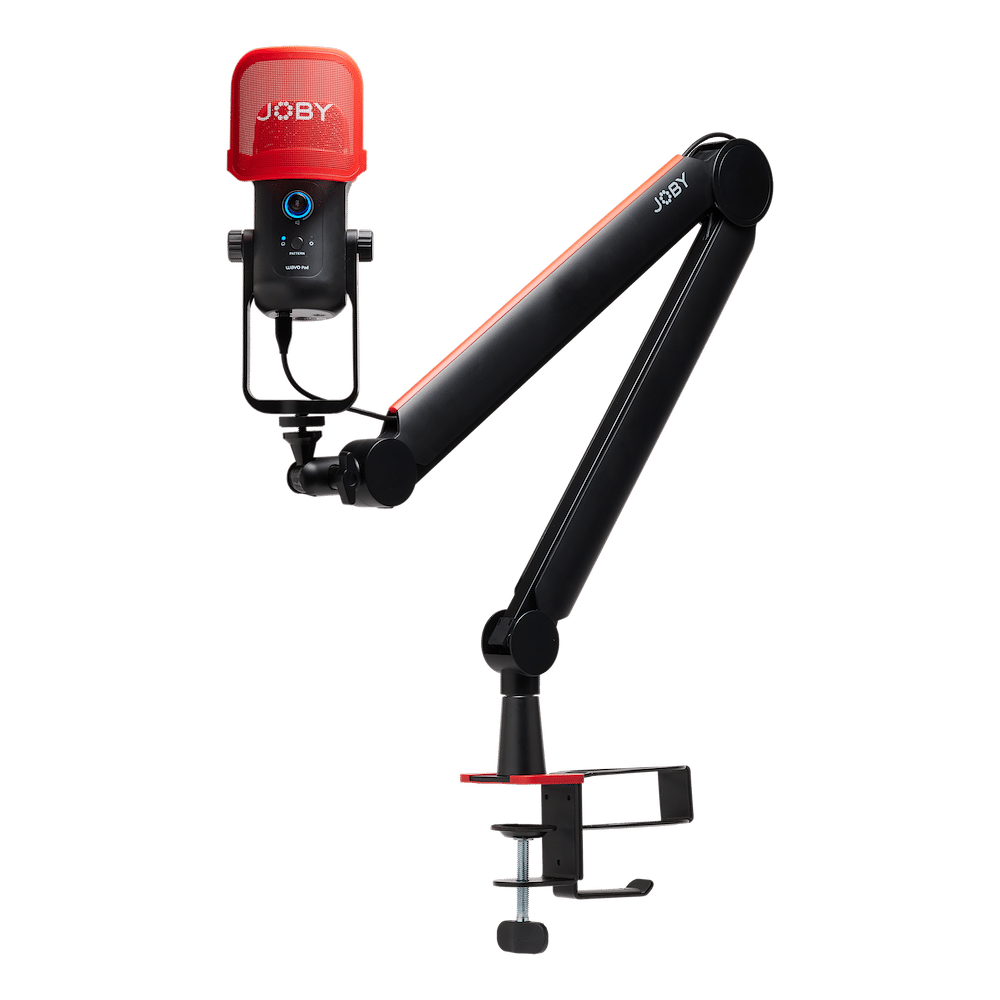 Aesthetically, the Wavo Boom Arm is a masterpiece. The multicoloured stripes ingeniously hide cables, lending to a clean and contemporary appearance that's often missing in other boom arms. The matte black shell not only offers a chic look but also provides an added safety feature, shielding users from accidental pinches. Furthermore, the option to personalise the arm with red or black solid rubber covers allows users to maintain a tidy desk space, particularly useful for those like myself who can't stand a cluttered workspace.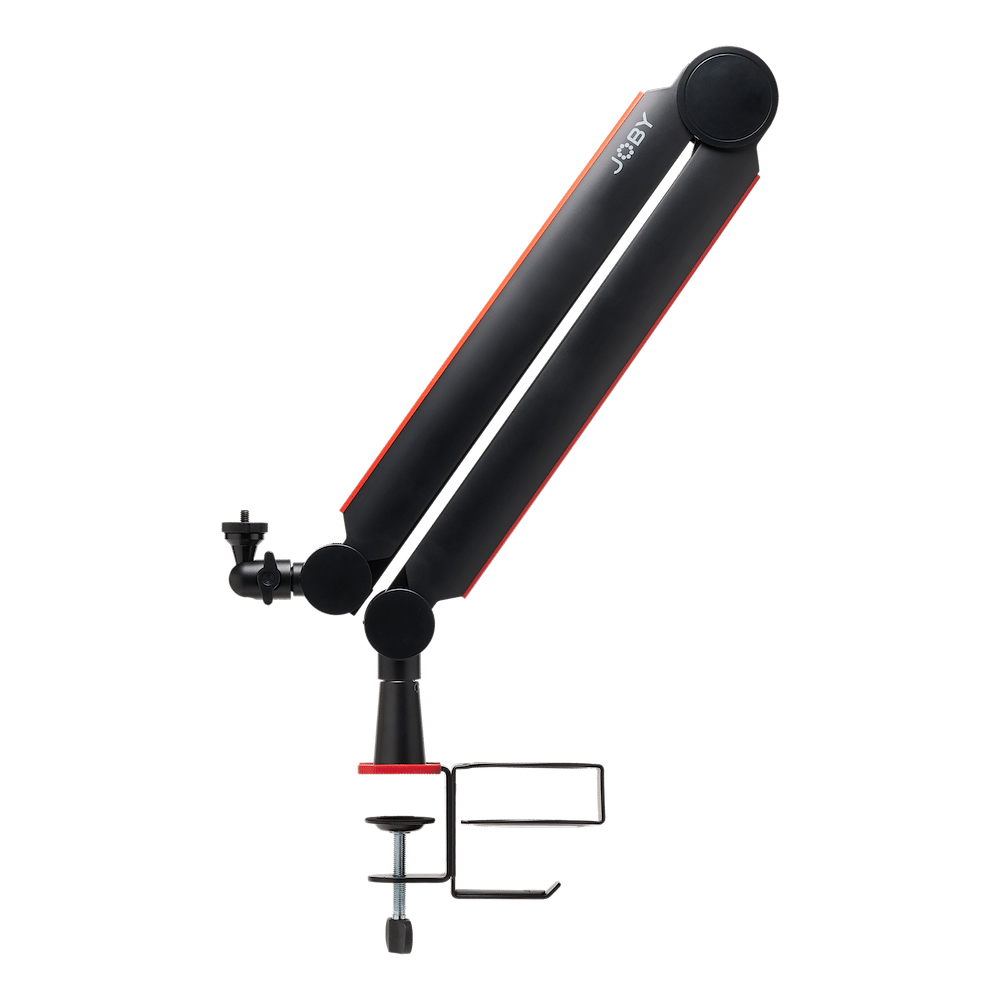 The universal attachment is yet another feather in its cap. It effortlessly supports both microphones and cameras, making it perfect for versatile content creation needs. Whether you're streaming a podcast, or setting up for a top-down tech review, this boom arm is up to the task.
The innovative clamp design is a genuine game-changer. With rubber protections on both top and bottom, there's no fretting over potential desk damage. It affixes firmly to any surface, ensuring the arm remains steady throughout its range of motion. Plus, the addition of a desk grommet option offers flexibility in setup, catering to individual workspace preferences.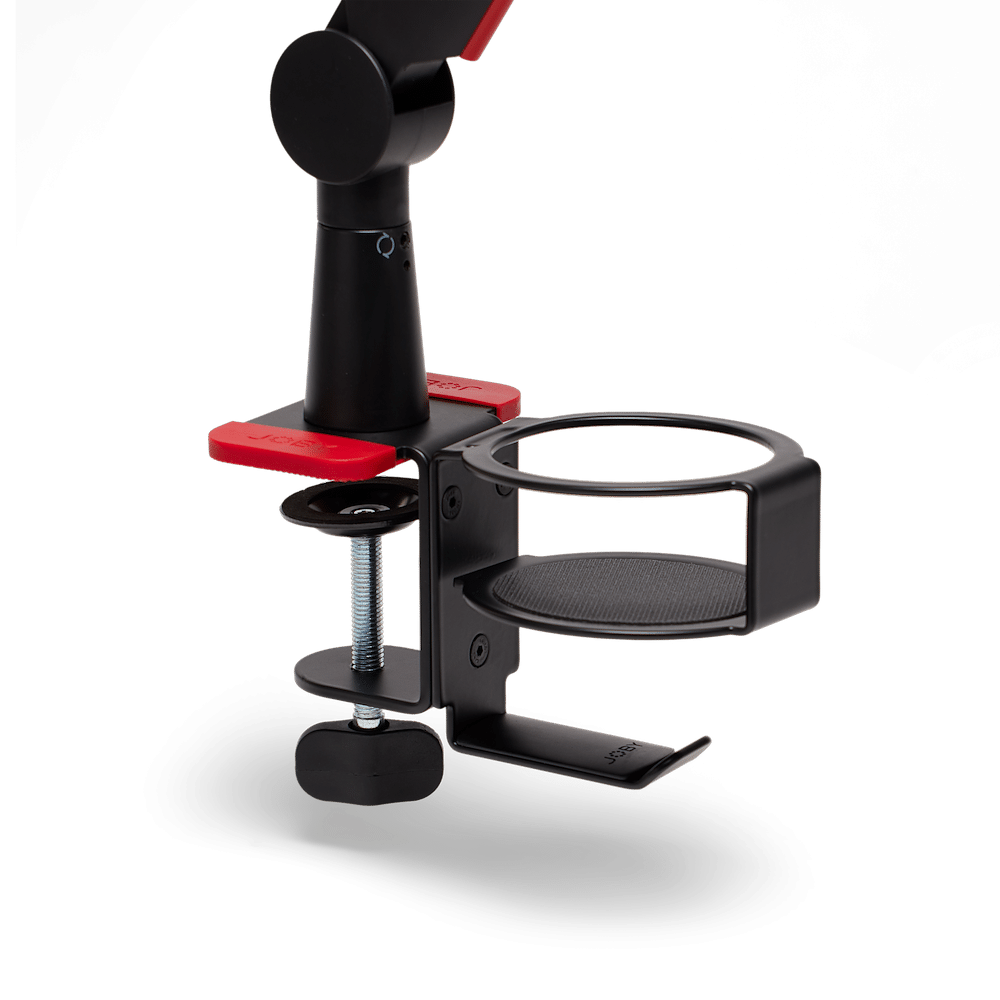 But the pièce de résistance has to be the unique JOBY design integrating both a cup and headphones holder. It's this sort of practical thinking that genuinely showcases the brand's understanding of its user base. No more scrambling around for headphones or risking liquid mishaps; everything is neatly organised, optimising the entire content creation experience.
Priced at £86.95, it might appear as a hefty investment to some. But given its impeccable design, multifunctionality, and the sheer quality of material used – primarily aluminium – it's worth every penny.
Really impressed with the build quality and ease of use. This is a really good addition to my setup and I love using it for sound recording.