It's always nice to try out gadgets that appeal to both me and my wife Vanessa, and it was particularly exciting to receive a Yum Asia Sakura Rice Cooker to review.
When I was contacted by Yum Asia to ask if I wanted to review the one of their Rice Cookers, I jumped at the opportunity because I knew that Vanessa would be interested in what a rice cooker would bring to the kitchen and how it might improve rice dishes (Not that they aren't already superb!).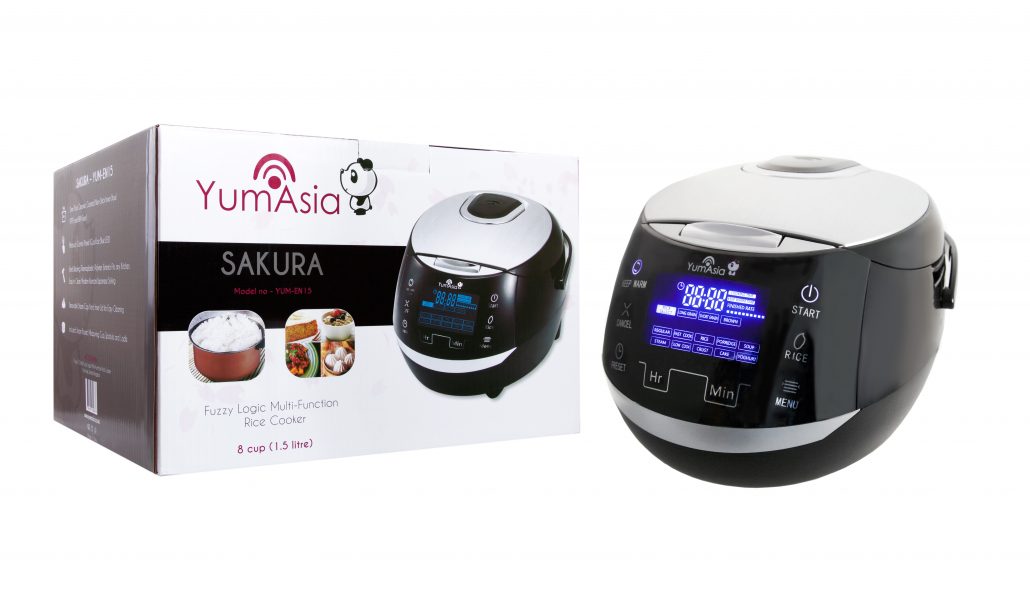 The Sakura is an 8-cup capacity rice cooker which makes enough to feed up to 8 people. It has a very modern look with oriental influences. Cooking white rice alone takes between 30 – 40 minutes, which a faster 'Quick' mode of 26 minutes. Brown rice takes longer at 62 minutes.
As well as cooking rice, the Sakura can also be used to steam foods, make soup, cook porridge and also bake cakes, yoghurts and tahdig. These take a variety of cooking times, all handled by the device.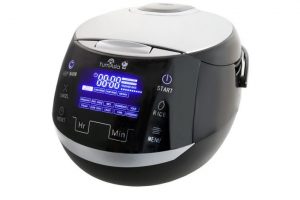 The control panel on the front of the rice cooker is Korean designed and motouch (touch sensitive), it's very clear and easy to use. The product manual also gives clear instructions on the use of the cooker. Making different foods is as simple as correctly measuring the ingredients and selecting the right setting on the control-panel. It's very simple to use and gave great results.
The lid of the cooker is strong and locks closed solidly. There is also a steam vent built in to release pressure during cooking. Everything is removeable for cleaning.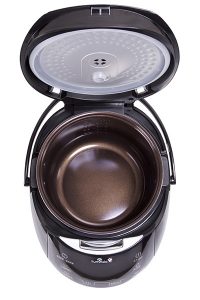 Inside the cooker is a removeable ceramic coated bowl with easy lift handles. On the side of the bowl are indicators which detail the rice portions and level of water required for perfect rice. The included measuring cup is used to ensure the correct amount of rice is always used.
Once all your ingredients are added and the correct cooking mode is selected, you simply press 'Start' and everything clicks into action.
The rice is cooked using a 7 phase method which are, preheat, absorb water, heating, boiling, braising, absorb water again and keep-warm. Interestingly, the Keep-Warm function can operate for up to 24 hours! So, very busy people can set the rice cooker going before bed and come home from work the next day and have perfect rice. It is just as good as preparing porridge ready for the next morning too.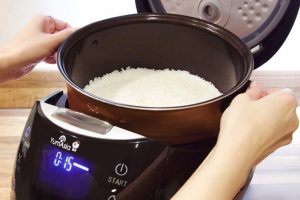 The cooking of the rice is done in such a way that heat is dispersed throughout the inside of the device and radiated downwards from the lid, Yum Asia call this '3D heating technology'.
Also included with the cooker is a steaming basket, measuring cup, non-stick rice spatula and soup ladle. Everything is packaged in an sturdy box.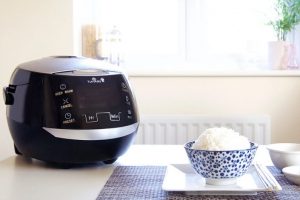 Both Vanessa and myself found the use of the rice cooker to be very easy. The instructions were straightforward and using the correct measurements meant that the resulting rice was both delicious and fluffy. Preparation was easy and it is very important to rinse the rice thoroughly beforehand to get the best results.
We have filmed the entire process and will be uploading this soon to demonstrate how simple it really was. Keep an eye on our Youtube Channel.
I have never considered a rice cooker before, but having used it and having found out that there is precious little additional work required to cook the rice using this method, but for superior results, we both think it is a brilliant addition to a kitchen.
The Sakura from Yum Asia can be purchased directly through their dedicated website.
You can visit their site here or by clicking the image to the left.