A few weeks ago during a review of the Dell Latitude 7480 Notebook, I was also able to test and review the Dell S2718D 27" Inch QHD HDR Monitor and I was pleasantly surprised.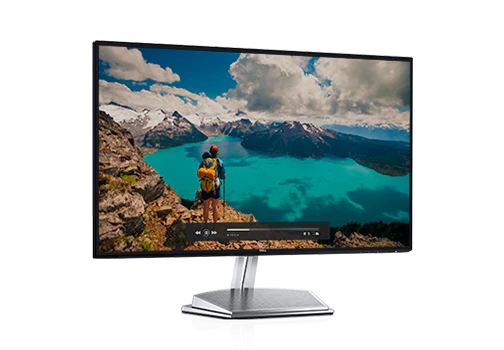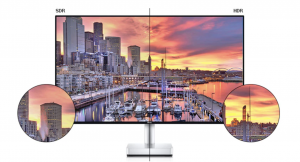 I tend to use a lot of graphics intensive software for editing aerial and tech review video and images. It's very important that the equipment I use when producing this content displays colours correctly and due to the extended hours I spend in front of a computer screen, it's important that I use high quality equipment to reduce eye strain and headaches.
Right from the start, it was plainly obvious that this screen was going to tick these boxes and more.
The monitor itself is ultra-thin in both depth and outer bezel, which uses Dell's InfinityEdge technology, boasting a QHD 2560 x 1440 HDR screen with 1000:1 contrast and LED backlight technology. The LED backlights are what makes these screens so thin because rather than have a large dedicated backlight, instead each pixel is lit separately by very tiny LEDs, this makes for very bright and very very thin screens with excellent 178 degree viewing angles. The screen also uses IPS (or In-Plane Switching Technology) which is the same as found in most mobile phone and tablet screen.
Aside from the tiny bezels and super thin design, the killer feature of the screen is support for HDR or High Dynamic Range colour, which produces some of the finest results I have seen on a screen of this size. The results can be seen on HDR supported content of which there is now lots available on Amazon Video, Netflix and on dedicated YouTube channels. Seeing is really believing on when watch HDR video and it gives a more lifelike deeper colour production which can look fabulous.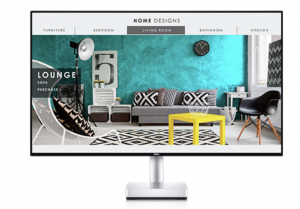 Connectivity is provided in spades with Power connector, HDMI, USB Type C, Security-lock slot ,USB downstream and Audio line-out. This is more that enough for a desktop PC or as an additional screen for a laptop (which I used it for). The quality is superb and allows for flexibility and adjustment of the screen to be made easily.
The screen looks great and would happily sit alongside a PC or indeed an Apple device. Due to the very narrow InfinityEdge bezel, doubling up on monitors sitting next to each other would work very well indeed, with very little in the way of distracting black bars separating the two.
If you are looking to watch HDR movies or HDR games on your PC, this Dell monitor is a no brainer at a very reasonable £499 from your local electronics outlet or click the to the left to be redirected to Amazon.
Matt Porter
The Gadget Man