UK based RiutBag, innovators in sleek and secure backpacks, is pleased to announce the availability of its Crush foldable backpack and Sling cross body bag. RiutBag, pronounced 'riot' stands for Revolution in User Thinking and brings an entirely new concept to the wearable technology and travel industries. These lightweight, foldable and incredibly secure bags are available from the Riut website for £39.99 and £29.99 respectively with free UK shipping.
With flexible work and UK travel planned to open up in the coming months, some people might be nervous and unsure about venturing into the public arena. Personal-theft was reportedly 52% lower during July 2020 lockdown. Going on a train or tube again may be more intimidating, especially when carrying valuables, as the threat from pickpockets and gangs of thieves looking to take advantage once again becomes a reality.
RiutBags, invented by UK designer Sarah Giblin, first hit the headlines in 2015 for their simple and effective theft-proof "backwards" design with the zips cleverly hidden on the back panel so no one else can access the contents.
Even A-list magician and professional pickpocket entertainer, Matt Windsor has endorsed the bags stating, "Given there are no zips available to me, I wouldn't even look at it as an option to pickpocket. By having a RiutBag, you make it clear to a pickpocket that you're aware of what they do professionally and they just think, "I'll pick someone else. I think they're very difficult to steal from, if not impossible."
The two latest bags in the RiutBag collection are:
The RiutBag Crush:
The RiutBag Crush offers the ultimate in security and protection from theft as all the zips are positioned against the back so cannot be opened easily and unobtrusively by pickpockets.  This lightweight daypack weighs less than 300 grams and has 14 litres of space, so plenty of room for a day's worth of belongings in a very light backpack. When it's not in use, it folds down into a small pocket, weighing just 240 grams, which can be kept inside a main backpack, a car or put away neatly at home for when it's next needed. Whether on a walk through a city, at a festival, in a crowd or market, enjoy moving with no extra weight and with total peace of mind with the secure RiutBag Crush.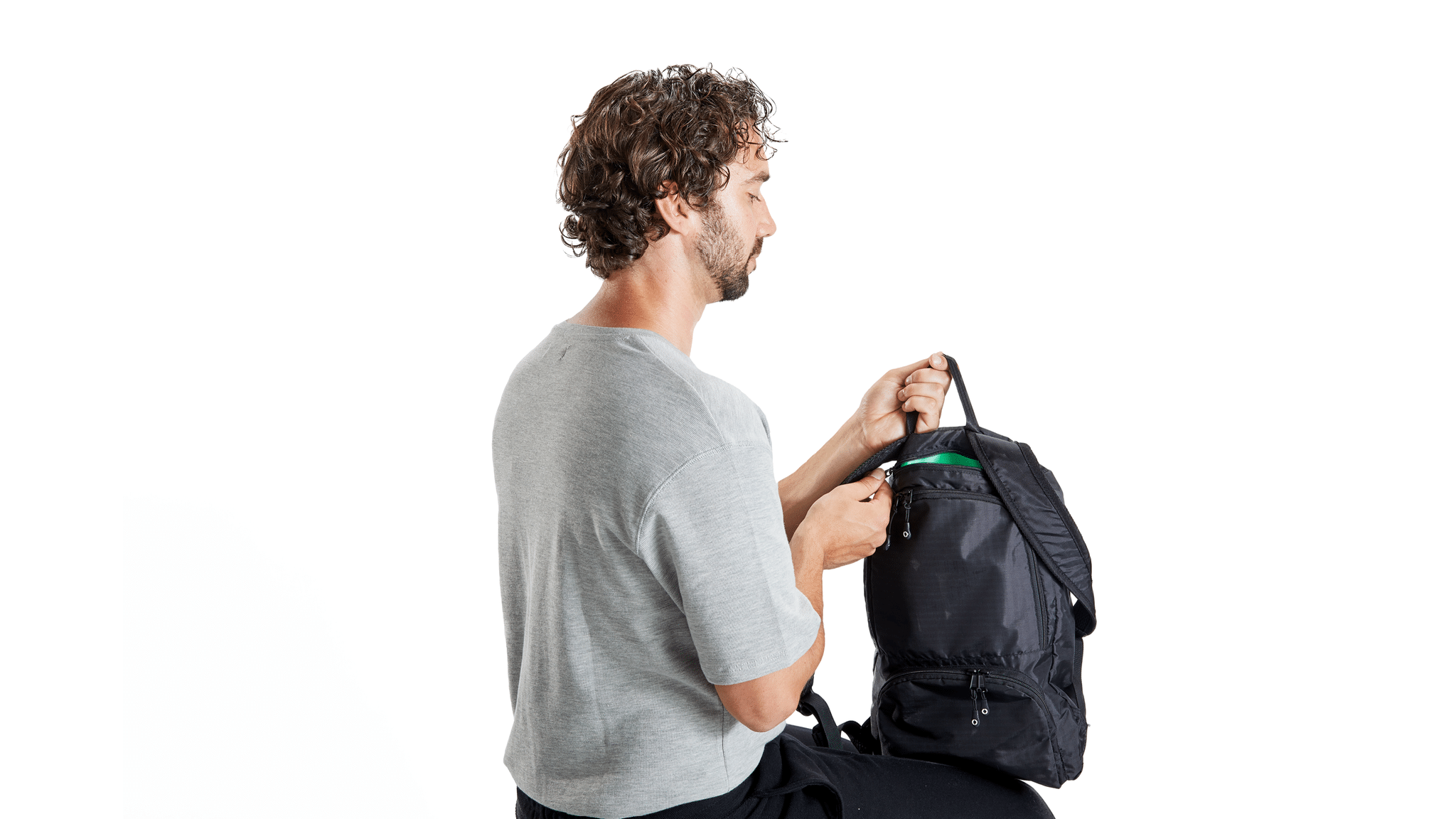 The RiutBag Crush has three pockets, the top pocket, D-pocket and main compartment. The top pocket is about the size of a fist and is perfect for quickly accessing small valuables.  When using the Crush as a backpack, the D-pocket is a great spot for a phone, wallet or passport as it can be accessed securely whilst on the back. It is made from a double layer of high-quality flame-resistant ripstop nylon, the same material used in hot air balloons, and has world-class YKK zips offering the ultimate durability and strength. It is showerproof but for extra protection, in bad weather the RiutBag Cover, which can be purchased separately, makes it 100% waterproof and reflective so perfect for long cycle rides or walks and on a motorbike or moped. On the outside, it is smart, understated and minimalistic black, whilst the inside lining is brightly coloured so items can be found easily.  No animal products are used in the manufacture of any of the RiutBags so could appeal to vegans too.
RiutBag Sling:
The RiutBag Sling is a light, flexible and secure cross-body bag enabling easy reach of the most important small items on the go, so no more searching for keys, payment cards, phones or passports ever again. Unlike other sling bags, the zip faces the body so cannot be opened without a wearer's knowledge thus offering travellers, commuters and walkers in crowded areas the ultimate in peace of mind and the reassurance that contents are safe and yet easily accessed.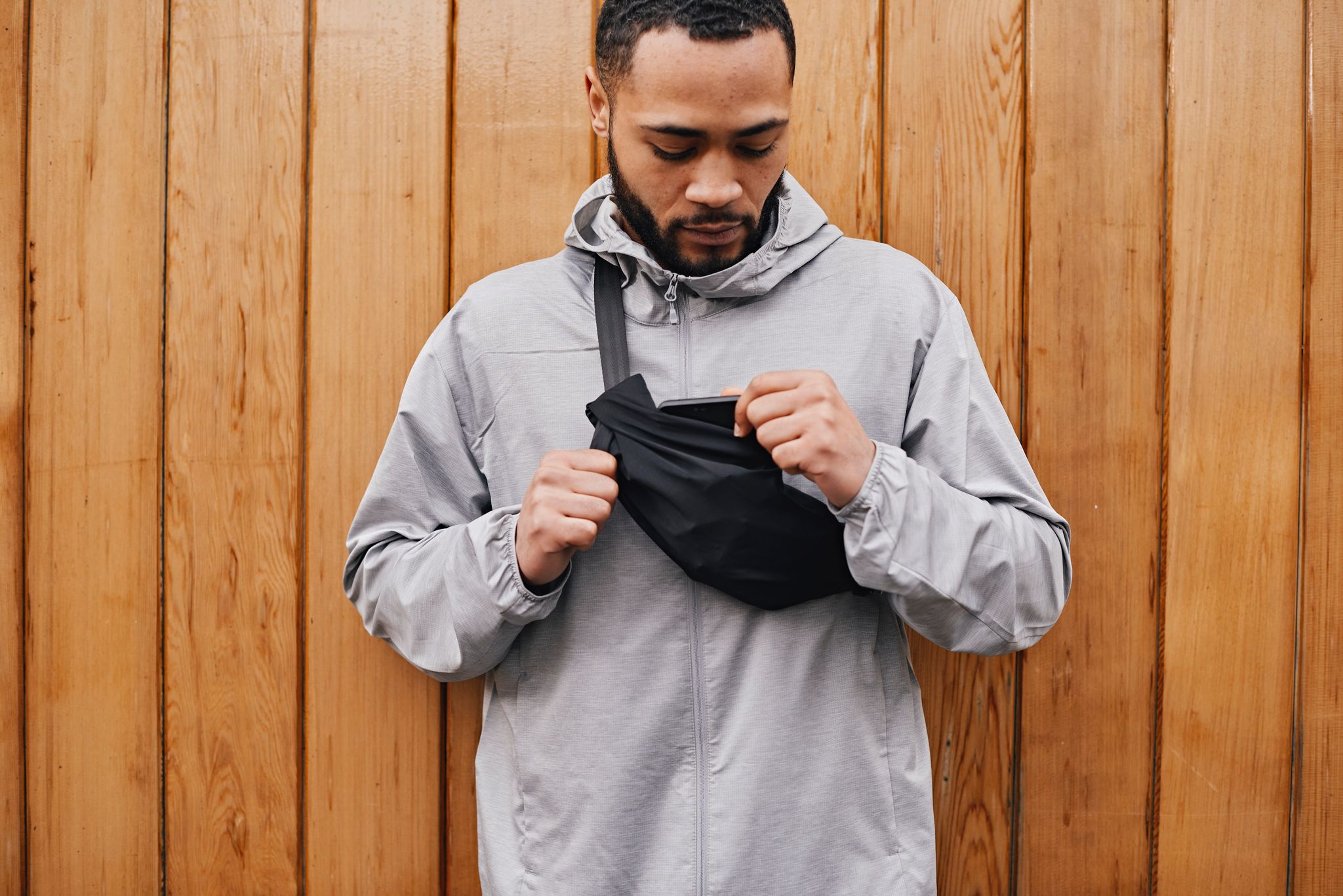 It is a sleek plain black and ultra minimalistic bag with a slimline design that stretches if a larger item is carried offering a total capacity of no more than 2 litres and designed to hold up to 1.5kg. Larger and heavier items should always be carried in a backpack that evenly distributes weight over both shoulders, protecting a user's back in the long term. It also has a useful detachable key hook inside for easy access to household or car keys.
The RiutBag Sling is worn across the body with the zip flat against the torso, hidden from sight, offering total control on when it is opened. To access it, slide it up to the chest and unzip and can be worn on its own or under the straps of a backpack. On the go, it can be moved to the side or even to a back; whatever is most comfortable. It has an adjustable, high-shine strap with a long, lightweight stretchy pocket.
The RiutBag Crush is available for £39.99 from the Riut website here
The RiutBag Sling is available for £29.99 from the Riut website here
Both items include free UK shipping