Feature Bluetooth V5.0 with Qualcomm aptX HD decoding and carry a Hi-res certification for components – the planar diaphragm tweeters and 5.5-inch woofers – normally found in HiFi level speaker models
Edifier® International, prominent designer and award-winning manufacturer of consumer audio electronics for both the lifestyle and multimedia markets announces the S2000MKIII powered Bluetooth Bookshelf Speaker. The Edifier S2000MKIII pays tribute to speakers from the past with its elegant wood side panelling, however the components inside are state-of-the-art high-end audio.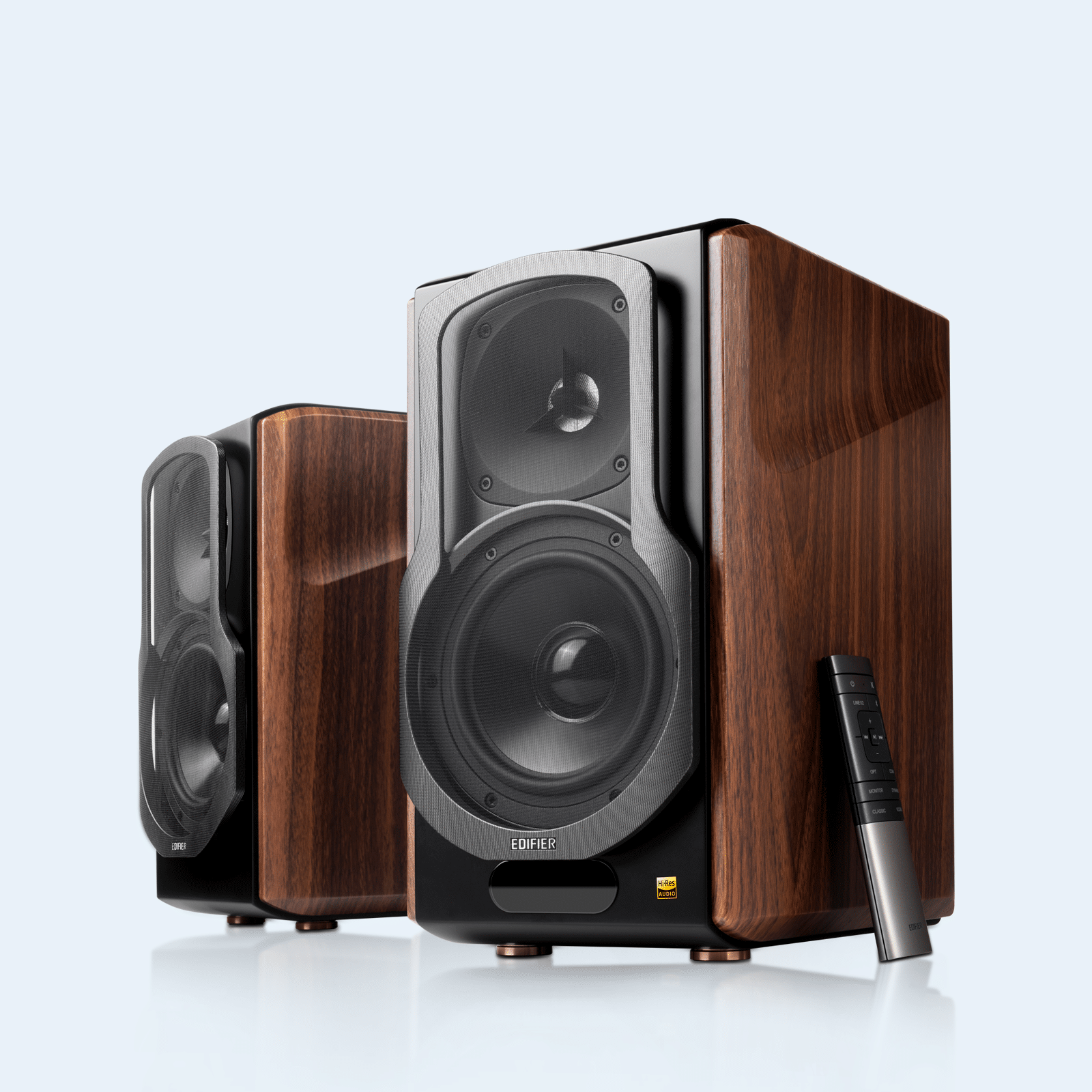 The S2000MKIII is designed for home recording and mixing, bringing a highly professional sound quality to a bookshelf speaker. The S2000MKIII features the latest Bluetooth V5.0 with Qualcomm aptX HD decoding. The chipset will wirelessly transmit lossless and high-definition music signals, so that the Bluetooth playback can obtain the same outstanding music quality as for wired digital transmission.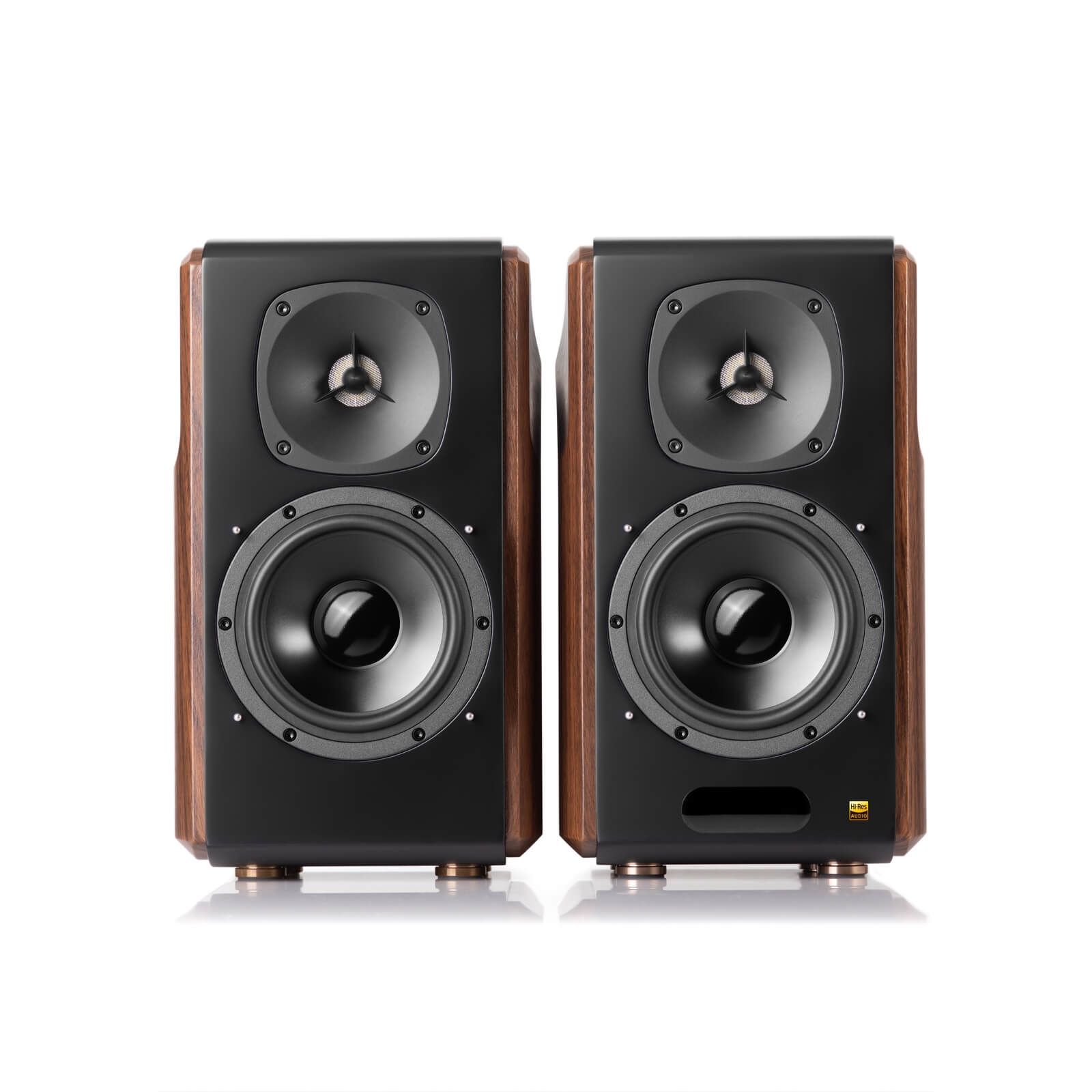 Only high-end audiophile components usually used in HiFi level speakers have been used for the S2000MKIII. This speaker holds a Hi-res certification; the planar diaphragm tweeters and 5.5-inch woofers normally found in HiFi speaker models, deliver clear, powerful tones and outstanding audio quality. The flat diaphragm provides a fast response rate that gives benefits such as excellent high frequencies that lower tiered bookshelf speakers do not provide. An aluminium cone woofer with Digital Sound Processing digital electronic crossover makes sounds unique and clear with high-strength, low-distortion and achieves incredibly loud and heavy bass. With RMS power of 15W for the tweeters and 50W for the woofers, these speakers are perfect for use in a large room or space over 50m² as well as smaller spaces where you really want to rock that audio.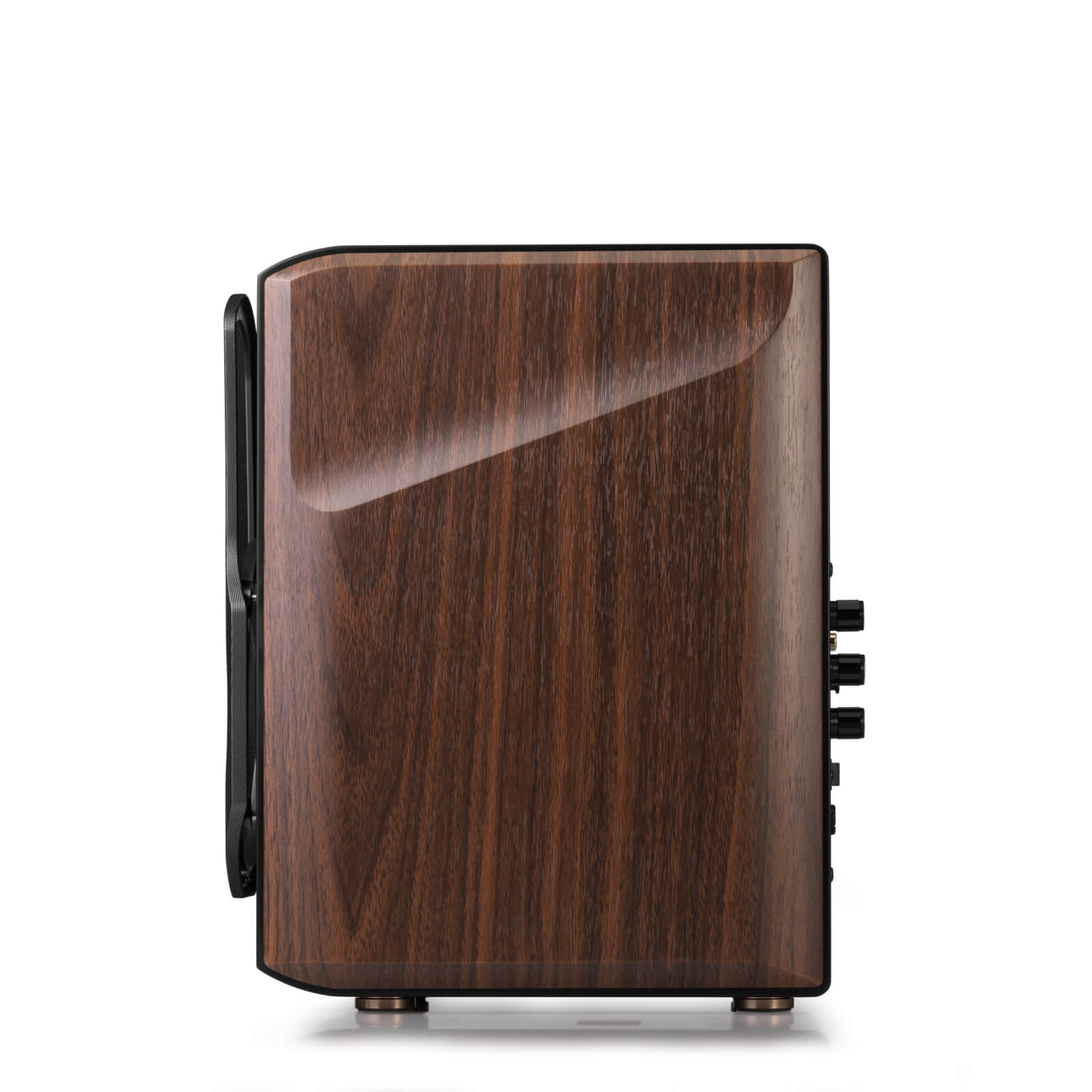 The Edifier S2000MKIII active speaker allows you to hook up multiple devices to the same speaker. In addition to Bluetooth v5.0, there are also wired digital inputs plus wired digital analogue input to allow connection to multiple devices such as TV sets, TV boxes, Blu-ray players, games consoles, CD/DVD players, smartphones, computers, tablets and other devices.
You can change the sound of your speakers at the touch of a button. The S2000MKIII has four on-board Equalizer settings: vocal, monitor, classic, and dynamic. The treble and bass are independently adjustable according to personal preference and music/audio choice.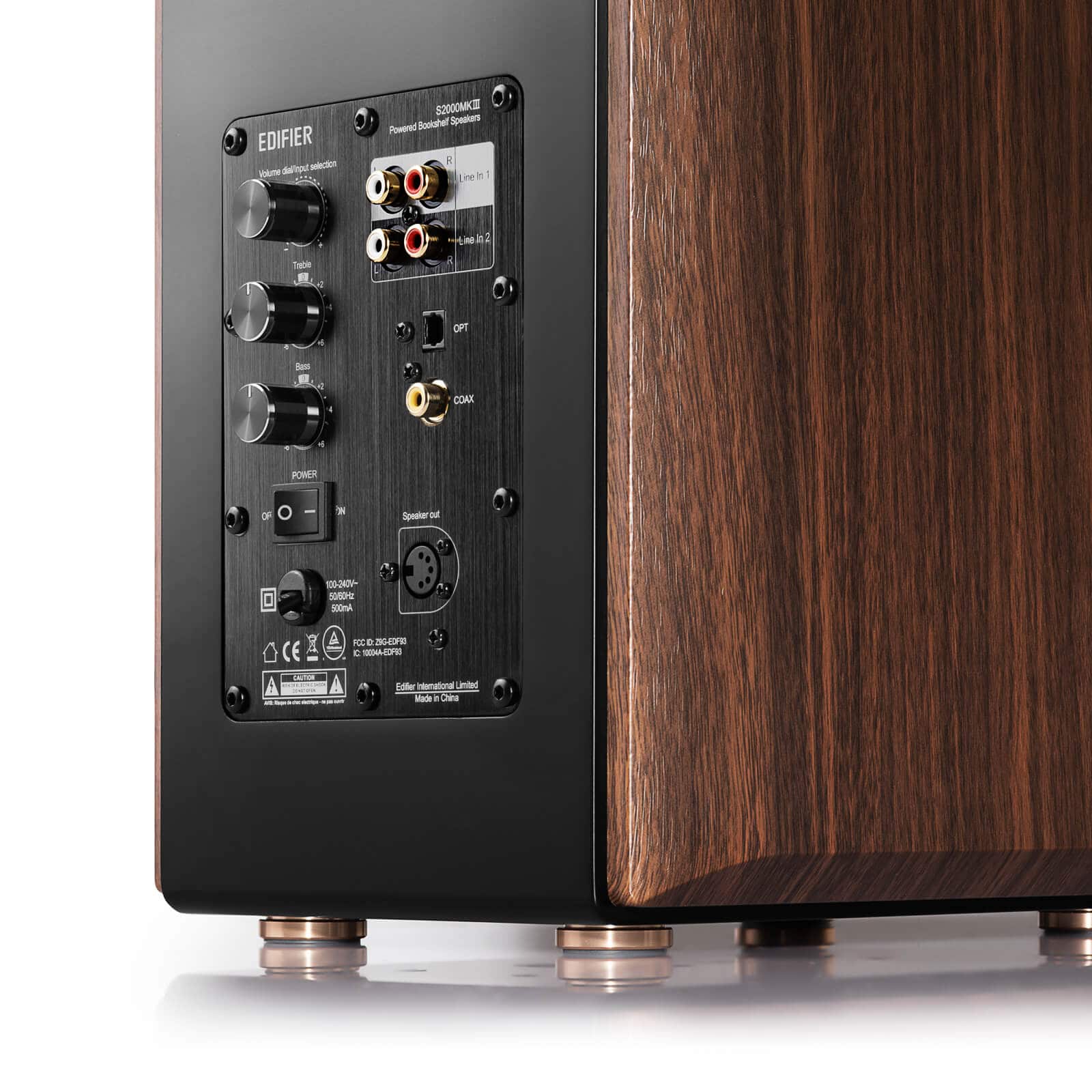 The smart start-up volume protects both your hearing and the speaker from harm; however, a 50-level high-precision adjustment of the master volume ensures a totally immersive listening experience when required. With the wireless remote included you can easily adjust the volume, switch the sound source, select mode and power on/off. To make using the S2000MKIII as seamless as possible, there is a clear OLED LCD screen for source, sound effect modes and volume. With the Display mode selected the input status of the speaker shows you which input you are using.
The speaker casing is made off a wood veneer while the volume, bass and treble knobs are made from metal and have a professional-grade feel.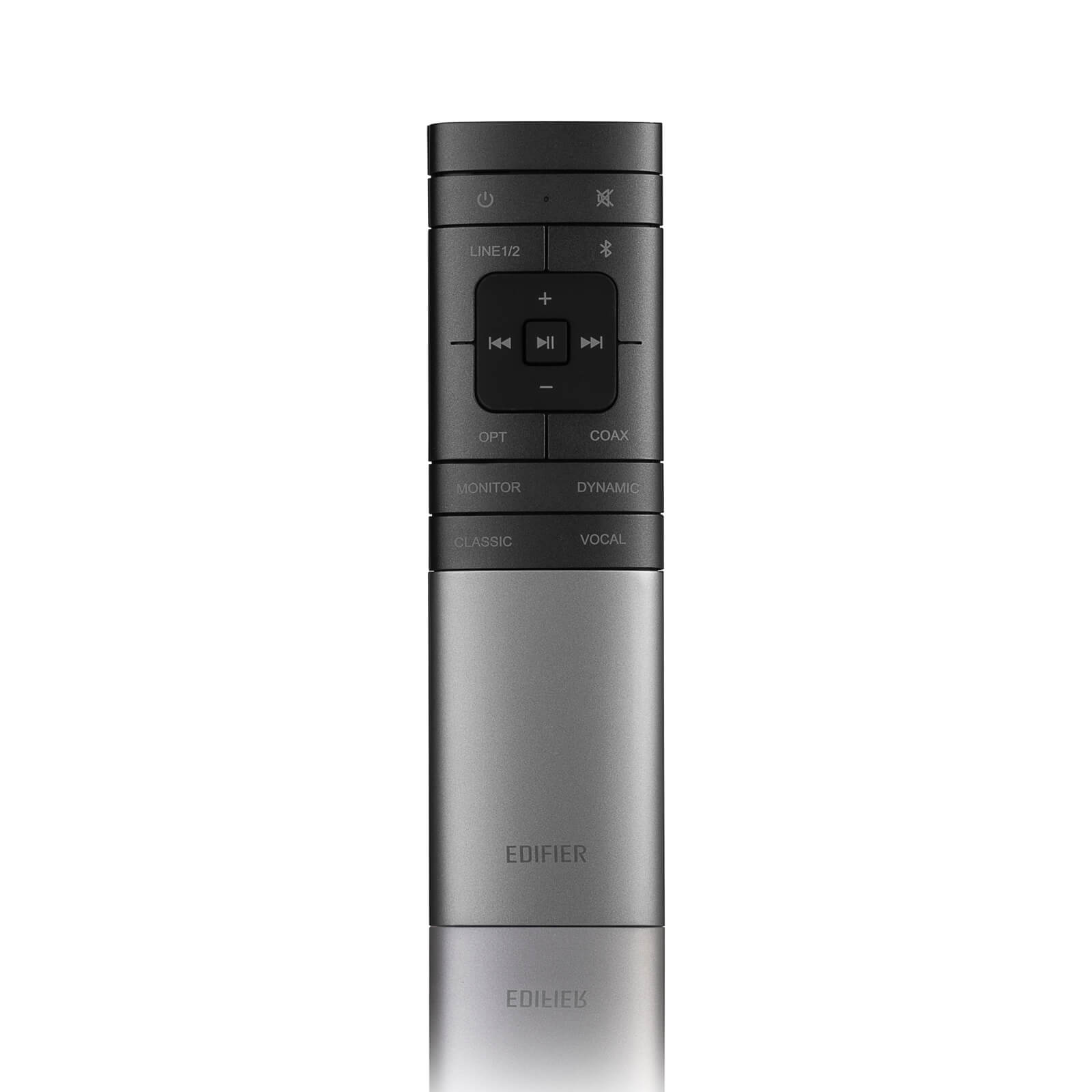 Main Features:
Bluetooth V5.0 with Qualcomm aptX HD decoding
5 ½" aluminium diaphragm drivers for ultimate bass response
Patent-pending planar diaphragm tweeters
Hi-res sound certification
High-efficiency Class-D digital power amplification
Electronic crossovers and dynamic control based on dual advanced DSP chips
Digital audio signal with a sample rate up to 24BIT/192KHZ
Listening pre-sets: Monitor, Dynamic, Classical, and Vocal
OLED LCD screen displays source, volume, sound effects modes
PVC side panels with matte black finish
Newly designed IR remote control
Price & Availability:
The S2000MKIII is available at £449.99 from Amazon Now!